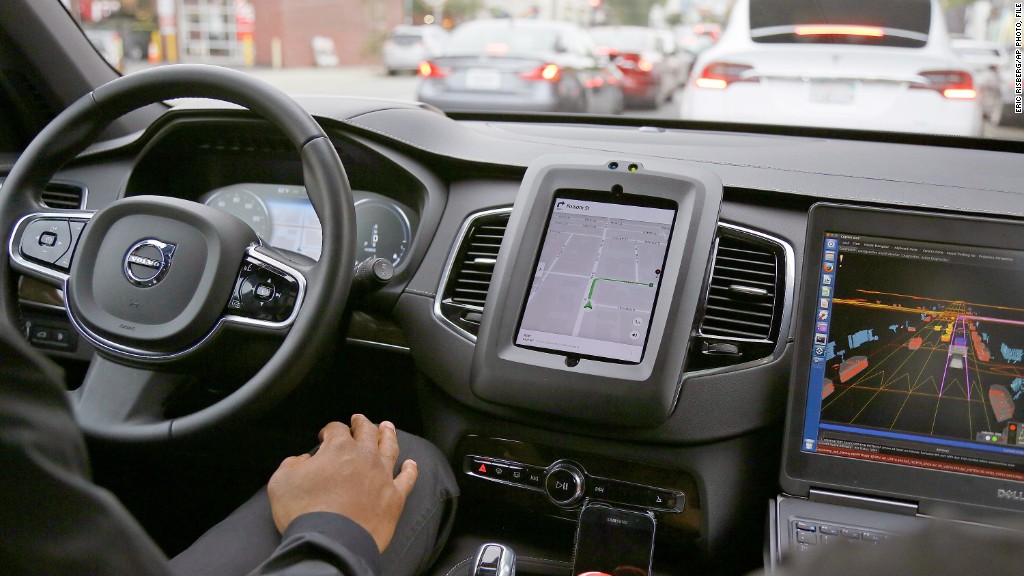 The internal combustion engine has been around more than a century. And it should be around for decades to come, despite Volvo's announcement Wednesday that it will move away from cars powered only by gasoline.
"It's hard to find technology that is better suited for cars," said Rebecca Lindland, executive analyst for Kelley Blue Book. "The idea that we are moving completely away from internal combustion is completely exaggerated."
There is no doubt that electric cars are becoming more popular. Prices are becoming more competitive with traditional gasoline-powered cars.
And Lindland and other experts say several factors will move the industry toward even greater use of electric motors, including tougher environmental regulations and the desire for self-driving cars, which will need more electrical juice for all their computing needs.
But eliminating the gas engine altogether will be difficult, if not impossible.
The first reason is profitability. The stock of tiny Tesla (TSLA) may be worth more than either General Motors (GM) or Ford (F), but it has yet to report an annual profit. Traditional automakers are making billions of dollars selling millions of gasoline-powered cars each. No one has yet figured out a way to make a profit selling electric-only vehicles.
It was only recently that anyone offered an electric-only car at a competitive price that can go more than 200 miles on a single charge. The Chevrolet Bolt went on sale late last year, and the Tesla Model 3 will soon start rolling off the production line. Those companies will at least initially lose money on those cars.
Volvo: Gas-only cars are history after 2019
The cost of making those electric cars should be coming down as production of the cars and their key components, such as lithium ion batteries, increases. But costs aren't coming down nearly as fast as they did for other types of technology — say, for new computer chips.
And the market share for pure-electric vehicles will be tied directly to battery costs, Ron Cogan, editor and publisher of Green Car Journal.
"We have not seen the cost come down to the point they need to for mass market sales," he said. "It's really hard to predict."
Gasoline-powered cars themselves are becoming far more efficient, thanks to new technology and new materials. No one anticipates that gasoline engines will be regulated out of existence.
"I don't expect internal combustion to go away any time soon," Cogan said. "It keeps getting better and better and better."
Related: Trump might ease fuel economy rules, but automakers won't be off the hook
For that matter, even Volvo isn't dropping gas-powered engines completely. Many of the cars Volvo plans to sell will be hybrids, not pure electric cars. The Swedish automaker, now owned by Chinese automaker Geely, has yet to offer an electric-only car.
Volvo is something of a trendsetter. It was one of the first automakers to stress safety features as part of its marketing. But it is still only a niche player, with global sales of just over 500,000 vehicles. Even if Volvo reaches its target of selling 800,000 cars a year by 2020, that will be less than 1% of sales across the industry.
"If GM, Toyota (TM) or Volkswagen (VLKAF) made the same statement as Volvo, it would be a bigger deal," Lindland said. "Those larger automakers might be moving in that direction, but they're not getting there any time soon."
CNNMoney (New York) First published July 5, 2017: 12:44 PM ET