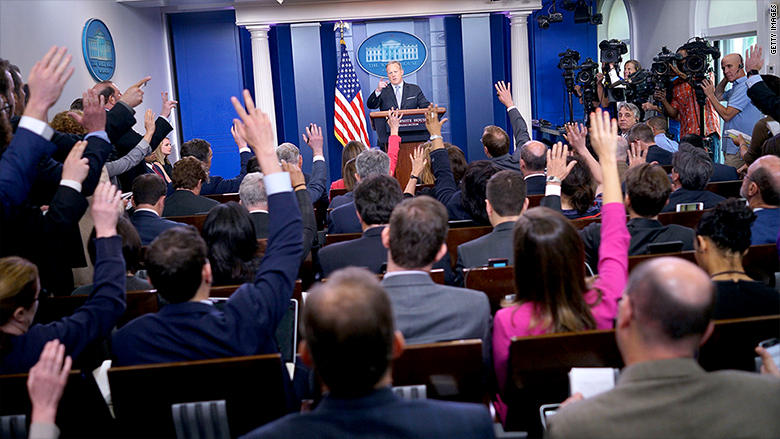 A proposed change to the White House Correspondents Association's bylaws could keep Breitbart News reporters out of the group's decision-making process.
The WHCA is set to vote this week on a measure that would require its "regular members" — those who vote and hold elective office within the group — to be credentialed through the Congressional Standing Committee, or to work with or for an organization that is.
That could effectively mean barring reporters with Breitbart, which earlier this year was denied congressional press passes, from that level of membership in the WHCA.
Charlie Spiering, Breitbart's White House correspondent, was one of six journalists who signed a letter opposing the bylaw change that was circulated to WHCA members over the weekend.
"The WHCA Board has in most cases done a great job in advocating for journalists' access, and showing respect to all members. The proposed bylaws change regarding membership is an unfortunate exception," the group said in the letter. "That's because the bylaws change would mean some members and hard pass holders who regularly cover the White House will not have full participation in the organization that is supposed to represent them regarding access among other things."
The letter was also signed by liberal commentator Bill Press and longtime White House correspondent Connie Lawn, along with reporters for conservative outlets Newsmax, Circa and The Daily Signal. The signatories urged their colleagues to vote no on the proposal or, alternatively, asked the WHCA to consider grandfathering in existing regular members.
The deadline for members to vote on the bylaw change is Friday. Members will also have an opportunity to debate the proposal at a town hall meeting on Monday evening.
Press, a regular member of the WHCA whose membership would not be affected by the change, told CNN that "there's a lot of unrest among members" over the proposal. He and other opponents have asked for the vote to be postponed.
Jeff Mason, a White House correspondent for Reuters who is president of the WHCA, told CNN that the Congressional Standing Committee is the "gold standard" for credentialing in Washington, D.C.
The WHCA is not in charge of granting credentials at the White House, but it advocates for press access to the White House, provides scholarships for some journalism students and is perhaps best known for sponsoring its annual dinner every spring.
Mason said that the WHCA does not issue credentials, and that the rules for associate members will not change.
The letter opposing the proposal noted that associate members cannot vote in board elections or for future bylaw changes, among other disadvantages.
"Whether it's eligibility for pool coverage, competing for a journalism awards, qualifying to apply for a briefing room seat or work space, an associate member has fewer opportunities for access than a Full Member," the letter said.
Mason said that the change "would affect a small handful of regular members."
"We gave all of them a heads up," he said. "We've also given them a chance to voice their opposition in a public way."
One member who might be affected is Spiering.
That's because Breitbart was denied permanent congressional press passes in April over concerns about its ties to both the Mercer family, who are Republican benefactors and part owners of the right-wing outlet, and to the Government Accountability Institute, a conservative nonprofit that was co-founded by former Breitbart chairman and current White House strategist Steve Bannon.
At that time, the Standing Committee of Correspondents of the Senate Press Gallery said it tabled Breitbart's application until it could prove that it met the requirements under a rule requiring publications to be "editorially independent of any institution, foundation or interest group that lobbies the federal government, or that is not principally a general news organization."
CNNMoney (New York) First published July 10, 2017: 7:48 PM ET