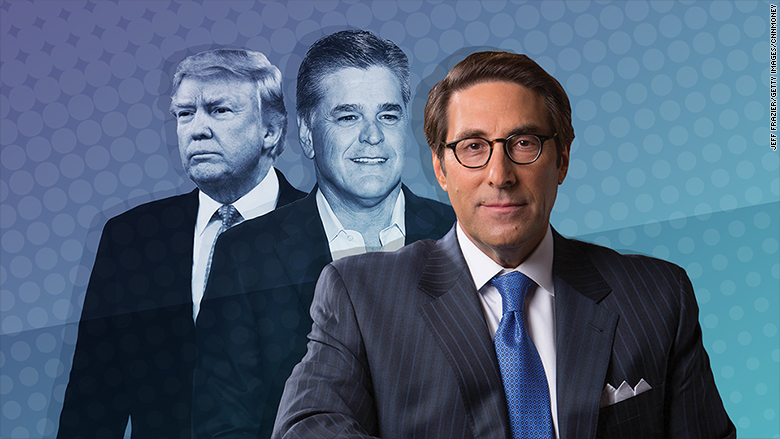 In the first six weeks since he began representing President Trump, Jay Sekulow went on television so much on the president's behalf that Axios dubbed him Trump's "TV Lawyer."
But lately, Sekulow's TV strategy has been to avoid questions about Trump and instead to use Fox News, and particularly Sean Hannity, to raise awareness for his campaign against the Obama Justice Department.
The strategy is right out of the Trump playbook, and likely one that pleases the president. Instead of playing defense, Sekulow is playing offense. Instead of meeting the media on its terms, he is talking to reliable boosters. And the icing on the cake: he is drawing attention — and, likely, dollars — to his business.
In the last week, both Sekulow and Hannity have provided an example of how Trump's defenders use attacks on Democrats' past behavior to distract from Trump's present-day controversies, all while raising their own profiles.
The most outspoken member of Trump's legal team, Sekulow was ubiquitous across TV networks last month rebutting inquiries about possible collusion between the Trump campaign and Russian officials. On July 16, after news broke that Donald Trump Jr. had met with Russian lawyers, Sekulow went on all five Sunday shows to run defense.
But recently, Sekulow has only been on Fox News. He's been especially prominent on Hannity's show, where he is no longer talking about Russia — nor is Hannity asking him about it. Instead, he's demanding that the Department of Justice release through the Freedom of Information Act details about a 2016 meeting between former President Bill Clinton and then-Attorney General Loretta Lynch.
Sekulow is doing this both as Trump's attorney and in his role as Chief Counsel for the American Center for Law & Justice, his tax-exempt religious not-for-profit, which raises millions of dollars every year to push conservative causes. Reporting by a number of other media organizations in the past has suggested that Sekulow and his family have benefited greatly from this fundraising, though there has been no accusation that they have violated any law in doing so.
Last November, the ACLJ sued Obama's Justice Department for "unlawfully withholding records" about the Lynch-Clinton meeting. It revived that suit last week after a DOJ document dump which left the talking points from the meeting redacted. "We will be taking these redactions back to federal court," the ACLJ announced last Friday.
After that announcement came out, Sekulow appeared on Hannity's Fox News program for three consecutive nights and spoke almost exclusively about the Lynch-Clinton meeting, repeatedly demanding more information from the Justice Department.
At the same time, Sekulow has not appeared on CNN or MSNBC to discuss the Russia investigation, despite invitations from both networks. He has not appeared on the broadcast networks — ABC, CBS and NBC — either.
Through a spokesperson, Sekulow declined to comment for this article. When asked why Sekulow had only appeared on Fox News in recent weeks, White House Press Secretary Sarah Sanders told CNNMoney, "You would have to ask Jay. I can't answer that."
CNNMoney (Los Angeles) First published August 14, 2017: 11:40 AM ET