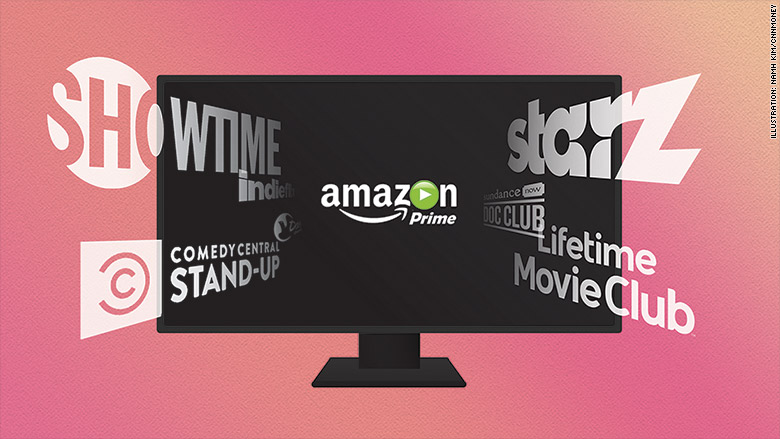 You might not realize it, but you're part of a "war for the bundle."
The war is being waged by huge companies like Amazon. Some media players risk getting left behind, according to BTIG analyst Rich Greenfield, who is this week's guest on the "Reliable Sources" podcast.
Greenfield, who calls himself a "media futurist," says the future looks rosier for consumers, but perhaps not so rosy for the entertainment giants that produce hit TV shows and movies.
During the podcast, he praised Time Warner CEO Jeff Bewkes for agreeing to sell the company to AT&T. Why? Because the deal earned rich returns for stockholders, and the next few years are bound to be more difficult for big owners of cable channels, Greenfield said.
Related: listen to Brian Stelter interview Rich Greenfield here
He is a believer that more and more American households will decide to cut back on traditional cable subscriptions and opt for online forms of entertainment, like Netflix, instead.
Cable is one form of a "bundle" — packaging hundreds of TV channels together — but there are other bundles gaining ground.
Cable-like services such as Sling and Hulu Live — providing channels like CNN and FX via the Internet — are one type.
Another type are wireless phone plus TV bundles. AT&T, which expects its acquisition of Time Warner to be complete by the end of this year, has been working on this.
There's also Amazon Prime, bundling together a number of different services, like free shipping and streaming TV shows and music.
Amazon's model has the advantage of keeping customers committed all year long.
"If you want me to subscribe year round, you're going to have to win my dollars every single day," Greenfield said.
He believes bundles are about "far more" than just TV. His sense is that "everybody is trying to rethink what the bundle means and how to get people to subscribe."
Greenfield said Google is "the furthest behind" in this space, although its YouTube arm has launched a subscription service.
He called Facebook a "sleeping giant" at this stage.
He also said people should pay attention to Apple's efforts in the space. Apple Music already has 27 million users.
Now Apple is investing in TV-style shows. An Apple Music show called "Planet of the Apps" recently launched.
Earlier this month Apple poached two top executives from Sony Pictures Television, Zack Van Amburg and Jamie Ehrlicht, to head up original programming.
Greenfield called the hiring of the pair "one of the biggest things that happened in media this year."
"They are gonna go there, I presume, to not just make 'Planet of the Apps,' but to make really high-quality dramas and comedies," he said.
Speaking of Apple, Greenfield advised media businesses to focus on "what other assets they should have to own the home screen," meaning the first screen on a phone.
Greenfield said his firm is bullish about media or tech giants possibly purchasing Twitter and Spotify.
Both companies have three attributes that media companies need: their apps are mobile-centric, they're used every day, and are loved by consumers.
"That intersection is really hard and there are very few places to find it," he said.
Listen to the full podcast with Greenfield and Stelter here, and subscribe on iTunes.
CNNMoney (New York) First published June 23, 2017: 8:15 PM ET