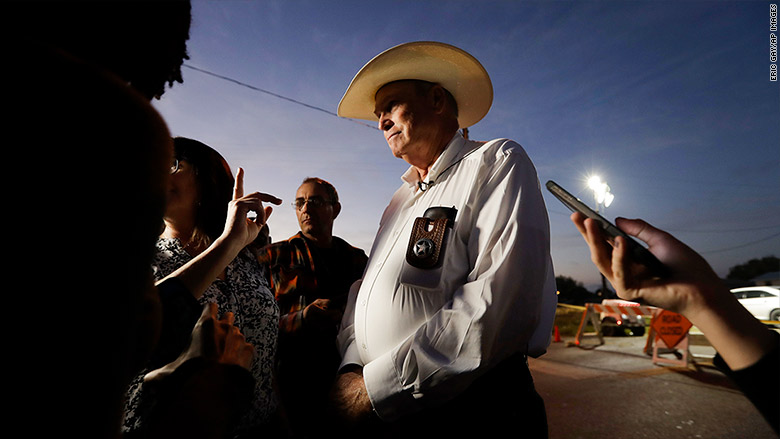 "Here we are again. Another week, another mass shooting in America," George Stephanopoulos said at the start of Monday's "GMA."
"We have seen them in offices and schools, we've seen them in concerts and movie theaters, Walmarts and Starbucks. This time the killer and his gun entered a small church in a small town in Texas."
Journalists reached for words to adequately describe the horror at the First Baptist Church in Sutherland Springs, Texas. Authorities say 26 churchgoers were killed on Sunday by a man who died nearby a short time later.
Related: Texas church shooting leaves 26 dead, including 8 members of one family
There is a repetitiveness to the coverage of mass shootings — a "we've been here before" feeling that readers and viewers and writers and anchors all share.
The Onion, a satirical news site, did the same thing it did after the Las Vegas concert shooting last month: It republished a story titled "'No Way To Prevent This,' Says Only Nation Where This Regularly Happens."
The Onion has posted the same story almost half a dozen times in the wake of mass shootings.
Legitimate news outlets also had some of the same responses to Sutherland Springs as they did to Las Vegas and all the shootings that have come before. Newspapers in the region scrapped their planned front pages. Television anchors rushed to the crime scene. Cable news channels added hours of live coverage.
While en route to Texas, CNN's Chris Cuomo tweeted: "Don't forget — frequency of mass shootings is uniquely American. It is not inevitable. It is not natural."
This subject came up again and again in the news coverage.
New York Times correspondent Charlie Savage, speaking on MSNBC, said there's a numbness to the rhythm of gun violence coverage.
"Call me cynical, but I think that if the mass shooting at Sandy Hook Elementary School in 2012 didn't change the politics of this on the right, this isn't going to change it either," he said.
But groups that advocate for gun control say they refuse to think that way.
"My sense is that the repetition of the same horrors is as traumatic for reporters as it is for us — we certainly aren't numb to it," said Taylor Maxwell, the deputy communications director at Everytown for Gun Safety.
"What's often lost is that as the news cycle moves on, Americans rise up," Maxwell asserted. She said her organization — sometimes portrayed as the opposition to the NRA — tries to convert "immediate outrage and heartbreak online" into gun control related action.
In the wake of the church shooting, reporters from other communities haunted by mass violence said they watched the coverage with a knowing sadness.
Rachel Crosby, the state courts reporter at the Las Vegas Review-Journal, said she "went on autopilot" while covering the concert massacre last month. She described it as "reporting while internally screaming."
How did it feel to watch this unfold in another community? "Reading the news out of Sutherland Springs sent me into a wave of weird, secondhand grief," she said. "October 1st was so difficult for me and thousands of others, and it makes me so incredibly sad to imagine more people having to go through something like it."
CNNMoney (New York) First published November 6, 2017: 10:44 AM ET