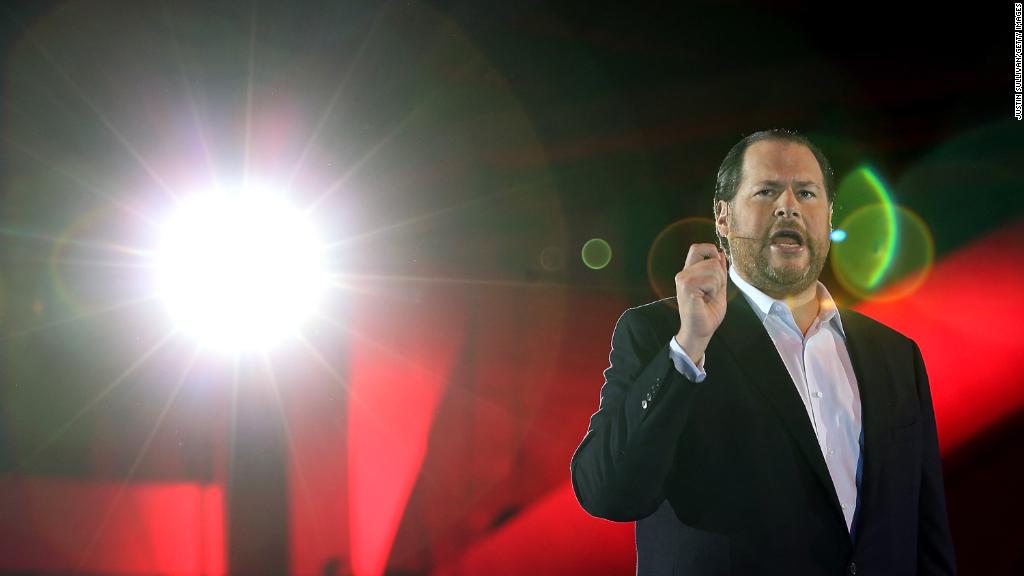 Marc Benioff knows he still has work to do at Salesforce.
"Do we have enough women on our board of directors? Do we have enough women in our management team? Do we have enough women in middle management? The answer is generally no, we don't," Benioff said in a new podcast episode of CNN's Boss Files with Poppy Harlow.
The cloud computing company has spent $6 million trying to close its gender and racial pay gaps. Benioff, who has publicly advocated for equality in technology, has also invested in Bay Area public schools and hospitals.
But he admits that work doesn't let him off the hook from doing more. He sat down with Harlow on Tuesday, November at Dreamforce, his company's annual conference in San Francisco, to talk diversity, equality and gender.
Leading on diversity
Silicon Valley has struggled with diversity for years.
Facebook, Apple and Google all release transparency reports about the women and underrepresented minorities in their workforces. They also invest big in computer science education, and they employ people who focus on diversity.
But many still struggle to hire and keep a diverse workforce.
Salesforce's approach has been aggressive. Last year it spent $3 million to close the gender pay gap. This year the company checked for differences in pay based on race and gender. It spent another $3 million to raise pay for 11% of its 26,000 employees. It plans on checking for differences regularly.
"We take this seriously because people are looking to us as an example and as a role model," Benioff said in the new podcast episode. He added that he was "quite embarrassed" by some findings.
In addition to addressing pay issues, Salesforce is turning to employee resource groups to help diversity its ranks.
'Deeply concerned' about the future of technology
The promise of technology is often that it will help fix our problems. But Benioff said he thinks we should be more critical of those promises.
Artificial intelligence, robotics, self-driving cars and nanotechnology are altering our society, he said.
"But we have to ask ourselves a question, which is, are we creating more equality in the world through these technologies, or are we creating more inequality?" Benioff said.
Automation, for example, will drastically change employment and require job retraining.
We will have to be proactive about making sure that everyone is trained for new jobs and that women aren't left behind, warns Benioff.
"I am deeply concerned that we are at a precipice right now," he said. "We are at a point where we need to make these decisions. We need to decide what kind of a society that we're gonna have going forward."
Harassment in Silicon Valley
The crackdown on sexual harassment is also key to ensuring workplace equality, Benioff said.
The allegations made against film producer Harvey Weinstein have been a catalyst for such discussions in recent weeks. But Silicon Valley has had its own problems with harassment.
Benioff said some harassment allegations have been "shocking" to him. He said he hasn't seen any similarly extreme examples himself, but had heard about recent allegations about investors.
Related: Money, power and sexual harassment
"I always think I'm a little bit naive, honestly, that I'm not aware of some of those things," he added. "But when I heard some of those stories — it's horrible and it's deeply upsetting to me."
He said employing women at all levels is how he hopes to avoid harassment at Salesforce.
"If people think that it's okay, well then behavior can get out of control and you see that," Benioff said. "I've seen it in a lot of companies and certainly companies that I've worked in. That isn't the kind of company we want at Salesforce. We want a company that is focused on gender equality."
He's not running for office
Technology CEOs often act as if they are toying with political ambitions.
Their products are marketed as world changing. Many executives are active philanthropists.
Some make even more curious decisions. Facebook's Mark Zuckerberg, for example, is visiting every state in the U.S. to connect with regular people, and he even hired a political campaign manager to work with policy and advocacy.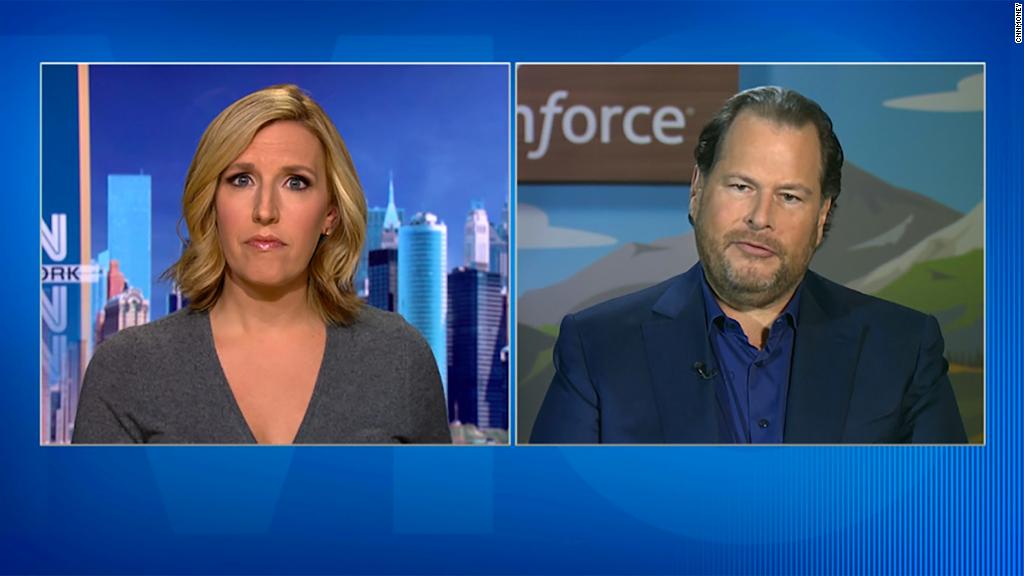 Benioff didn't mention running for office. Instead, he said he's more comfortable using his CEO platform to change the world.
"If somebody all of a sudden starts to talk about these issues that are so important to us — like education, like equality, and the environment — we shouldn't all of a sudden say, 'Are you gonna be a political figure?'" he said. "If we delegate these things to political figures, they're not gonna get done."
Benioff argued that the onus is on all of us.
"I don't expect politicians to change the world," he said. "I expect all of us to change the world."
CNNMoney (San Francisco) First published November 13, 2017: 8:12 AM ET