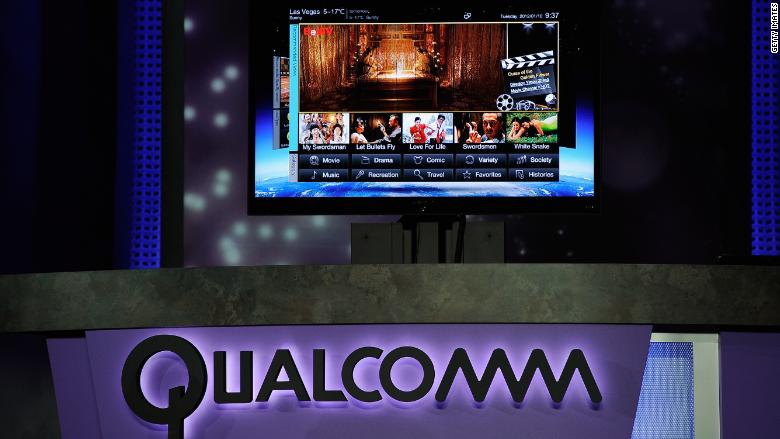 Qualcomm has a message for its prospective buyer: Sorry, but we're worth more than you think.
The company on Monday rejected an unsolicited $130 billion takeover bid by Broadcom (AVGO) that would have been the second-largest deal in American corporate history.
"The board has concluded that Broadcom's proposal dramatically undervalues Qualcomm (QCOM, Tech30) and comes with significant regulatory uncertainty," Qualcomm presiding director Tom Horton said in a statement.
Broadcom did not immediately respond to a request for comment.
Related: Broadcom offers $130 billion to buy Qualcomm
The deal would have united a pair of chipmaking giants. Qualcomm, famous for inventing 2G and 3G wireless network technology, now sells the mobile chips for smartphones and the radios that enable cellular communications.
Broadcom makes chips for wired broadband communications, including modems, Wi-Fi, switches and routers.
Combined, the two could have created a technological powerhouse as 5G is about to hit the market.
Because of how 5G technology will be built, wireless carriers will have to deploy small radios — essentially mini cell towers — all around the covered area. Each of those towers will need an Ethernet connection.
Broadcom and Qualcomm could have marketed themselves together as an end-to-end 5G technology provider.
Related: Broadcom moving legal headquarters back to U.S.
The takeover bid came during a bad year for Qualcomm, which has been locked in battle with Apple (AAPL, Tech30). Qualcomm claims Apple violated some its patents and is trying to block iPhone sales in China. Meanwhile, Apple is rumored to be building a future iPhone without Qualcomm components.
Qualcomm's stock has fallen 5% this year. It bounced up less than a percentage point as the markets opened Monday.
Horton, the Qualcomm director, said the company is confident it can do well without the Broadcom bid, adding that CEO Steve Mollenkopf's own strategy "provides far superior value to Qualcomm shareholders than the proposed offer."
Both companies are buying other chipmakers. Qualcomm has agreed to buy NXP (NXPI), and Broadcom is buying Brocade (BRCD).
CNNMoney (New York) First published November 13, 2017: 10:43 AM ET