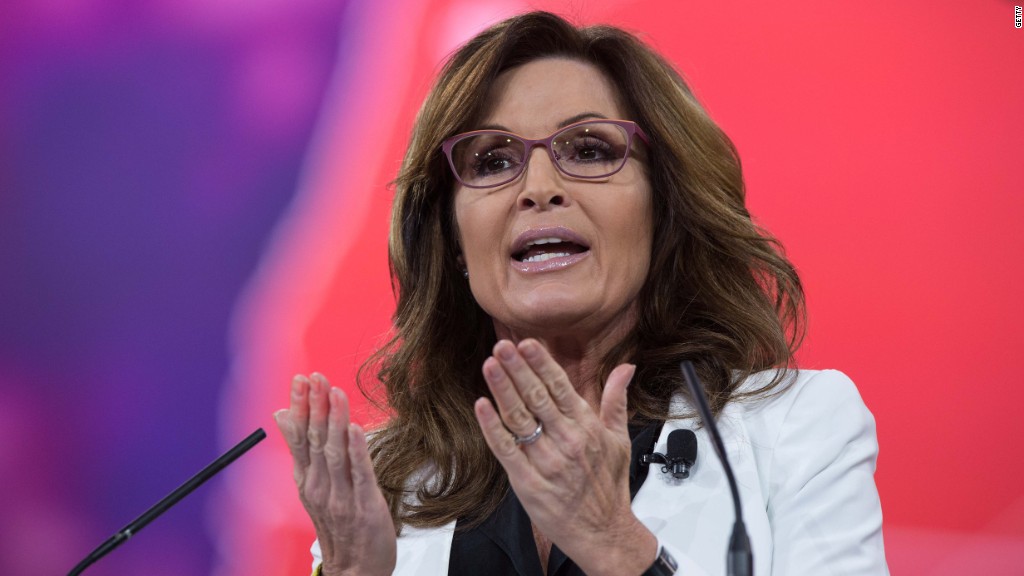 Attorneys for Sarah Palin want to get the private communications of more than 20 journalists at the New York Times as part of the former Republican vice presidential nominee's defamation lawsuit against the newspaper.
Documents filed Wednesday in a New York federal court detailed the efforts by Palin's legal team to obtain the internal communications of the Times staffers.
Palin sued the New York Times last month over an editorial that inaccurately accused her of "political incitement" prior to the 2011 shooting that killed six people and left former Arizona Congresswoman Gabby Giffords severely wounded. She is seeking at least $75,000 in damages.
Palin's lawyers are seeking all emails and text messages concerning her dating back to January 8, 2011, the day of the shooting. The subpoenas target 23 journalists at the Times, a list that includes editorial page editor James Bennet and columnists such as Charles Blow and Ross Douthat.
Attorneys for the Times filed a motion for the case to be dismissed on Wednesday. In the filing, they argued that Palin's lawyers had subpoenaed "twenty-three non-party current and former Times reporters, editors and other employees — most of whom had nothing to do with the Editorial at issue — demanding documents that might reveal, among other things, their 'negative feelings' toward her."
The subpoenas are part of a familiar strategy for Palin's legal team. The former Alaska governor is being represented by Ken Turkel and Shane Vogt, two Tampa-based attorneys who served as counsel for Hulk Hogan during his lawsuit against Gawker over a sex tape of him that the website published.
Turkel and Vogt showed the Florida jury which heard that case internal messages and emails from Gawker staffers as part of an effort to make the now-shuttered website look amoral and mean-spirited. It worked. The jury awarded Hogan $140.1 million in damages, a staggering judgment that contributed to Gawker's eventual bankruptcy.
Turkel and Vogt declined to comment.
The Times issued a correction to the faulty editorial last month and the paper has vowed to fight the lawsuit. Asked for comment about the subpoenas, a Times spokeswoman reiterated the paper's statement from last month.
"It is agonizing to get something wrong, but as soon as our editors become aware of the error, they corrected it," the statement said. "We are confident that the First Amendment protects publishers in these circumstances, and we intend to defend the action vigorously."
In their motion to dismiss on Wednesday, lawyers for the Times pushed back against Palin's claims that the paper published the editorial both out of dislike toward her and in an effort to "[inflame] passions that drive website traffic."
Lawyers for the Times also said that Palin's case shows no malice on the part of the newspaper, and that her claims could "effectively eliminate the threshold protections afforded by the First Amendment every time a news organization published a report about a controversial political figure."
CNNMoney (New York) First published July 27, 2017: 12:30 PM ET