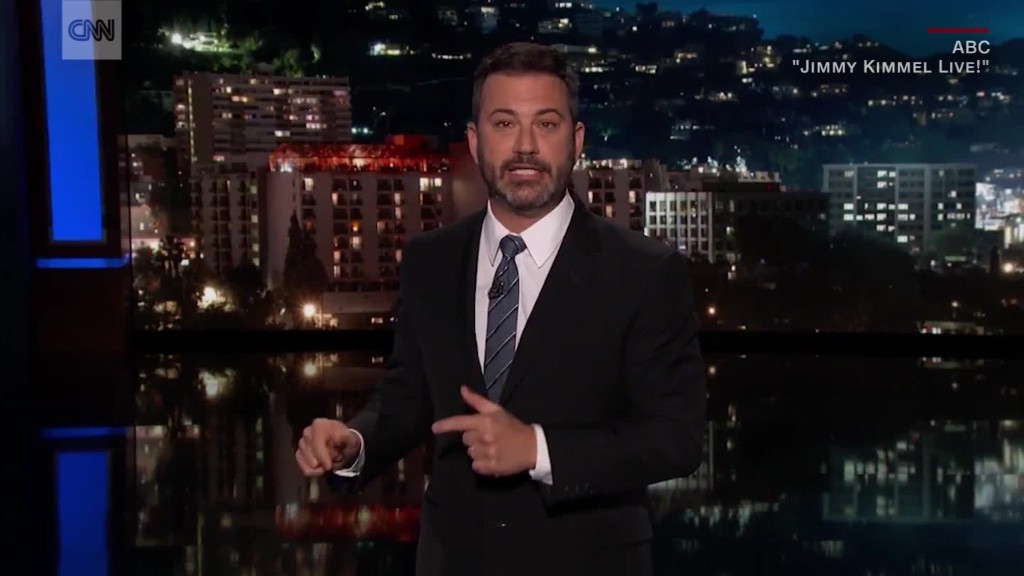 Jimmy Kimmel was ready for the second round of his fight with U.S. Sen. Bill Cassidy, saying on Wednesday night that the senator "either doesn't understand his own bill or he lied to me."
"Last night on our show I took a senator from Louisiana, Bill Cassidy, I took him to task for promising to my face that he would oppose any health care plan that allowed insurance companies to turn people with pre-existing conditions away," Kimmel said opening his ABC broadcast on Wednesday night. "He said anything he supported would have to pass what he named the 'Jimmy Kimmel Test,' which was fine… but unfortunately, and puzzlingly, he proposed a bill that would allow states to do all the things he said he would not let them do."
Kimmel then said that Cassidy made "a total about face" and that meant that "he either doesn't understand his own bill, or he lied to me."
The comedian then showed a clip of Cassidy telling CNN's Chris Cuomo on "New Day" Wednesday morning that Kimmel "does not understand" the bill.
"Oh, I get it. I don't understand because I'm a talk show host, right?" the host said before breaking down the bill in detail. "Could it be, Senator Cassidy, that the problem is that I do understand, and you got caught with your GOPenis out?"
On Tuesday night's broadcast, Kimmel took on the senate's new health care bill and Cassidy, saying he lied "right to my face." The Tuesday night monologue went viral and got around-the-clock coverage on cable news networks.
Related: Jimmy Kimmel takes on new health care bill, says Sen. Cassidy lied 'right to my face'
On Wednesday night's show, Kimmel also used a skit called "Barista Theater" to help explain one of the more arcane parts of the Graham-Cassidy bill: block grants. In the proposed legislation, federal funding for Medicaid expansion and subsidies would be rolled into a block grant program. States would be given a lump sum of money and would have a lot of leeway over how to spend it.
In Kimmel's sketch, he showed a barista accepting money for coffee sold in faulty coffee cups. He used the sketch to critique the bill for allowing states to accept federal money intended to make healthcare more accessible, but then keep the money without making care more available.
Kimmel jokingly said that he didn't "want to turn this into a Kanye and Taylor Swift type situation" while also taking down others, like "Fox & Friends" host Brian Kilmeade, who called Kimmel a "Hollywood elite."
"The reason I found this comment to be particularly annoying is because this is a guy, Brian Kilmeade, who whenever I see him kisses my ass like a little boy meeting Batman," Kimmel said. "He is dying to be a member of the 'Hollywood elite.'"
Kimmel also made fun of Sen. Lindsay Graham, who is a co-sponser of the new health care bill with Cassidy, saying Graham "happens to look a lot like my Grandma Jane, who is now deceased."
Kimmel also called out President Trump, saying that there's "no way" the president read the bill and just wants to get rid of it "because Obama's name is on it."
"The Democrats should just rename it Ivankacare," Kimmel said, referencing the president's daughter. "Guaranteed he gets on board."
Kimmel then ended his ten-minute-long monologue by encouraging Americans to call their senators about the new health care bill.
"Please, stop texting for five seconds and make a phone call," Kimmel said. "It really does make a difference, and who knows maybe you'll meet somebody over the phone and fall in love?"
Representatives for Cassidy, Fox News and the White House could not be reached for comment.
CNNMoney (New York) First published September 21, 2017: 1:50 AM ET