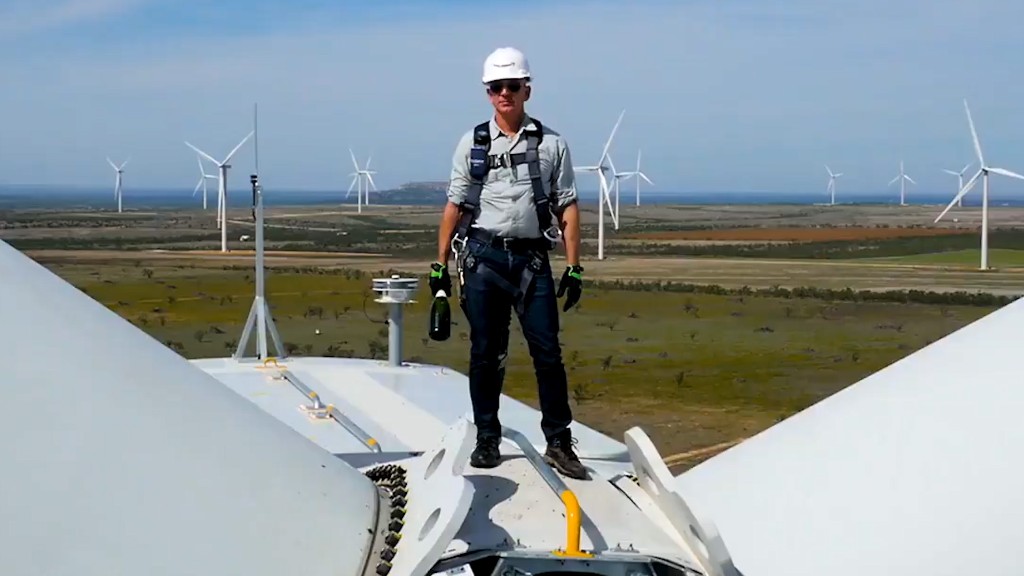 One year ago, Jeff Bezos's future seemed uncertain.
As a candidate, Donald Trump repeatedly attacked the Amazon (AMZN, Tech30) CEO and threatened to create "such problems" for his company if he was elected president. Then he became president.
Now, Bezos is standing on top of the world. Literally.
On Thursday, Bezos tweeted a dramatic video of himself wearing a hard hat and smashing a champagne bottle (price tag unknown) on top of a windmill hundreds of feet in the air.
The "christening" video was intended to showcase Amazon's latest wind farm, but it is also just the latest example of one of the world's most influential billionaires appearing to flaunt his impact and success this year.
In March, Bezos shared a photo of himself testing out a giant mechanical robot suit at a conference, prompting more than a couple dystopian headlines. In August, he tweeted a picture of his meeting with Defense Secretary James Mattis, looking like a president in waiting.
And then there was the photograph of Bezos walking through the elite Sun Valley Conference this summer sporting big sunglasses and bigger biceps beneath a polo shirt and unbuttoned vest.
The image inspired one meme about Bezos as an action hero and another about how much Bezos had evolved from his, shall we say, bookish beginnings.
Related: Jeff Bezos is the smartest guy in business
The evolution of Jeff Bezos has been two decades in the making, but his stature as a modern-day King Midas became unmistakable this year.
Bezos briefly dethroned Bill Gates in July as the world's richest man and remains in striking distance with a net worth of nearly $85 billion. The Washington Post, which Bezos bought in 2013 for $250 million, is now profitable and topping one billion pageviews a month. Just this week, his rocket company Blue Origin announced a game-changing rocket engine.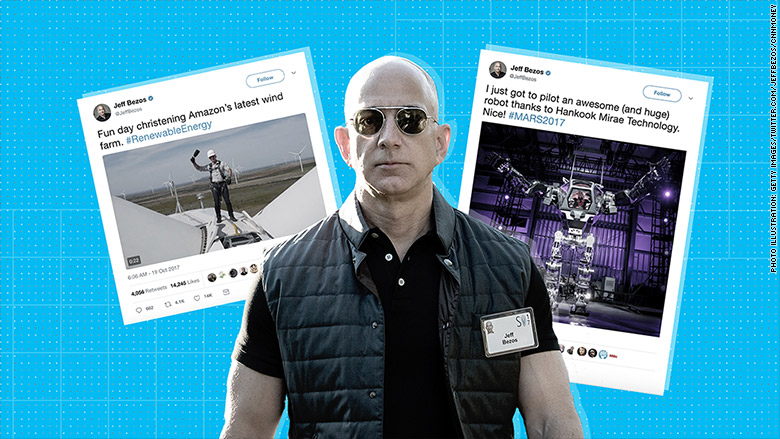 Despite occasional Twitter attacks from President Trump, Amazon has only become more of a juggernaut this year. Trump's Federal Trade Commission promptly approved Amazon's $13.7 billion acquisition of Whole Foods, paving the way for it to upend yet another industry.
One analysis found Amazon was mentioned on more than 100 earnings calls last quarters as businesses and investors weigh the "Amazon effect" across a wide range of industries. How powerful is the Amazon effect? All it took was a whisper of its interest in meal-kit delivery services to shatter Blue Apron (APRN)'s stock.
While top execs at Facebook (FB, Tech30), Google (GOOGL, Tech30) and Twitter (TWTR, Tech30) wrestle with greater scrutiny over their potential impact on the 2016 election, city officials across North America are throwing cactuses and tax breaks at Bezos. It's all part of a billion-dollar corporate sweepstakes where Bezos is the judge and the prize is Amazon's next headquarters.
Soon enough, Bezos may share a picture of himself standing beside a beaming mayor or governor with an ambitious construction site in the background.
Until then, you might find him standing on top of a windmill, or lodged on top of a giant robot, or sitting like a king in a folding chair on top of a building holding a sign written in all capital letters: "ROCKET FACTORY COMING SOON."
CNNMoney (New York) First published October 20, 2017: 3:33 PM ET