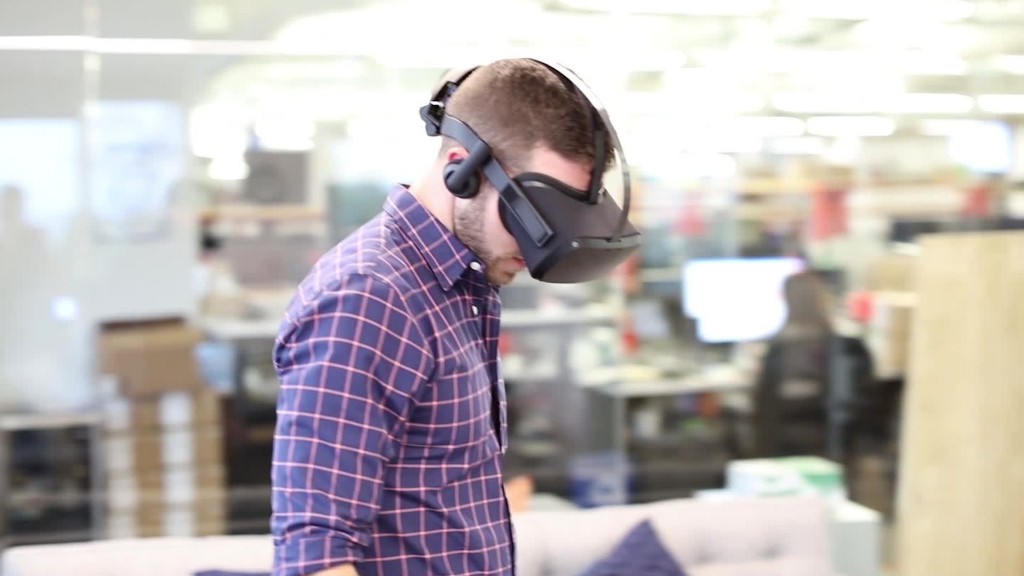 Facebook unveiled on Wednesday its latest Oculus headset, a standalone virtual reality device that doesn't require a phone or computer.
Facebook (FB, Tech30) CEO Mark Zuckerberg announced the new headset, called the Oculus Go, during its VR developer conference in San Jose.
The goal, according to Zuckerberg, is to get one billion people to use virtual reality. But to do so, the company has work on affordability and quality.
Oculus Go is Facebook's effort to get closer to that goal.
It will cost $199 and ship early next year.
There are two types of headsets available on the market: those like Samsung Gear VR and Google Daydream View, which require a smartphone to operate, or rigs like Oculus Rift that work with expensive PCs. Oculus Go, which doesn't require you to be tethered to a phone or computer, wants to fit somewhere in between. It aims to reach those who don't want to invest in pricey computing.
Facebook believes more people will likely spend more time in VR if they own a standalone headset. To make the device more compelling for consumers, Oculus Go will have a more breathable mesh fabric, improved lenses and display. It will ship with integrated audio so you don't have to use headphones with the device.
Related: Google admits its new smart speaker was eavesdropping on users
The company said will bring some Samsung Gear VR experiences like games and apps to Oculus Go.
Despite hype, consumer demand for VR and Oculus products appears to be lackluster. Facebook slashed prices twice on its Rift VR headset bundled with Touch controllers this year, but the second price cut was temporary. On Wednesday, Facebook slashed prices once again. Now, the Oculus Rift headset and Touch controllers will cost $399 as a bundle.
In kicking off the Oculus Connect event, Zuckerberg acknowledged that VR isn't mainstream yet, but said he believes it will one day make the world better by helping with job creation and empathy.
"If you can't think of any way that your reality can be better, then you're not thinking hard enough," Zuckerberg said.
But this week, Zuckerberg was criticized for his attempt at showing how VR could generate empathy. The executive announced a humanitarian effort for hurricane-ravaged Puerto Rico from Spaces, a social VR app, while a 360 video of the flooded island played in the background. The stunt was widely panned and many considered it insensitive. He has since apologized.
Analysts believe it could still take a few years before VR hits the mainstream.
"We're not going to see a significant growth spurt until 2019 or 2020," said Stephanie Llamas vice president of research and strategy at market intelligence firm SuperData. "This has to do with the technology's accessibility and ease-of-use. Without a killer app — which we still haven't seen — this significant growth can't happen, regardless of the tech."
Facebook acquired Oculus, then a small hardware startup, for $2 billion in 2014.
In February, Facebook was ordered to pay $500 million in a lawsuit over VR technology. A jury determined Palmer Luckey, founder of Oculus, violated his non-disclosure agreement. Luckey left the company in March.
CNNMoney (San Jose) First published October 11, 2017: 2:03 PM ET