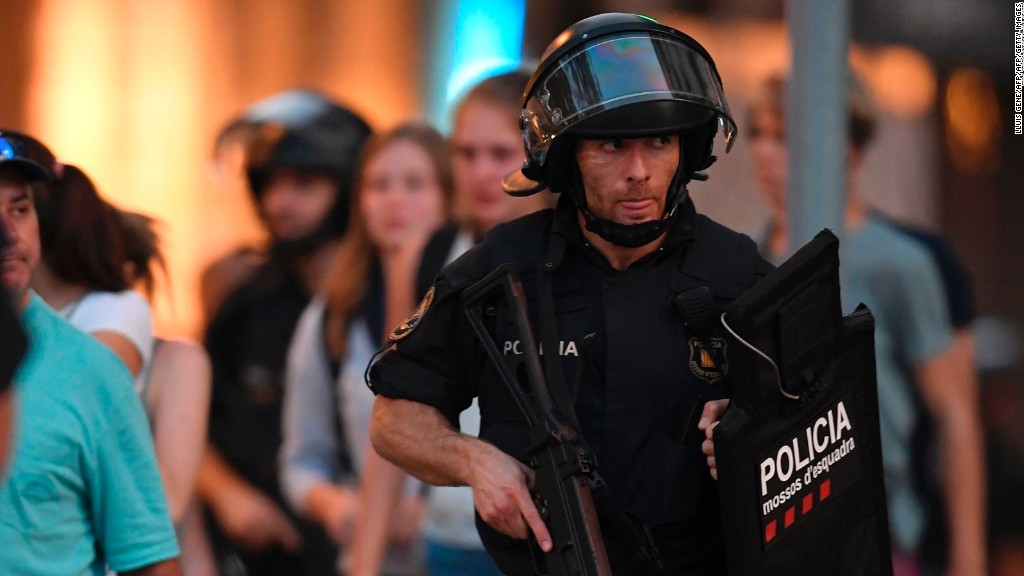 Terror in a major European city is once more dominating headlines and homepages around the world.
"Evil strikes again," read the Times of London's main headline on Friday, following the deadly van attack Thursday in the heart of Barcelona, which was claimed by ISIS. "Depraved," said the New York Daily News.
In Spanish newspapers, covering the deadliest terror attack in their country since 2004, one theme came through strongly: unity.
The black front page of La Razon featured the headline "United against terrorism" over the image of a white ribbon.
Other Spanish papers emphasized the need for unity in the face terrorism — both in Spain and across Europe.
Numerous international media outlets referenced previous attacks in European cities in which terrorists had used vehicles as deadly battering rams: Nice, Berlin, Stockholm and London.
French daily Liberation devoted an article to the disturbing trend, entitled "Ramming vehicle: Weapon of mass destruction."
Related: Trump responds to Barcelona terror attack by spreading debunked rumor
Germany's Frankfurter Allgemeine Zeitung said such attacks by ISIS are about killing but also the setting in which they take place.
"The boulevards and bridges of Western capitals represent the public space in which free societies find their full expression," it said in a commentary.
The Barcelona attack took place in Las Ramblas avenue, an area of the city that's often teeming with tourists.
Here are some of the major newspaper front pages:
Liberation, France: "Terror on Las Ramblas"
The Times of London: "Evil strikes again"
La Repubblica, Italy: "Terrorists in the heart of Barcelona"
New York Daily News: "Depraved"
Ara, Spain: "Without fear"
–– Mark Thompson in London contributed to this article.
CNNMoney (Hong Kong) First published August 18, 2017: 6:29 AM ET