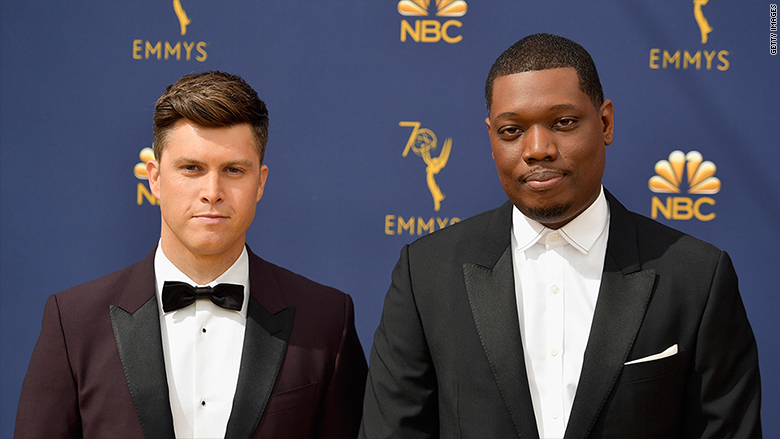 Television's biggest night could end up with its smallest audience ever.
The 70th Annual Primetime Emmy Awards nabbed a 7.4 overnight rating for NBC. That number is down 10% from last year, which ended up tying for the lowest viewership in Emmy history. If the early numbers are any indication, then Monday's show could be a historic low when official viewership is released later on Tuesday.
The Emmys aren't alone when it comes to declining viewership. The Oscars and Grammys' numbers have also suffered in recent years.
Nielsen takes the percentage of households watching in 56 US markets and comes up with an overnight average. That means that 7.4% of households in these 56 markets tuned into the Emmys on Monday night.
The awards broadcast clocked in at three hours and went up against ESPN's "Monday Night Football."
Highlights include "The Marvelous Mrs. Maisel's" win in the best comedy category, "Game of Thrones" reclaiming the best drama award and director Glenn Weiss' on-stage marriage proposal while accepting the Emmy for his work at the Oscars.
Related: Glenn Weiss wins best Emmy moment with live proposal
The overall broadcast was on the receiving end of some bruising critique.
"With Michael Che and Colin Jost unable to set an amusing tone, the Emmys became a bloated 'Saturday Night Live' episode," wrote Daniel Fienberg, TV critic for the Hollywood Reporter.
CNN's Brian Lowry agreed with this assessment.
"There was simply too much 'SNL,' past and present, as if producer Lorne Michaels — overseeing the telecast for host network NBC — could scarcely be bothered to reach beyond his comfort zone," Lowry wrote in his Emmy review.
CNNMoney (New York) First published September 18, 2018: 11:59 AM ET