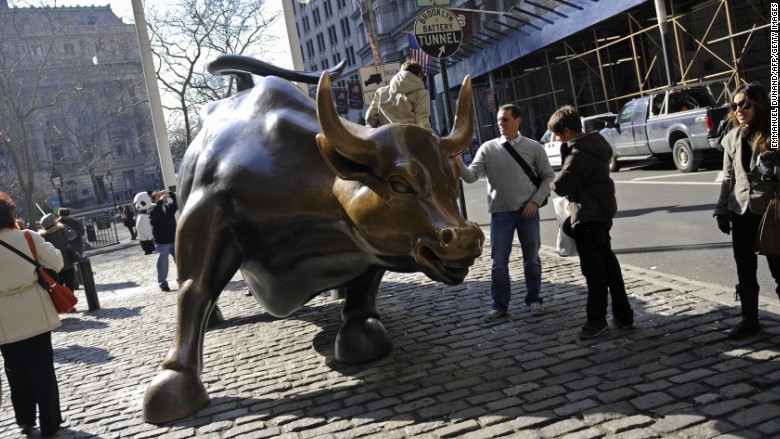 A woman was arrested Friday for allegedly vandalizing the famed "Charging Bull" statue that has decorated Wall Street for nearly three decades.
Courtney Fallon, 33, was arrested Friday and charged with two misdemeanors, according to the New York Police Department.
The stunt was part of a political protest against the Trump Administration's decision to withdraw from the Paris Climate Accord, according to a group claiming responsibility for the act.
A statement posted on the @DrawTheBlueLine Twitter handle claims to be from Fallon and takes credit for the vandalism.
"I also tarred and feathered the sculpture of 'Charging Bull' with corn oil and powdered blue chalk which I photographed and captioned, 'Be bull-headed in the face of climate change denial and demand action now,'" the statement says.
Fallon's tweet said a "Suffragette-style sash" was draped across "Fearless Girl," a separate statue that was installed across from "Charging Bull" earlier this year.
Related: NYC mayor to 'Charging Bull' artist: 'Fearless Girl is staying put.'
The tweet said Fallon "chose the corn oil and chalk specifically because they wouldn't cause any harm," hoping it "would therefore not be perceived as an act of vandalism."
"That was idiotic of me and it is so painfully obvious now," the statement says. "I define property damage as antithetical to peaceful protest."
Fallon did not respond to multiple requests for comment.
Trump announced his decision to take the U.S. out of the deal in June, insisting it was unduly harsh on Americans and gave an unfair advantage to other nations.
Many on Wall Street were highly critical of the president's decision to withdraw from the Paris agreement.
Jamie Dimon, CEO of JP Morgan (JPM), said in June that he "absolutely disagrees" with Trump's decision.
It even inspired Goldman Sachs (GS) CEO Lloyd Blankfein to tweet for the first time. He called the move a "setback" for the environment and for the country's "leadership position in the world."
Morgan Stanley (MS) also voiced support for staying in the pact ahead of Trump's final announcement.
Trump's decision was also met with broad push back from businesses, cities and states across the country who said they would do their part to uphold America's commitment to the climate accord.
CNNMoney (New York) First published September 16, 2017: 4:30 PM ET