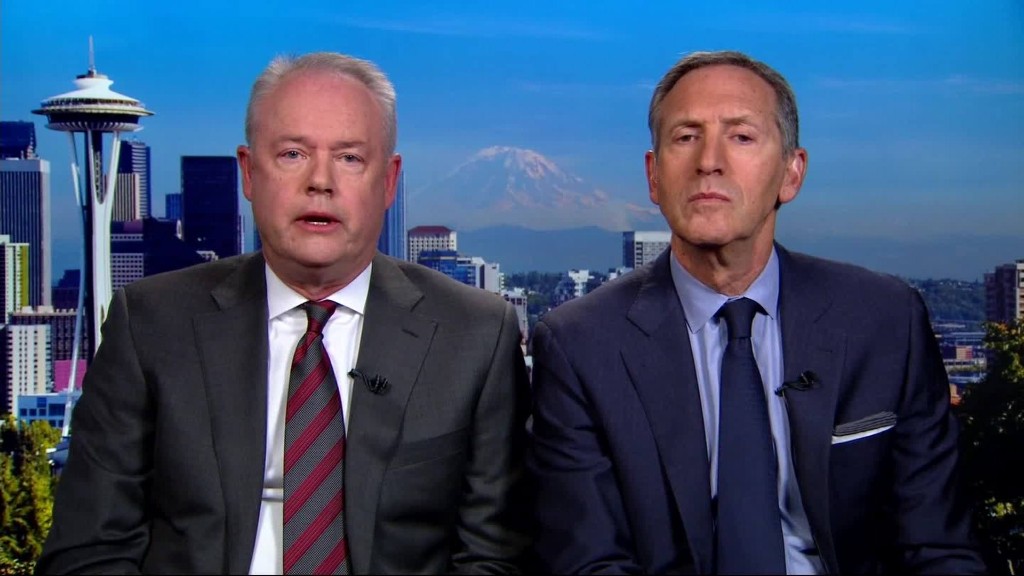 Howard Schultz used his long tenure as CEO of coffee king Starbucks to speak out about economic advancement for workers.
Now, as Starbucks' executive chairman, out of the daily management of the company, he's still pushing the American Dream — but he's added media producer to his roles.
Starbucks (SBUX) rolled out the second season of its "Upstanders" documentary series Monday night. The first season debuted last September.
The 11 new episodes, written and produced by Schultz and Rajiv Chandrasekaran, an executive producer at Starbucks and former Washington Post editor, focus on inspirational profiles of every day Americans.
Some examples?
A teenager facing life in prison who called the woman he shot to apologize — and formed a friendship with her in the process.
A woman in the Mormon-dominated city of Provo, Utah who created a community center for gay teens.
And a chef who quit his job at a popular Dallas restaurant to open an eatery that mostly employs ex-juvenile detention inmates.
You'll note that none of these topics, or those of the remaining eight documentaries for that matter, have anything to do with Frappuccinos, lattes, espresso or any other caffeinated beverages.
In an interview with CNNMoney on Monday, Schultz said the series isn't about selling coffee and promoting brand awareness.
Schultz said he and Chandrasekaran felt emboldened to do another season of "Upstanders" following the success of the first few episodes, which Schultz said were watched by 60 million people.
Chandrasekaran said he hopes the new episodes will help elevate the national conversation about sensitive topics like the opioid crisis, race, refugees in America and poverty. And both men stressed that this is not about politics.
"It is difficult to dispute stories of empathy, compassion and kindness," Schultz told CNNMoney. "We are not in any way preaching."
Related: Schultz on Charlottesville — 'I know we are better than this'
The Upstanders episodes are available on the Starbucks web site and also through the Amazon Prime Video service, the Amazon (AMZN, Tech30)-owned Audible podcast and audiobooks network (with Michael B. Jordan from "The Wire" narrating) and the new Facebook (FB, Tech30) Watch platform for original videos.
Schultz dismissed potential criticism of these videos as a way for Starbucks to use its mass network of stores to promote a more liberal anti-Trump agenda.
"People have to opt in. Nobody at Starbucks is saying you have to watch this," he said.
And neither Schultz, a Democrat who backed Hillary Clinton in her campaign for president in 2016, nor Chandrasekaran singled out President Trump or Republicans for what now seems like an even more toxic political environment than ever.
But Chandrasekaran said he hoped that the stories will shine a light on a bigger American story, where ordinary people put aside differences to come together.
"We all elect representatives but a lot of days it doesn't feel like Washington represents the values we hold dear," he said.
The new documentaries are the latest example of how Schultz has been focusing even more on social issues and the company's role in the global community since he stepped down as CEO in April.
Kevin Johnson, a former tech executive with experience at Microsoft (MSFT, Tech30)and Juniper Networks (JNPR) who joined Starbucks in January 2015, succeeded Schultz.
Starbucks also recently hired Rosalind Brewer, the former president and CEO of Walmart (WMT)subsidiary Sam's Club, to be its new chief operating officer.
But Schultz, as he has done several times since he announced he would give up the CEO spot at Starbucks, told CNNMoney that he is not considering a run for political office.
Schultz said he remains "deeply committed" to Starbucks and feels he can do the most good from a social agenda standpoint as a business leader.
CNNMoney (New York) First published October 9, 2017: 9:01 PM ET