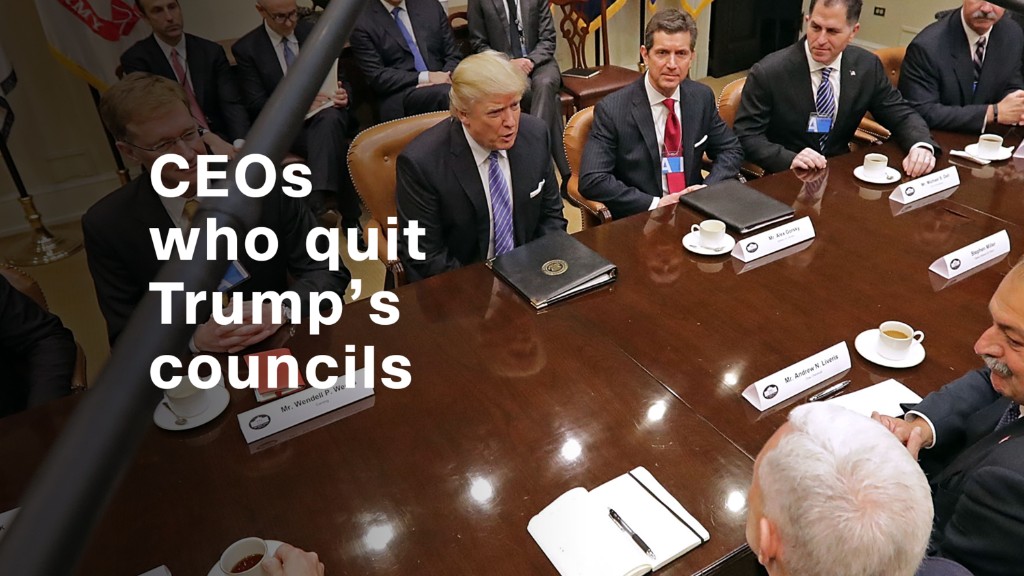 Four executives have left President Trump's manufacturing council in recent days amid the extraordinary uproar sparked by the violence in Charlottesville.
Others have opted to stay, even under pressure from grassroots groups. Some argue it's more valuable to have a seat at the table when the government is shaping policy that affects their companies.
The names of the members below come from official White House lists published at the time each group was announced. CNNMoney has reached out to all the members of the manufacturing panel, and a second presidential council on the economy, to ask where they stand.
This list will be updated as developments require or new information comes in.
Manufacturing Jobs Initiative
Formed in January to advise Trump on job growth in manufacturing.
Executives no longer on the council:
Executives who said they are staying:
Jeff Immelt, GE.
Andrew Liveris, Dow Chemical.
John Ferriola, Nucor.
Jeff Fettig, Whirlpool.
Mark Sutton, International Paper.
Denise Morrison, Campbell Soup.
Michael Dell, Dell.
Dennis Builenburg, Boeing.
Executives who say they are considering whether to stay:
Richard Trumka and Thea Lee, AFL-CIO.
Executives who declined comment or have not responded to CNNMoney:
Marilynn Hewson, Lockheed Martin. Declined to comment.
Bill Brown, Harris Corporation. Declined to comment.
Alex Gorsky, Johnson & Johnson.
Greg Hayes, United Technologies.
Jim Kamsickas, Dana.
Rich Kyle, Timken.
Michael Polk, Newell Brands.
Inge Thulin, 3M.
Wendell Weeks, Corning.
(Note: Klaus Kleinfeld, Arconic, and Doug Oberhelman, Caterpillar, were listed as members of the jobs group. Both have left their companies and it is not yet clear whether they were replaced.)
President's Strategic and Policy Forum
This economic advisory group was created in December. Officials said Trump would call upon them to share experience and knowledge as he implements his economic agenda.
Executives who have left the group:
Executives who have said they are staying:
Mary Barra, General Motors.
Mark Weinberger, EY.
Adebayo "Bayo" Ogunlesi, Global Infrustructure Partners.
Toby Cosgrove, Cleveland Clinic.
Doug McMillon, Wal-Mart.
Executives who released statements about Charlottesville but did not explicitly mention their council roles:
Executives who declined comment or have not responded to CNNMoney:
Paul Atkins, Patomak Global Partners and a former commissioner of the Securities and Exchange Commission.
Larry Fink, BlackRock.
Rich Lesser, Boston Consulting Group.
Ginni Rometty, IBM.
Jim McNerney, the former CEO of Boeing.
Daniel Yergin, a Pulitzer Prize-winner and the vice chairman of IHS Markit. Not available for comment on Tuesday.
Kevin Warsh, the Shepard Family Distinguished Visiting Fellow in Economics at the Hoover Institute at Stanford University and the former member of Board of Governors of the Federal Reserve. Stanford said Warsh was not available to comment.
Jack Welch, GE's former chairman and CEO. Wasn't available for comment Tuesday.
CNNMoney (New York) First published August 15, 2017: 4:57 PM ET