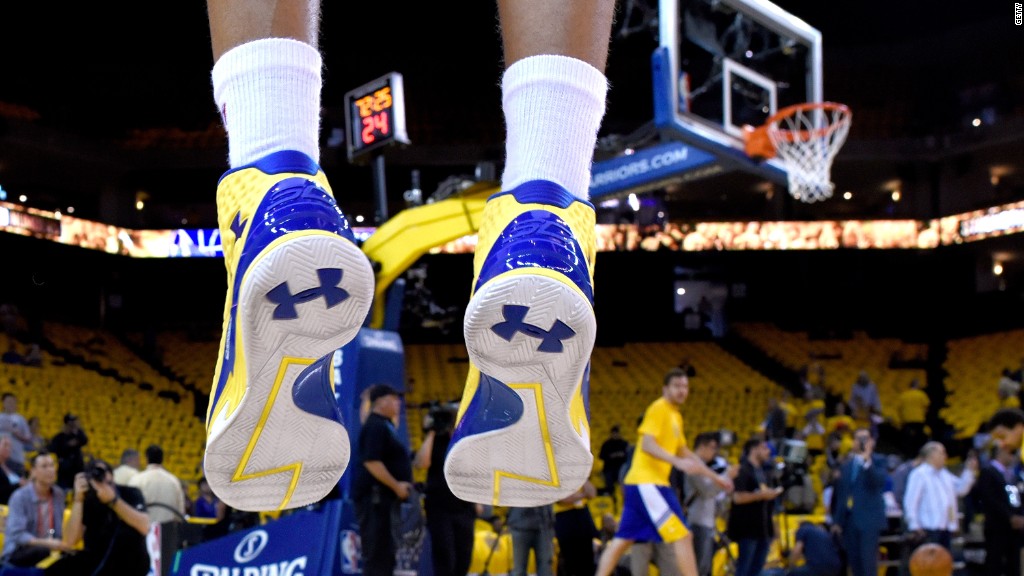 Under Armour has picked a team, and it's siding with the athletes.
The sportswear brand tweeted Saturday that it "stands by our Athletes for free speech, expression and a unified America."
The tweet came just hours after President Trump said he would rescind a White House invitation for Stephen Curry, the Golden State Warriors's superstar and Under Armour (UA) endorser.
"Going to the White House is considered a great honor for a championship team. Stephen Curry is hesitating, therefore invitation is withdrawn!" Trump tweeted after learning that Curry told reporters he didn't "want to go" to the White House ceremony commending the Warriors's NBC championship title.
Curry, one of the best shooters in NBA history, has been considered a major boon for Under Armour. His signature line of footwear has helped boost sales of Under Armour basketball sneakers
But the relationship between Curry and Under Armour appeared strained earlier this year thanks to Trump's presidency.
Related: Slam dunk for Adidas as sales top Nike's Jordan line
Under Armour CEO Kevin Plank in February called Trump a "real asset" to the U.S. during an interview with CNBC.
When asked about the comment, Curry told The Mercury News, "I agree with that description if you remove the 'et' from asset."
Curry said he contacted the company to voice his opposition to Plank's comments.
"I spent all day yesterday on the phone," Curry said. "With countless people at Under Armour, countless people in Kevin Plank's camp, my team, trying to understand what was going on and where everybody stood on the issue."
Under Armour later released a statement, saying it engages in "policy, not politics."
The company also clarified its stance on some of Trump's most controversial policies, saying it advocates for free trade and inclusive immigration policy.
Related: With 'son of a bitch' comments, Trump tried to divide NFL and its players
Since then, Plank has gone even further to distance himself from the president.
He was among the CEOs that stepped down from the president's American Manufacturing Council in August to protest the president's response to violence in Charlottesville, Virginia. A rally attended by neo-Nazis and white nationalists left one counter-protester dead.
Trump's widely criticized remarks included assertions that there was violence on "many sides" and there were "fine people" among the demonstrators.
Under Armour's tweet on Saturday also followed a face-off between Trump and the National Football League. Trump said Friday at a rally in Alabama that NFL players that kneel during the national anthem are "ruining the game" and should be fired.
NFL Commissioner Roger Goddell shot back: "Divisive comments like these demonstrate an unfortunate lack of respect for the NFL, our great game and all of our players."
–CNNMoney's Ivana Kottasova and Ahiza Garcia contributed to this report.
CNNMoney (New York) First published September 23, 2017: 3:54 PM ET