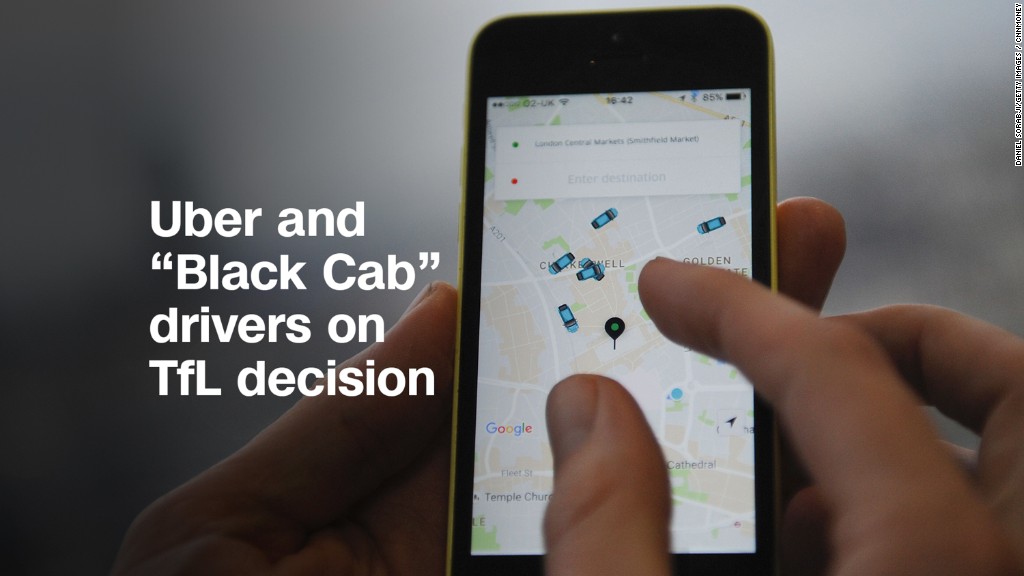 Uber's CEO is coming to London in the hope of defusing a crisis in one of the company's biggest markets.
Dara Khosrowshahi, who has been chief executive for only a month, will meet Transport Commissioner Mike Brown in London on Tuesday.
Transport for London, the city's transit authority, said the meeting was scheduled following an approach from Uber.
"Our new CEO is looking forward to meeting with the commissioner next week," Uber said in a statement. "We want to work with London to make things right."
Transport for London ruled last week that Uber was not "fit and proper" to operate in the city and declined to renew the company's license when it expires Saturday.
It cited the company's approach to reporting serious criminal offenses committed in its cars, and the way it explained its use of software that can prevent regulators and law enforcement from monitoring the app.
Uber plans to challenge the decision in court, and can continue to operate during the appeal process.
Many Londoners are furious with city officials. By Friday, a petition urging London mayor Sadiq Khan to keep Uber in the city had attracted more than 820,000 signatures.
There are signs that Khosrowshahi will take a conciliatory approach in London, where 3.5 million people have used the platform since 2012.
"While Uber has revolutionized the way people move in cities around the world, it's equally true that we've got things wrong along the way," the CEO wrote in a letter published earlier this week. "On behalf of everyone at Uber globally, I apologize for the mistakes we've made."
Khan, who backed the ban, welcomed the apology and asked city transport officials to meet with Uber executives.
Related: Londoners react to 'bombshell' Uber ban
Uber has endured a series of scandals related to its culture and brash approach to regulatory and legal issues.
Former CEO Travis Kalanick resigned his position in June following an exodus of top executives and allegations that managers didn't adequately address reports of sexual harassment.
Khosrowshahi, the former chief executive of Expedia, has promised a fresh approach.
"The truth is that there is a high cost to a bad reputation," Khosrowshahi wrote last week in a letter to employees. "Irrespective of whether we did everything that is being said about us in London today (and to be clear, I don't think we did), it really matters what people think of us."
— Alanna Petroff and Sara Ashley O'Brien contributed reporting.
CNNMoney (London) First published September 29, 2017: 8:06 AM ET