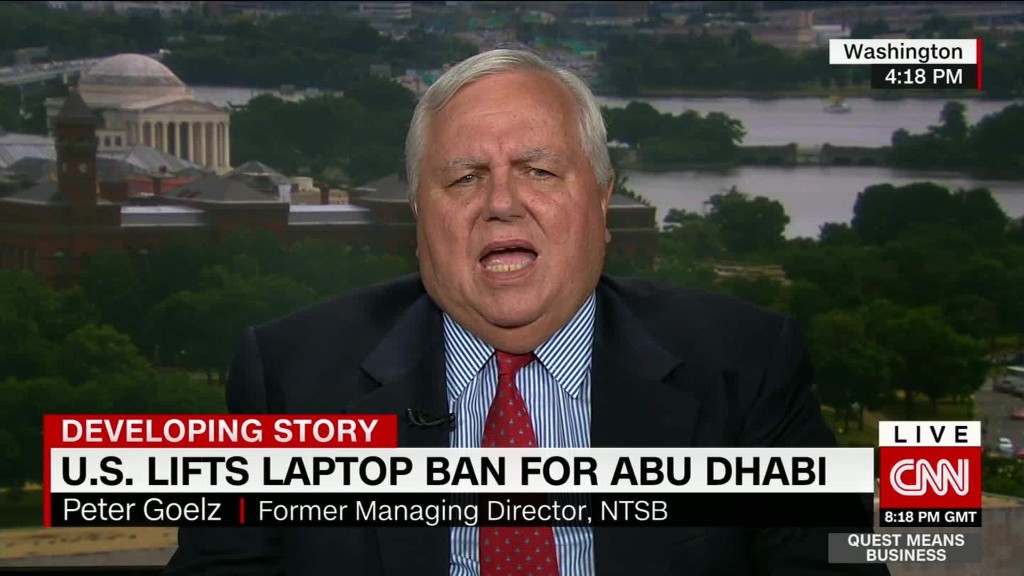 Passengers flying to the U.S. from four foreign airports still affected by the electronics ban may soon be able to bring their laptops on board the plane.
The Department of Homeland Security on Tuesday said if security measures are increased at the airports in coming days and weeks, the laptop restriction will be removed.
In March, the U.S. banned electronic devices larger than a smartphone from the cabin on flights coming from 10 airports in eight countries in the Middle East and North Africa. Officials feared that the devices could be used to smuggle explosives on board.
The electronics ban remains in effect for U.S.-bound flights from airports in Cairo, Egypt; Casablanca, Morocco; and Jeddah and Riyadh, Saudi Arabia.
Related: Laptop ban lifted for Abu Dhabi airline
Earlier this month, U.S. officials lifted the ban for passengers coming from Istanbul, Turkey; Doha, Qatar; Amman, Jordan; and Abu Dhabi and Dubai in the United Arab Emirates, after airports and airlines implemented heightened security measures.
While authorities have never described those measures in detail, DHS Secretary of Homeland Security John Kelly said in June that the security included enhanced screening of both passengers and electronic devices.
Related: Qatar Airways is latest carrier to have laptop ban lifted
Three airlines — Royal Air Maroc, Egypt Air and Saudia — are still affected by the ban.
Saudia, the national carrier for Saudi Arabia, said last week that it was working to implement the DHS measures and aimed to have the ban lifted by July 19. DHS spokesman David Lapan on Tuesday said he would not discuss security changes to any flights affected by the ban.
Lapan says the ban can be lifted after airlines tell U.S. officials that they have the new security measures in place. American authorities then will need to verify compliance.
Lapan added that all airlines with a last point of departure outside the U.S. will need to need to put the security upgrades in place in order to avoid facing a similar electronic bans. If they don't, they could even risk having U.S.-bound flights suspended, he added.
The "nature of the threat remains," he said.
–CNNMoney's Zahraa Alkhalisi and Jethro Mullen contributed to this story.
CNNMoney (New York) First published July 11, 2017: 4:37 PM ET