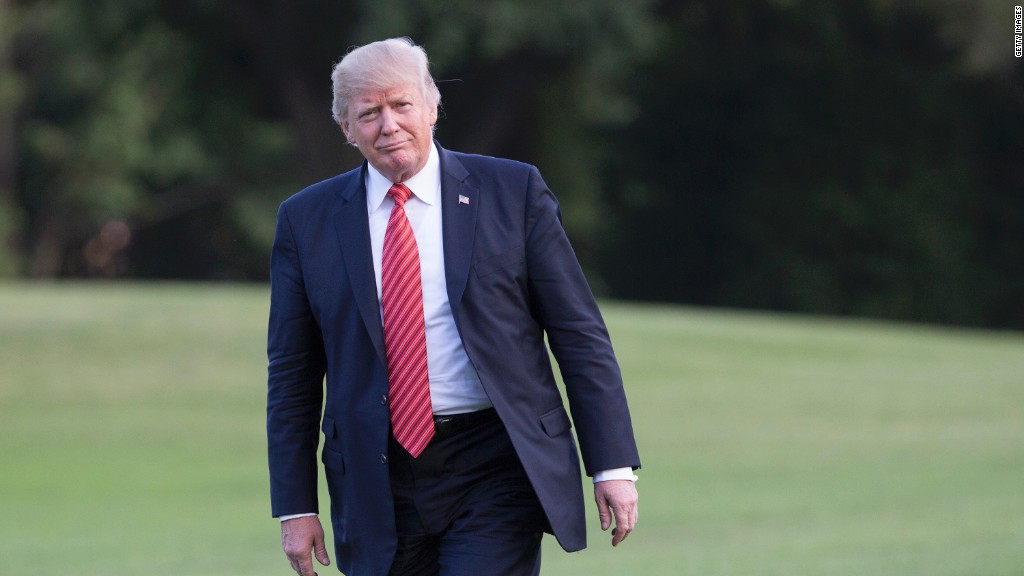 President Trump tweeted Tuesday morning that they NFL ratings "are way down." The numbers for the league's most recent games say otherwise.
The overall overnight ratings for the NFL's week 3 games were up 3% compared to the same week last year, according to Nielsen data.
That increase includes a "Monday Night Football" game between the Dallas Cowboys and the Arizona Cardinals that nabbed a 9.3 overnight rating for ESPN, up a whopping 63% over last year's New Orleans Saints and Atlanta Falcons game, which brought in a 5.7. (To come up with overnight ratings, Nielsen takes the percentage of households watching in 56 U.S. markets and comes up with an overnight average — so a 9.3 means that 9.3% of households in those 56 markets tuned into the game on ESPN on Monday night.)
Related: Early ratings for the NFL are down again, but maybe not because of President Trump
Now, it should be noted that those numbers come with two major asterisks.
The first is that the Cowboys are arguably the most popular and watched team in the league, and almost any game featuring them is likely to do better than almost any other.
The second is that the overnight ratings for this week's Monday night game basically had to go up compared to last year's, which was competing with the first presidential debate between Hillary Clinton and Donald Trump, and as a result brought in the program's lowest viewership in at least the past 25 years.
Trump has been at war with the NFL over the past few days beginning with a firestorm he started on Friday night when he went after the league and attacked players who have been kneeling or sitting during the national anthem to draw attention to social justice issues.
On Tuesday morning, Trump tweeted that "Ratings for NFL football are way down except before game starts, when people tune in to see whether or not our country will be disrespected!"
If Trump was talking about NFL ratings generally, and not this week, he was at least partially right in two ways. The NFL's ratings have fallen over the past two years, though that has happened for a number of reasons not related to the anthem protests, and the overnight ratings for the pregame shows on Sunday were way up — though that was likely more about people tuning in to see discussion about the issue than about watching the anthem ceremonies themselves.
CNNMoney (New York) First published September 26, 2017: 10:17 AM ET