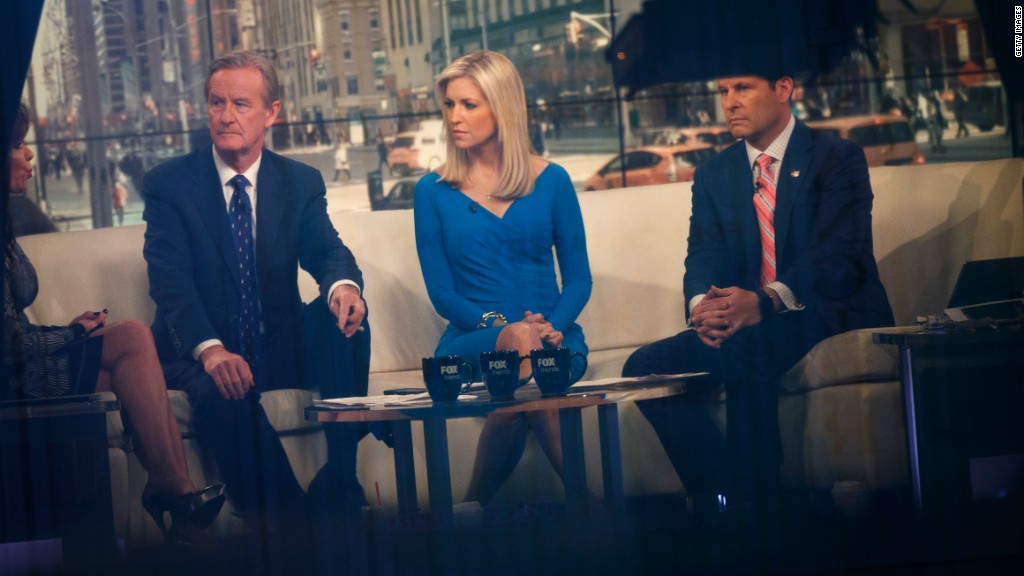 Here's a stat that shows the Fox News presidency in action: President Trump has granted 19 interviews this year to Fox News employees.
Interview No. 19 was with Lou Dobbs at the White House on Wednesday. Dobbs is one of Trump's biggest boosters in the media, consistently promoting the President's agenda.
No other media outlet even comes close to Fox's level of access. The New York Times has had four interviews with the President, NBC and Reuters have had three each, and the Wall Street Journal has had two.
The interview tally comes from Mark Knoller of CBS, the keeper of many White House statistics.
CBS and other networks routinely lobby the White House for interviews. NBC's Matt Lauer was spotted at the White House last week for meetings that included an interview pitch.
But journalists like Lauer are at a disadvantage. Practically all of President Trump's interviewers are his friends. That's not a knock on the interviewers — it's just a fact.
Even some journalists within Fox have expressed frustration with Trump's choices.
"We'd love to have you on 'Special Report' sometime," anchor Bret Baier tweeted to Trump on Wednesday, noting that it's been a year "since I last interviewed candidate Trump in Trump Tower."
"We'll keep asking," Baier added.
Trump is somewhat accessible to the White House press corps through informal press conferences and Q&A sessions. He answers questions during photo ops and trips and he tweets his opinions nearly every day.
But Twitter and press conferences are no substitute for sit-down interviews with seasoned journalists. In these more formal settings, interviewers can steer the conversation and ask follow-up questions.
The White House has kept these kinds of interviews to a minimum. Instead, the administration invites pro-Trump hosts to ask questions.
The president's last formal TV news interview outside Fox News was with NBC's Lester Holt in May, one day after Trump fired then-FBI Director James Comey.
Since then, the President has granted a few formal interviews to journalists from other outlets, most recently to Forbes magazine for a feature earlier this month.
But most of his sit-downs, according to Knoller's count, have been with Fox.
The 19-interview total includes the flagship Fox News Channel, Fox Business, and Fox News Radio.
Fox's Geraldo Rivera, who interviewed Trump in Puerto Rico at the beginning of October, calls Trump a friend.
Then it was Sean Hannity's turn on October 11. Hannity is a supporter and an informal adviser to the President. The two men reportedly speak by phone on a regular basis.
Last week, Trump granted short interviews to five conservative radio hosts, including Fox's Brian Kilmeade.
Fox's Maria Bartiromo taped an interview with him at the end of the week. Bartiromo is an accomplished journalist, but some critics said she went easy on Trump and didn't bring up pivotal topics. For example, there were no questions about the circumstances of the ambush in Niger that claimed the lives of four U.S. soldiers.
Trump's last non-Fox TV interview was with White House Press Secretary Sarah Sanders' father Mike Huckabee, who has a new show on religious broadcaster Trinity Broadcasting Network.
The interview with Dobbs was taped on Wednesday. At one point during the Q&A, Trump tapped him as an adviser, asking "Do you have a preference, out of curiosity?"
The subject was Trump's impending nomination of the next Federal Reserve chair. Dobbs initially hesitated to tell Trump his views.
"I'd love to hear it," Trump said, coaxing it out of him. "You can even cut it out if you want. I would love to hear your — I only want that from people I respect."
Dobbs answered that "Janet Yellen might be worth keeping."
This is the tally of President Trump's interviews with major American news organizations since inauguration day:
Fox — 19
NYT — 4
NBC — 3
Reuters — 3
WSJ — 2
CBN — 2
ABC — 1
CBS — 1
WashPost — 1
AP — 1
Time — 1
Forbes — 1
A version of this article first appeared in the "Reliable Sources" newsletter. Sign up here.
CNNMoney (New York) First published October 25, 2017: 6:35 PM ET