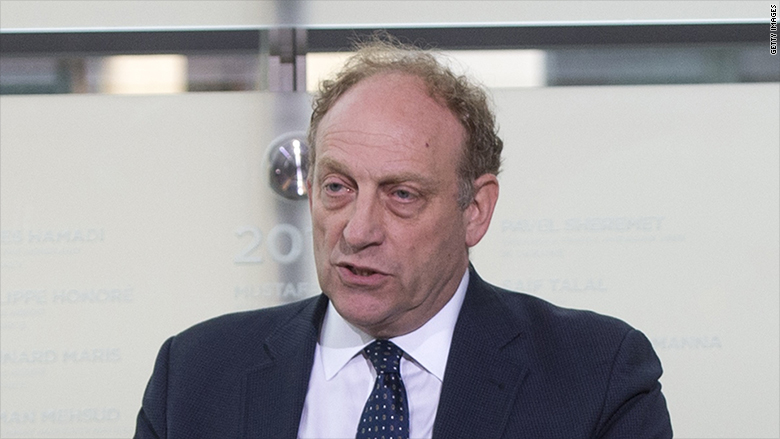 NPR has placed its top editor, Michael Oreskes, on leave amid accusations that he sexually harassed two women decades ago while he was working at The New York Times.
Oreskes allegedly made unwanted sexual advances toward two journalists who were seeking jobs at the paper two decades ago. Both accusers say that Oreskes unexpectedly kissed them during career-oriented business meetings while he was working as the Times' Washington bureau chief, according to The Washington Post, which broke the story.
Oreskes, the senior vice president for news at NPR, did not immediately respond to a request for comment from CNNMoney.
A third accuser, who works at NPR, said she filed a complaint about him to NPR's human resources department in October 2015, according to NPR's own reporting on Oreskes. Her complaint said Oreskes "hijacked a career counseling session into a three-hour-long dinner that delved into deeply personal territory" and included mentions of sex with a former girlfriend.
The network, at the time, rebuked Oreskes and informed other executives at the company after the complaint was filed, according to NPR's own reporting.
After the story broke Tuesday about his alleged prior behavior, NPR officials placed him on leave, the NPR story said.
NPR CEO Jarl Mohn sent a memo to staffers after the allegations surfaced Tuesday, and encouraged employees to report any incident of harassment "or other inappropriate behavior at NPR" to human resources or the legal team.
Related: Workplace touching: When it's OK, and when it's harassment
A spokeswoman for NPR told CNNMoney, "We take these kinds of allegations very seriously. If a concern is raised, we review the matter promptly and take appropriate steps as warranted to assure a safe, comfortable and productive work environment."
Brian Stelter of CNNMoney assisted with this story.
CNNMoney (New York) First published November 1, 2017: 9:09 AM ET