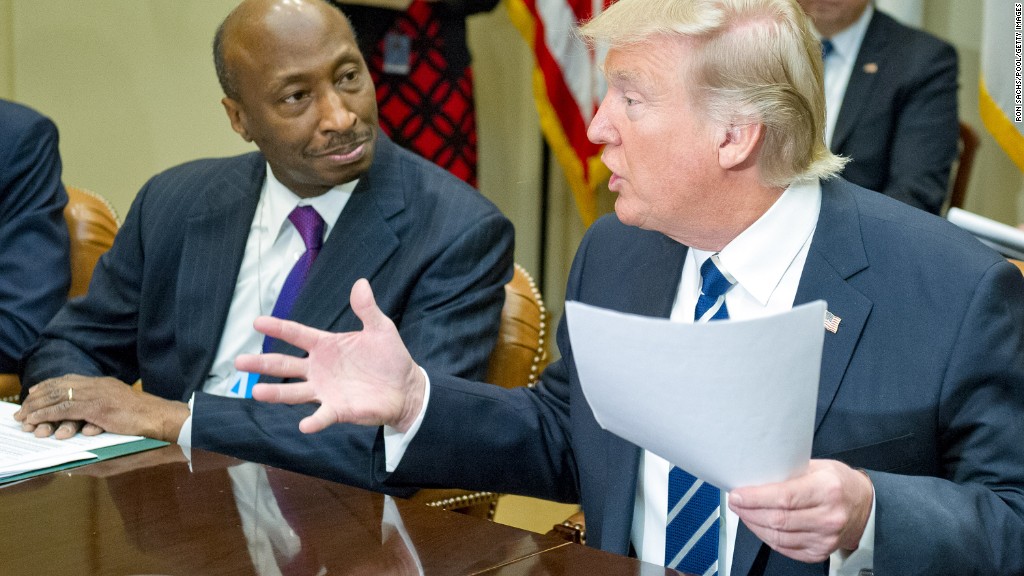 Three CEOs are walking away from President Trump.
The chief executives of Merck, Under Armour and Intel all quit a presidential manufacturing council on Monday after Trump took two days to denounce white supremacy.
Most notable was Kenneth Frazier of Merck (MRK), one of the most prominent black executives in the United States, who said the nation's leaders "must honor our fundamental values by clearly rejecting expressions of hatred, bigotry and group supremacy."
The aftermath of the violence at a neo-Nazi and white nationalist rally in Charlottesville, Virginia, represents the latest break between Trump, who sold himself as a businessman president, and leaders of corporate America.
They have also loudly opposed him on immigration and his decision to pull the United States out of the Paris climate agreement.
Related: CEOs keep turning against Trump
Frazier, who as a lawyer helped free a black death row inmate falsely accused of murder, and who now leads one of the country's most powerful drug companies, was first to quit the manufacturing council.
"America's leaders must honor our fundamental values by clearly rejecting expressions of hatred, bigotry and group supremacy," he said in a statement.
Within minutes, Trump responded by bashing Frazier on Twitter. The president wrote that the Merck CEO "will have more time to LOWER RIPOFF DRUG PRICES!"
After neo-Nazis and white supremacists brawled with counter-protesters in the streets of Charlottesville on Saturday, Trump spoke against violence "on many sides — on many sides." A woman was killed and 19 people injured when a car rammed down a narrow street.
Two days later and after intense criticism, Trump on Monday called out the KKK, neo-Nazis and white supremacists as "evil" and "hate groups" that are "repugnant to everything we hold dear as Americans."
Kevin Plank, the CEO of Under Armour (UA), quit the council later in the day.
"Under Armour engages in innovation and sports, not politics," he said in a statement. He said he would "continue to focus my efforts on inspiring every person that they can do anything through the power of sport which promotes unity, diversity and inclusion."
Intel (INTC, Tech30) CEO Brian Krzanich was somewhat more direct.
"We should honor — not attack — those who have stood up for equality and other cherished American values. I hope this will change, and I remain willing to serve when it does," he wrote in a blog post on the company's website late Monday.
"I resigned because I want to make progress, while many in Washington seem more concerned with attacking anyone who disagrees with them," he said.
Related: CEOs condemn racism after Charlottesville
At least seven companies or executives said that they would remain with the council, which was formed in January to advise Trump on manufacturing growth — a focus of the president's campaign.
General Electric (GE) said the company has "no tolerance for hate, bigotry or racism." But it added that chairman Jeff Immelt would stay on the council because it was important for GE to "participate in the discussion on how to drive growth and productivity in the U.S."
Representatives for at least five other companies — Dow Chemical (DOW), Whirlpool (WHR), Campbell Soup (CPB), International Paper (IP) and Nucor (NUE) — voiced similar sentiments.
They all released statements that condemned racism or welcomed tolerance. But they also said they'd stay on the council so they could advise the government on ways to strengthen manufacturing.
One other member, Dell, said there was "no change" in how it is "engaging with the Trump administration" on policy issues that affect the company.
CNNMoney (New York) First published August 15, 2017: 7:28 AM ET