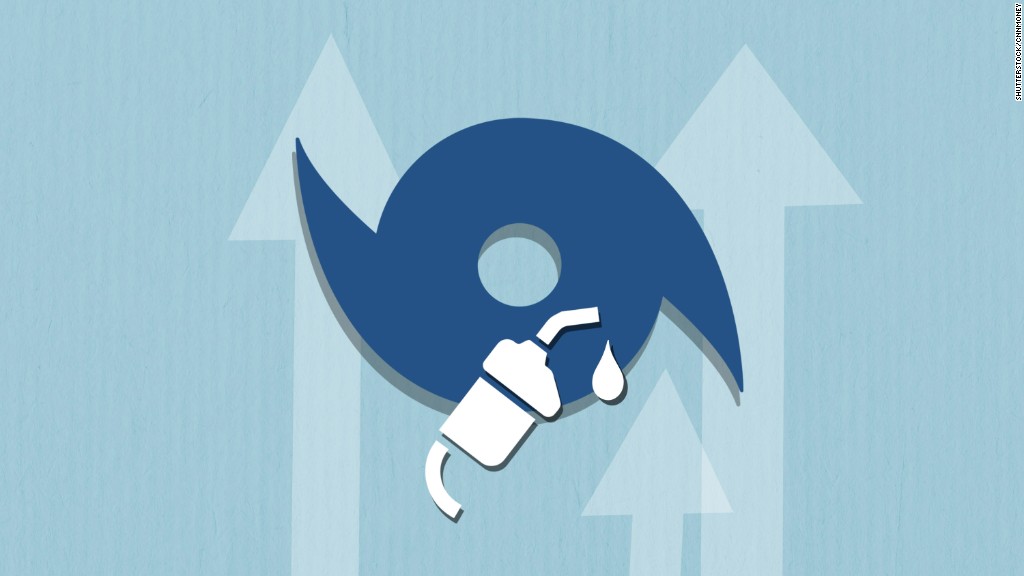 Hurricane Harvey could be one of the country's most severe storms in years and leave a lasting impact on the Texas economy.
Here's what to know:
Vital energy sources are at risk
Harvey is bearing down on a hub of America's energy industry.
Texas's Gulf Coast is home to key oil and gas facilities that make up nearly a third of the nation's refinery capability.
The storm is forcing several refineries to close and evacuate personnel. The Port of Corpus Christi, the nation's leading port for crude oil exports, and the Houston Shipping Channel have both shut down.
Related: Networks, newspapers out in full force as Hurricane Harvey soaks Texas
"The impact on the energy industry could potentially be devastating" for the next week, John LaRue, executive director of the Port of Corpus Christi, told CNNMoney.
Gas prices will spike
Many Americans will feel Harvey's impact at the pump, especially drivers in the South, Southeast and mid-Atlantic.
A gallon of gas may cost between five and 15 cents more in parts of the country, predicts Tom Kloza, chief oil analyst at the Oil Price Information Service.
Prices should fall back down by next week, but that could change if damage from the storm is worse than expected.
A blow to Texas's economy
The storm threatens Texas's recovering economy.
The state's unemployment rate spiked last year as oil prices dropped, but it had just been starting to show signs of improvement.
Extended refinery closings, environmental risks and potential home damages from Harvey all imperil that progress.
Refineries can typically return to work in a week or two after a storm, but some Louisiana refineries remained shut down for months after Hurricane Katrina in 2005.
Related: Coldplay cancels Houston concert due to Hurricane Harvey
If that happens in Texas, it "would be devastating to not only our economy but the U.S. economy," said Jim Blackburn, co-director of the severe storm center at Rice University.
The cost to rebuild
More than 200,000 homes currently sit in the hurricane's path, according to analytics firm CoreLogic.
Rebuilding those homes after the storm could cost up to $40 billion, the firm estimates.
The Houston metropolitan area would bear more than half of the rebuilding costs: It's one of the most densely populated areas in the country, with more than 6.5 million residents.
Most homes in Harvey's path don't have flood insurance, leaving owners with limited options if they need to rebuild their homes after the storm.
Only 15% of homes in Harris Country, which includes Houston, have flood insurance, according to figures from the National Flood Insurance Program. 20% of homes in Nueces County, where the coastal city of Corpus Christie is located, are covered.
CNNMoney (New York) First published August 25, 2017: 8:42 PM ET