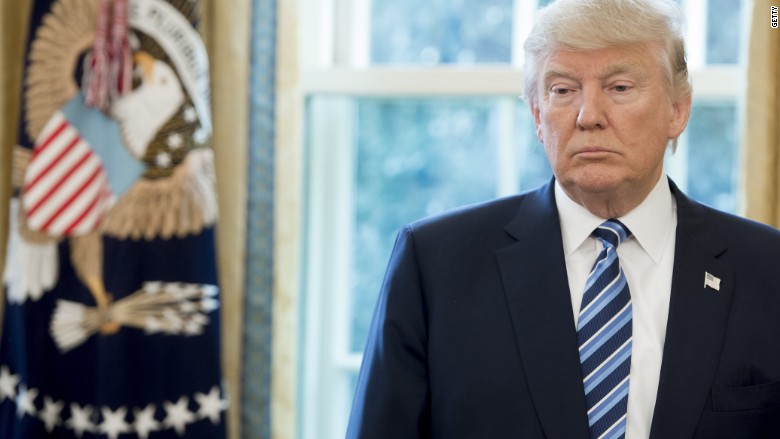 Is President Trump ready to mend fences with Silicon Valley?
The White House is hosting a summit Monday with top talent in technology. It's the first meeting of the American Technology Council, which was created by an executive order Trump signed last month.
The group will talk about reforming the H-1B visa program, which Trump has criticized and says is abused by tech firms that use it to import cheap labor.
Also on the council's agenda: modernizing the government's technology infrastructure and keeping its computers safe from cyber attacks.
Related: CEOs to Trump: You're failing
An administration official said leaders from 18 companies are expected to attend, including Amazon (AMZN, Tech30) CEO Jeff Bezos, Apple (AAPL, Tech30) CEO Tim Cook, Microsoft (MSFT, Tech30) CEO Satya Nadella, Founders Fund's Peter Thiel and Eric Schmidt, executive chairman of Google's parent company, Alphabet (GOOG).
Trump angered big players in the tech community earlier this month when he pulled the United States out of the Paris climate deal.
Facebook (FB, Tech30) founder and CEO Mark Zuckerberg, Google (GOOG) CEO Sundar Pichai, outgoing General Electric (GE) CEO Jeff Immelt and Apple's (AAPL, Tech30) Cook all condemned the move.
All of those companies declined comment to CNNMoney about Monday's meeting.
Tesla (TSLA) and SpaceX CEO Elon Musk will not participate. He resigned from two of Trump's other advisory councils after the Paris climate decision.
And Uber CEO Travis Kalanick will be a no-show. The company already confirmed that Kalanick doesn't have any plans to participate, and earlier this year he resigned from another one of Trump's councils. Kalanick is also on a leave of absence from Uber.
Related: Trump sparked a CEO revolt. Here's why
Among those representing the government will be Ivanka Trump and Jared Kushner, both White House advisers; Treasury Secretary Steven Mnuchin; Homeland Security Secretary John Kelly; White House budget director Mick Mulvaney and White House economic adviser Gary Cohn.
Chris Liddell, the White House director of strategic initiatives and a former top executive for General Motors, Microsoft, International Paper and William Morris Endeavor, was named by Trump as director of the council.
Vice President Mike Pence is also expected to stop by, and the group will meet with Trump late in the afternoon to provide an overview of the discussions, according to one senior White House official.
–CNN's Kevin Bohn and Athena Jones contributed to this report.
CNNMoney (New York) First published June 19, 2017: 6:23 AM ET