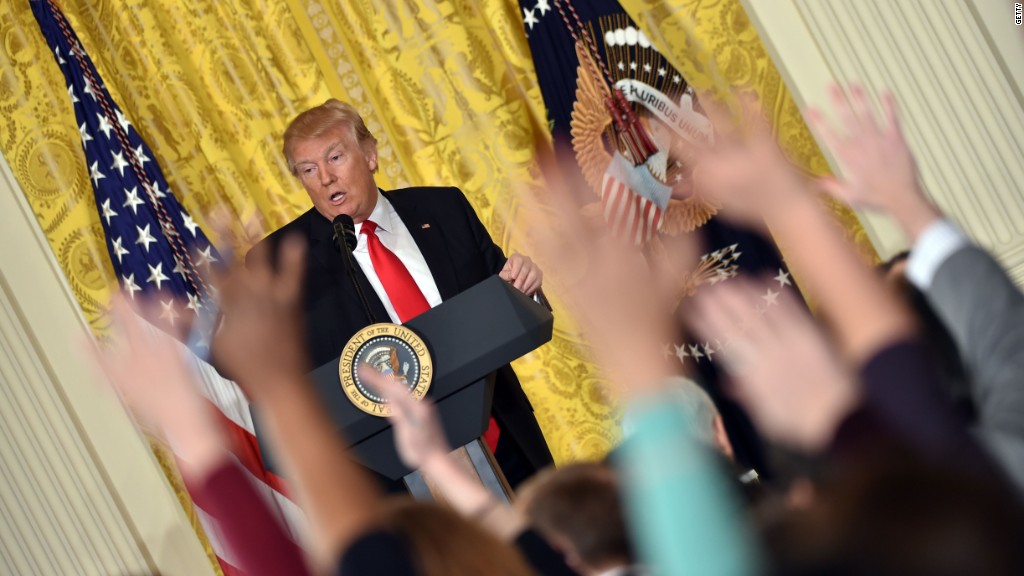 The last time President Donald Trump gave a solo press conference, Michael Flynn's resignation as national security adviser was only three days old. James Comey was still in charge of the FBI, the Republican bill to repeal and replace Obamacare had just been unveiled in the House of Representatives, and Donald Trump Jr. was in the spotlight — after getting pranked on Twitter by the actor Seth Rogen.
The Trump presidency has brought a dizzying pace to the news cycle. But despite all the stunning developments of his first six months in office, Trump has largely avoided tough questions from the news media.
Trump has given only one solo press conference thus far, putting him well behind the rate of his predecessors. According to The American Presidency Project, Barack Obama gave 11 solo press conferences in his first year, George W. Bush gave five and Bill Clinton held 12.
There is one type of press conference in which Trump appears to be keeping pace, however. Presidents often hold joint press conferences with foreign leaders visiting the White House, or when they are visiting that leader's country. All three of Trump's immediate predecessors participated in at least a dozen joint press conferences in their first year; Trump has been part of 10. But those joint press conferences typically only include two questions to each leader, making them potentially less informative than longer, more free-wheeling solo press conferences.
Trump's only solo press conference came on February 16, nearly four weeks after he took office. For more than an hour, the president took shots at the media while answering questions about Flynn, who had submitted his resignation only days earlier. Trump also discussed health care, among other issues, and briefly mentioned Comey, who would be fired as FBI director three months later.
The president's press-aversion in the White House is a far cry from how he spent much of his campaign. Trump used to relish the back and forth with reporters, and would even celebrate his GOP primary wins with press conferences at his victory rallies. But as the 2016 campaign hit the home stretch in the fall, Trump steered clear of press conferences and spoke largely to Fox News.
That's continued since he took office. Days after he fired Comey in May, Trump sat down with NBC News' Lester Holt for a highly anticipated interview. But since then, Trump's only televised interviews have been with sympathetic anchors on Fox News and the televangelist Pat Robertson, another media booster. The president did, however, give an interview to Reuters last week.
CNNMoney (New York) First published July 17, 2017: 3:12 PM ET