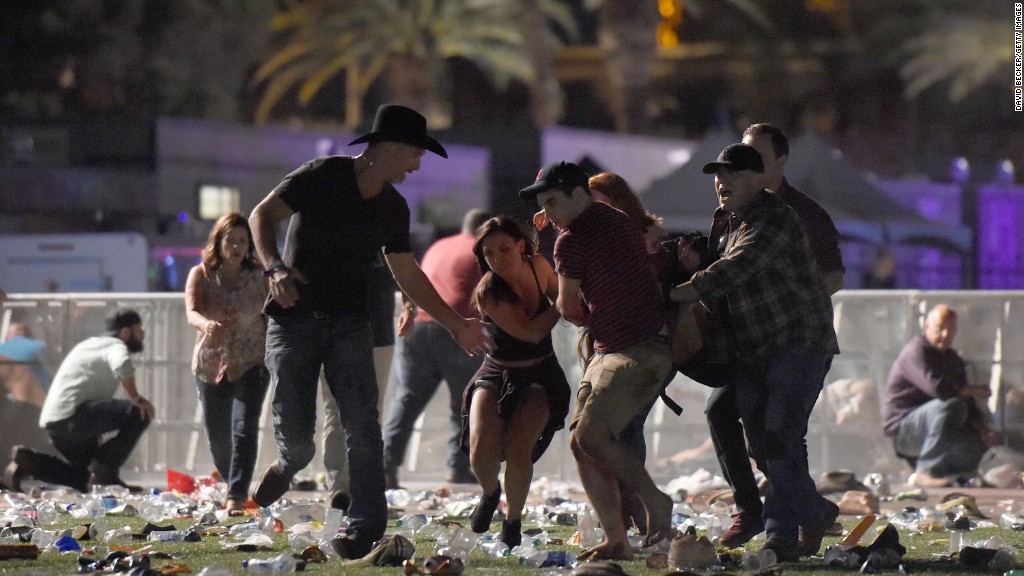 Concert organizers for upcoming music events are focusing on safety after a gunman shot nearly 600 people on Sunday at a country music festival in Las Vegas.
The organizers behind this weekend's Austin City Limits said they've been working year round with local officials to "plan and rehearse security and response plans."
"Safety has always been our top priority," ACL's promoters C3 Presents said in a statement on Monday. Austin's interim police chief told NBC affiliate KXAN that police officers are reviewing security plans ahead of the event.
C3 Presents implemented tighter security measures over the years, including pat downs, bag searches and enhanced security inside and outside the festival, a spokesperson told CNN. A full list of prohibited items and details about security measures for the event are posted on its official site.
The festival, which will host big acts like Jay-Z and Red Hot Chili Peppers starting Friday, is set to go on as planned in Austin, Texas. The event takes place over two weekends, when thousands of music fans will descend on Zilker Park to watch 140 musical acts perform. The festival reportedly brought in 75,000 people per day last year, which means a total of 450,000 people attended the six-day event in 2016.
ACL is also offering refunds for anyone who no longer wishes to attend following the shooting, according to reports.
Sunday's massacre unfolded at the Route 91 Harvest Festival, an outdoor country music event that took place in an empty lot near the Mandalay Bay Resort and Casino. Country star Jason Aldean was performing when gunfire rained down from the hotel's 32nd floor across the street.
The gunman killed at least 59 people and injured more than 500 on his rampage. It is now billed as the deadliest mass shooting in modern American history.
Aldean had scheduled shows this weekend, but announced on Tuesday night that his performances in Los Angeles, San Diego and Anaheim, California, will be canceled and tickets would be refunded.
Pop star Jennifer Lopez also postponed her performances for Wednesday, Friday and Saturday at Las Vegas' Planet Hollywood Resort and Casino, where she has a residency show, "out of respect to the victims and the families"
The organizers behind this weekend's Mempho Music Festival wouldn't disclose the details of their security plans, which are under review to "make sure we've taken every step to ensure visitor safety" after Sunday's mass shooting.
"We will continue to work with local law enforcement and our other partners to ensure that all attendees, artists and staff experience a safe weekend at the festival," the organizers said in a statement.
The inaugural rock music festival takes place at Shelby Farms Park in Memphis, Tennessee.
Related: 'Beyond horrific.' Country music world stunned by Las Vegas shooting
Sunday's shooting sent shockwaves through the country music community. Johnny Cash's daughter, Rosanne Cash, used the incident to speak out about gun violence.
"There is no other way to say this: The N.R.A. funds domestic terrorism," Cash wrote in a New York Times op-ed Tuesday. "I encourage more artists in country and American roots music to end your silence. It is no longer enough to separate yourself quietly. The laws the N.R.A. would pass are a threat to you, your fans, and to the concerts and festivals we enjoy."
(Sandra Gonzalez contributed to this report.)
CNNMoney (New York) First published October 4, 2017: 12:36 PM ET