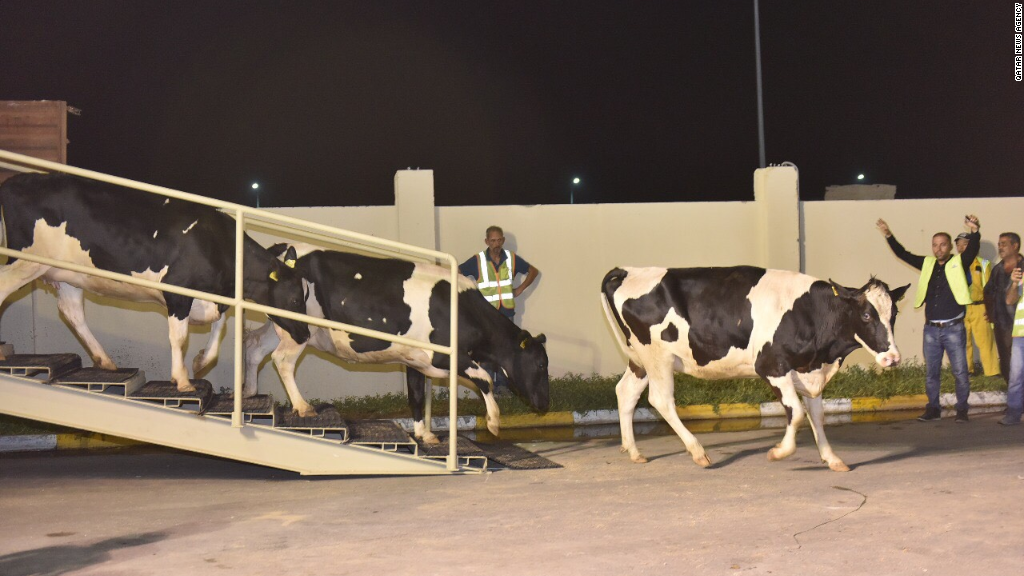 Qatar has filed a complaint with the World Trade Organization over a trade embargo imposed by its Gulf neighbors.
The complaint accuses Saudi Arabia, Bahrain and the United Arab Emirates of violating the trade group's "core laws and conventions on trade of goods and services, and trade-related aspects of intellectual property," according to a statement from Qatar's ministry of economy and commerce.
The three gulf states cut diplomatic ties and transport links with Qatar on June 5, accusing it of funding terrorism. Qatar has denied the accusations.
Egypt, which is also participating in the embargo, was not named in the WTO complaint.
Qatar has been put under pressure by the embargo, and the gas-rich nation has been forced to engineer alternative supply chains. Cows have been flown in to ease a milk shortage, for example.
The complaint filed with the WTO includes a request for "formal consultations" between Qatar and its neighbors. If an agreement is not reached within 60 days, the WTO will convene a dispute settlement panel.
"Qatar asks these countries to sit at the dialogue table and start holding such consultations," said the statement from Qatar.
It can take years for the trade group to mediate disputes, which can result in retaliatory penalties.
The WTO confirmed that it had received the complaint.
Representatives for the United Arab Emirates, Bahrain and Saudi Arabia did not immediately respond to requests for comment.
But in a joint statement on July 1, the three Gulf states and Egypt said they had informed the WTO that their actions were "based on the practice of their sovereign rights guaranteed by the international law and protection of their national security."
Related: Isolated Qatar is defiant. What happens next?
The countries have sought to extract concessions from Qatar in return for restoration of diplomatic and economic ties. The demands include closing the state-funded Al Jazeera media network, reducing diplomatic ties with Iran, and halting the construction of a Turkish military base in Qatar.
Qatar's foreign minister has said his nation wouldn't comply with any demands that it considers a violation of international law.
There are few signs of progress as the crisis approaches the end of its second month.
Foreign ministers representing the quartet said Sunday they are ready to talk, but not to back down from their demands.
"Dialogue doesn't mean there are concessions," said Saudi Foreign Minister Adel Al-Jubeir.
CNNMoney (Dubai) First published August 1, 2017: 8:05 AM ET