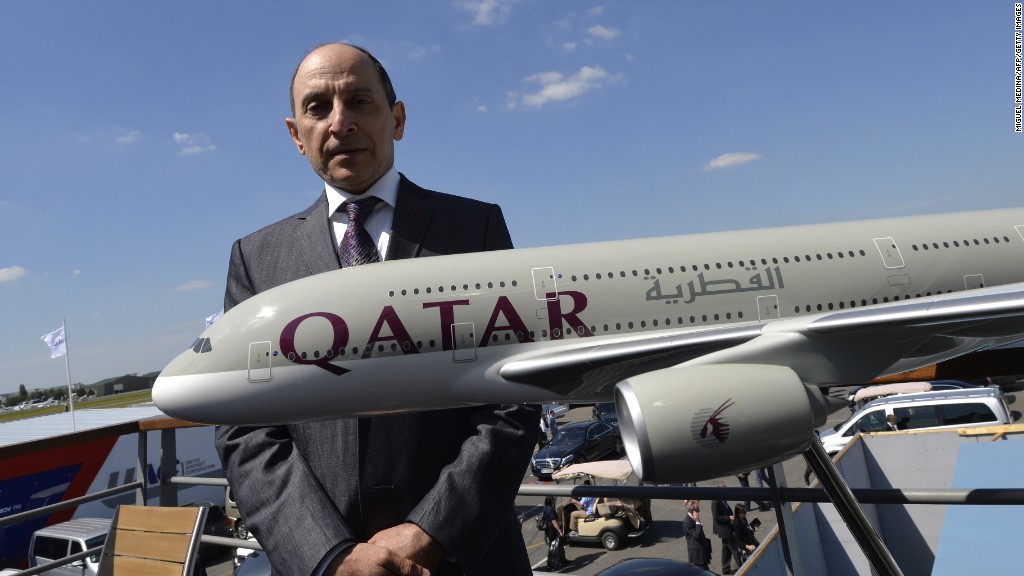 Qatar's state-owned airline is stepping up the war of words over attempts by its neighbors to isolate the Gulf state.
A new advertisement released by Qatar Airways on Monday strikes an overtly political tone, saying the skies should be free of restrictions.
"The sky, there should be no borders up here," a voice says at the start of the video over a blue sky and clouds. "As an airline we don't believe in boundaries, we believe in bringing people together."
It comes two weeks after several states, including the United Arab Emirates, Saudi Arabia, Bahrain and Egypt, cut diplomatic ties with Qatar and severed transport links.
Qatar Airways has been hit hard, losing 18 destinations and about 50 flights a day.
Last week, CEO Akbar Al Baker accused the Gulf countries of violating a 1944 convention that the UAE and Bahrain have signed. In addition to closing their airspace to Qatar Airways, Saudi Arabia, the UAE and Bahrain have also shut down the airline's offices.
The UN's International Civil Aviation Organization held talks with all parties to discuss the restricted routes.
Since then, the travel restrictions appear to have been eased slightly. Saudi Arabia, the UAE, Bahrain and Egypt said Friday they were restricting travel for Qatari owned or registered flights and that there were "no limitations" to international airways.
The UAE had previously prevented all traffic to and from Qatar from using its airspace.
Related: Mideast airlines halt Qatar flights as Gulf crisis escalates
Qatar Airways is scheduling more flights to other destinations to make up for the lost business and will continue with plans to add 24 new destinations in the next 12 months.
Airlines in the Middle East have used advertising recently to criticize U.S. policies such as the laptop ban and President Trump's proposed travel ban. Some have gone viral on social media, using humor to get their messages across.
Qatar's latest ad is more serious. "It's a right for all of us to go where we need to go," the male voice says over scenic views and joyful family moments. "We do this because we know travel goes beyond borders and prejudice."
Qatar has been accused by the Arab nations of supporting terrorism, destabilizing the region and getting close to Iran, all claims that the tiny state has rejected.
In a statement Monday, the Qatar government said those governments were "using terrorism as a publicity stunt."
"It is unfortunate that our neighbors have chosen to invest their time and resources in a baseless propaganda campaign against the state of Qatar," it said.
CNNMoney (Dubai) First published June 19, 2017: 10:27 AM ET