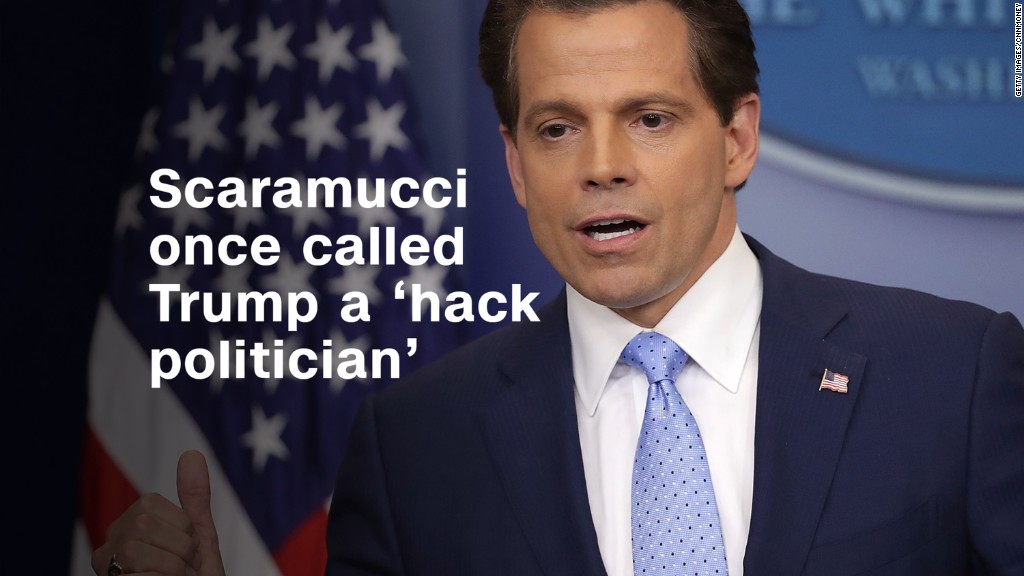 President Donald Trump's most fervent online supporters don't seem to care about some of the liberal views held by new White House Communications Director Anthony Scaramucci. They want a fighter loyal to the president and his cause, and they believe they got that with Scaramucci's appointment and Sean Spicer's resignation.
Scaramucci has previously tweeted in favor of gun control and said he thinks it's "disheartening" some people view climate change as a hoax — views which would normally earn one scorn from the far-right media universe. But that didn't seem to matter to some of the most prominent members of the pro-Trump media.
"His job is not to discuss his opinions on topics, it's to help communicate the messages and policies of the administration," Lucian Wintrich, the White House correspondent for the far-right Gateway Pundit website, told CNNMoney. "In that role, I believe he'll excel."
The heavyweights of the pro-Trump online media have long disdained Spicer, who they viewed as an ineffective member of the Republican establishment. Scaramucci, on the other hand, they consider an ally who has fought alongside them in the trenches — a feeling made clear in how many responded to news of the White House staff shakeup.
"The base supports Mooch because he doesn't view himself as being better than the base," far-right writer Mike Cernovich told CNNMoney. "Spicer and Reince are snobs. They used the base and then wanted to pretend like we didn't even exist. That's the establishment GOP model — use the base before returning to business as usual."
At the pro-Trump website Breitbart, two of the top editors, Washington editor Matthew Boyle and finance editor John Carney, expressed support for Scaramucci, according to two people familiar with internal discussions — a break from Steve Bannon, the White House chief strategist and former Breitbart executive chairman, who opposed the move. (A Breitbart spokesman declined to comment on the internal staff discussions.)
Elsewhere in the pro-Trump media, the appointment was celebrated.
"Sean Spicer had a great effort, but came from the old GOP school & assumed good faith press," tweeted far-right writer Jack Posobiec. "Scaramucci knows how to create news cycles."
Bill Mitchell, an online pro-Trump personality, perhaps summed up the far-right universe's sentiment the best: "Finally a WH Communications Director with the same fire in his belly as his boss."
CNNMoney (New York) First published July 21, 2017: 5:58 PM ET