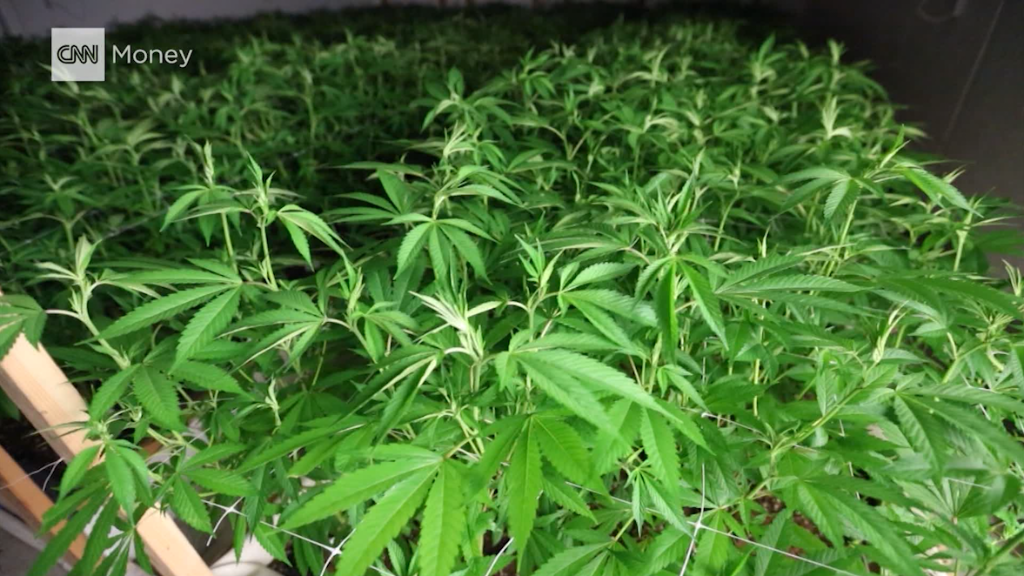 PNC Bank is closing its account with an influential marijuana legalization group, the Marijuana Policy Project.
The group claims it's being singled out because of its ties to the pot industry.
'; var storytext = document.getElementById('storytext'); var heightToSkip = 0; function resetValues() { totalHeight = 0; targetChildElement = null; } if(storytext == null) { console.log("Error finding storytext element for SA embed"); return; } for ( i = 0; i 0) { heightToSkip -= storytext.childNodes[i].clientHeight; resetValues(); } else if(heightToSkip minHeight && targetChildElement != null) { //console.log("total height = " + totalHeight); //console.log("childNode = " + targetChildElement); storytext.childNodes[targetChildElement].insertAdjacentHTML('afterend', smartAssetDiv); smartasset = document.getElementById('smartasset-article'); smartasset.style.float = 'left'; // allows module to have text float to right smartasset.style.marginRight ='20px'; smartasset.style.marginBottom ='25px'; //console.log(storytext.childNodes[targetChildElement]); //SMARTASSET.setDivIndex(targetChildElement); SMARTASSET.setSmartAssetScript(); /* bail out since we're done */ break; } } /* div with id="smartassetcontainer". Sanity check to only embed once */ else if (storytext.childNodes[i].nodeName.toLowerCase() === 'div' && storytext.childNodes[i].id !== "undefined" && storytext.childNodes[i].id === "smartassetcontainer") { break; } /* div with id="ie_column" */ else if (storytext.childNodes[i].nodeName.toLowerCase() === 'div' && storytext.childNodes[i].id !== "undefined" && storytext.childNodes[i].id === "ie_column") { resetValues(); } /* embeds from twitter, facebook, youtube */ else if (storytext.childNodes[i].nodeName.toLowerCase() === 'div' && storytext.childNodes[i].classList.contains('embed')) { resetValues(); } /* cnn video player */ else if (storytext.childNodes[i].nodeName.toLowerCase() === 'div' && storytext.childNodes[i].classList.contains('cnnplayer')) { resetValues(); } /* images */ else if (storytext.childNodes[i].nodeName.toLowerCase() === 'img') { resetValues(); } /* images stored in figure tags */ else if (storytext.childNodes[i].nodeName.toLowerCase() === 'figure') { if(storytext.childNodes[i].clientWidth '; for (i = 0; i 4) { afterParagraphFour = true; } currentParagraph = storytext.childNodes[i]; heights += currentParagraph.clientHeight; if (heights >= limit && insertAfterThisParagraphIndex === -1) { insertAfterThisParagraphIndex = SMARTASSET.setDivIndex(i); console.log("insert after paragraph number " + i); console.log("HEIGHTS = " + heights); console.log("LIMIT = " + limit); } } /* div with id="ie_column" */ else if (storytext.childNodes[i].nodeName.toLowerCase() === 'div' && storytext.childNodes[i].id !== "undefined" && storytext.childNodes[i].id ==="ie_column") { heights = 0; limit = 80; insertAfterThisParagraphIndex = -1 } /* embeds from twitter, facebook, youtube */ else if (storytext.childNodes[i].nodeName.toLowerCase() === 'div' && storytext.childNodes[i].classList.contains('embed')) { heights = 0; limit = 80; insertAfterThisParagraphIndex = -1 } /* cnn video player */ else if (storytext.childNodes[i].nodeName.toLowerCase() === 'div' && storytext.childNodes[i].classList.contains('cnnplayer')) { heights = 0; limit = 80; insertAfterThisParagraphIndex = -1 } /* images */ else if (storytext.childNodes[i].nodeName.toLowerCase() === 'img') { heights = 0; limit = 80; } /* images stored in figure tags */ else if (storytext.childNodes[i].nodeName.toLowerCase() === 'figure') { heights = 0; limit = 80; } } if (heights >= 875 && afterParagraphFour) { storytext.childNodes[insertAfterThisParagraphIndex].insertAdjacentHTML('afterend', smartAssetDiv); smartasset = document.getElementById('smartasset-article'); smartasset.style.float = 'left'; // allows module to have text float to right smartasset.style.marginRight ='20px'; smartasset.style.marginBottom ='25px'; } } SMARTASSET.setSmartAssetScript = function() { console.log('starting setSmartAssetScript'); SA = document.SA || []; SA.push({ embedUrl: "https://smartasset.com", container: "#smartasset-article", version: 1.1, data: { key: "bdknf2rinbhwvdksm6zbmhf3twrv4oih" } /*{ key: "CNNe038d38a57032085441e7fe7010b0" }*/ }); console.log('finished in setSmartAssetScript push() call'); var smscript = document.createElement("script"); smscript.type = "text/javascript"; smscript.async = true; smscript.src = ("https:" == document.location.protocol ? "https://" : "http://") + "smartasset.com/embed.js"; var s = document.getElementsByTagName("script")[0]; s.parentNode.insertBefore(smscript, s); console.log("finished entire function of setSmartAssetFunction()"); }; SMARTASSET.setSmartAssetDiv(); SMARTASSET.setSmartAssetScript(); }
"They have notified us that they intend to close it," Marijuana Policy Project spokesman Mason Tvert told CNNMoney. "It's because we accept contributions from businesses or individuals who are involved with state regulated marijuana businesses."
The organization does not deal directly with the sale or distribution of marijuana, Tvert said. But the 22-year-old lobby group does receive money from state-legal marijuana businesses that pay taxes.
Marijuana remains illegal in the eyes of the federal government, though medical marijuana is legal in 29 states and recreational pot is legal in eight states and the District of Columbia. Banks are supposed to adhere to federal law, so many of them shun state-legal marijuana businesses, forcing some of those businesses to deal in cash.
Related: Vermont lawmakers try again for marijuana legalization
Tvert said he wonders why a bank would have a problem dealing with an organization that receives money from marijuana businesses when those businesses pay taxes.
"We receive contributions from state regulated marijuana businesses … that are paying taxes," he said. "Yet we don't see anyone shutting down the federal government's bank account or state or local governments' bank accounts. We have moved so far toward legalizing this industry yet we are still seeing these kinds of ridiculous situations that need to be addressed."
PNC spokeswoman Diane Zappas confirmed that her bank is closing the group's account, though she wouldn't say why, citing privacy concerns.
"PNC does not comment on customer accounts," said Zappas. "As a federally regulated financial institution, PNC complies with all applicable federal laws and regulations."
The account will be closed on July 7.
Related: Marijuana businesses worry about Trump, but expect to prevail
The Marijuana Policy Project takes in between $2 million and $3 million per year and has 25 employees, Tvert says.
Among its sponsors are a CBD brand called MedMen from the company Medical Marijuana Inc., a dispensary and marijuana information website called MassRoots and a marijuana fertilizer producer called Advanced Nutrients. MPP is seeking another bank but hasn't decided on one yet, Tvert added.
In 2014, the Financial Crime Enforcement Network, a law enforcement arm of the U.S. Treasury, released guidance on how financial institutions can provide services to marijuana businesses without running afoul of federal law.
But marijuana banking remains a gray area, especially under the Trump administration. Attorney General Jeff Sessions has said that he's opposed to legalization, though he hasn't detailed what he plans to do about it.
CNNMoney (New York) First published June 21, 2017: 3:16 PM ET