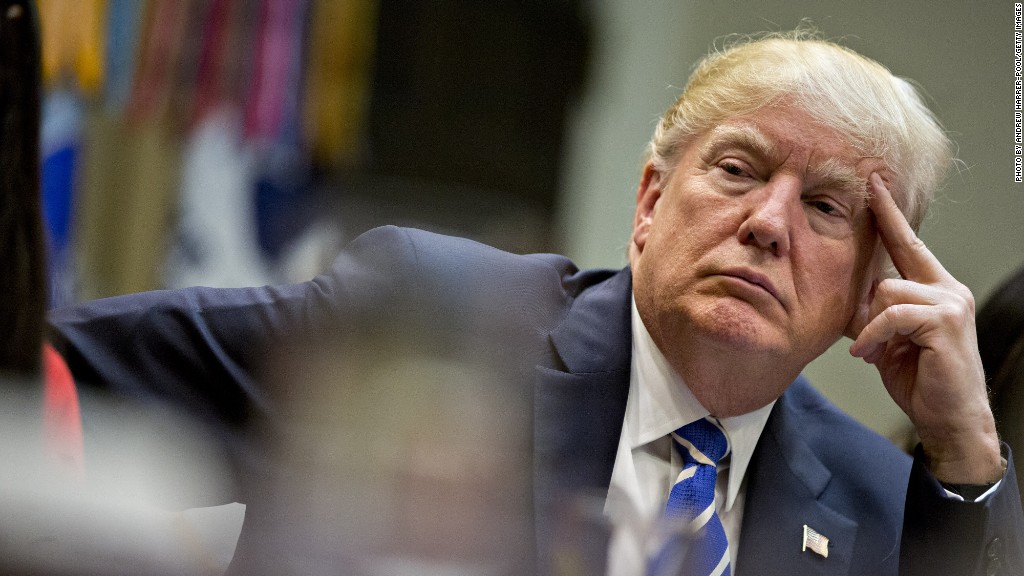 President Donald Trump bashed the American press corps on Thursday, singling out CNN and others as "fake news." That wasn't new, of course. What was different was where it occurred.
This latest example of Trump's anti-media rhetoric — perhaps the defining element of his presidency thus far — came during a visit to Warsaw, Poland, his second overseas trip since taking office. In the past, presidents have often used foreign visits to preach the value of a free press.
Trump went a different way.
He was prompted by a question from the Daily Mail's David Martosko, a reporter who has given Trump communications advice and had been in discussions for a White House job, who asked about the president's tweet last weekend of a video showing Trump wrestling a man with CNN's logo superimposed over his head.
"I think what CNN did was unfortunate for them," Trump said, referring to a CNN story about its efforts to track down the Reddit user who created the wrestling video. "As you know now, they have some pretty serious problems."
Related: White House-media relations at breaking point as Spicer searches for replacement
Then, while standing feet away from Polish president Andrzej Duda, Trump returned to his familiar taunts.
"They have been fake news for a long time," Trump said of CNN. "They have been covering me in a very, very dishonest way."
Trump then turned to Duda, asking his Polish counterpart if he experiences the same in his country.
"What CNN and others — I mean, I know there's, NBC's equally as bad, despite the fact that I made them a fortune with 'The Apprentice,' but they forgot that," Trump continued. "But I will say that CNN has really taken it too seriously and I think they've hurt themselves very badly. Very, very badly. And what we want to see in the United States is honest, beautiful, free, but honest press. We want to see fair press. I think it's a very important thing. We don't want fake news. And by the way, not everybody is fake news. But we don't want fake news. Bad thing. Very bad for our country."
The comments, while typical of Trump, raised the specter of the president's ongoing verbal attacks on his country's journalists, with some expressing alarm that the harsh remarks came in an international setting.
"It used to be said that politics stopped at the water's edge. Obviously, not so with President Trump, who has no hesitation globalizing his war against the media," said Marvin Kalb, a former network correspondent who is now a professor emeritus at Harvard.
When reached for comment, a White House official, speaking on condition of anonymity, defended Trump's comments.
"This is a president who was elected by the American people for telling it like it is and he will do that no matter the setting, unlike many in the media and political circles who change their messaging based on the audience and venue," the official said. "Furthermore, the media certainly has no problem attacking the President on the global stage."
But such criticism may only embolden anti-press forces in Poland, where Duda's Law and Justice party — led by Jaroslaw Kaczynski — has grabbed more control from the country's news media. It could also potentially have an effect in other countries which have recently seen crackdowns on the press, and which may not feel they need to fear the U.S.' disapproval of their actions.
"Rather than trumpet the essential value of a free press, as one of the bedrocks of American democracy, especially in a country such as Poland, where press freedom has recently been contained, Trump ridicules CNN and other media outlets as purveyors of fake news," Kalb said. "How sad that the president cannot shelve his anti-media criticism while representing the US abroad."
Kalb noted that previous presidents, including John F. Kennedy, Jimmy Carter, Ronald Reagan, George H.W. Bush and Barack Obama "all, when abroad, echoed Jefferson's belief that a free press was often more important for democracy than a government."
After the stop in Poland, Trump pressed on to Germany, where he will participate in the G20 Summit. There, he is slated to meet Russian president Vladimir Putin, who has led chilling crackdowns on the media in his country.
That context left certain members of the American media troubled following Trump's remarks on Thursday.
"Could Putin have asked for anything more?" NBC's Chuck Todd said on Twitter afterward.
CNNMoney (New York) First published July 6, 2017: 2:14 PM ET