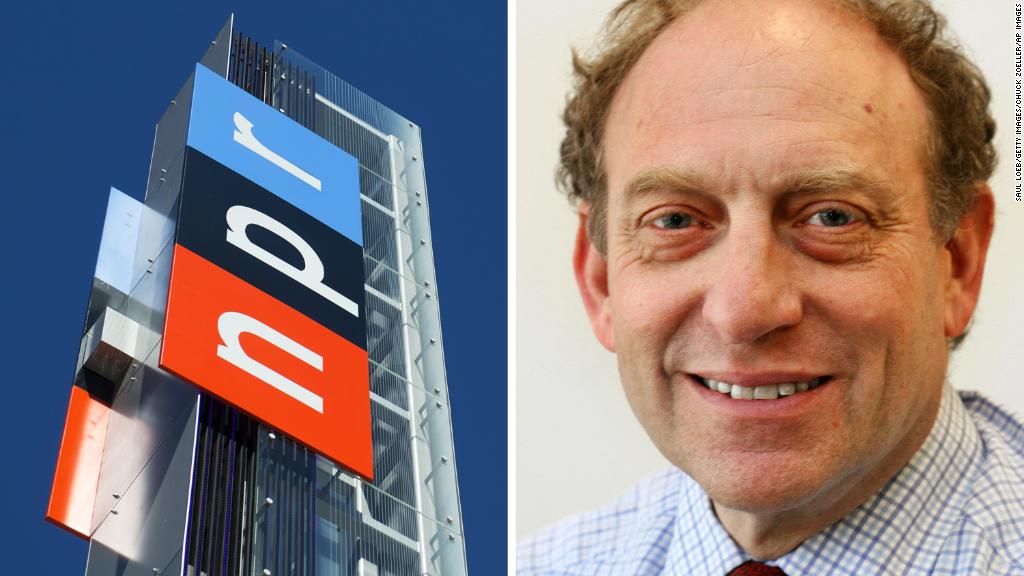 NPR chief operating officer Loren Mayor will run the organization for at least the next month while embattled CEO Jarl Mohn is on a medical leave, Mohn said Tuesday.
The news comes nearly one week after Mohn forced out Michael Oreskes, the public radio organization's senior vice president of news, amid a harassment scandal.
Many staffers were disappointed that Mohn did not take action against Oreskes sooner. Mohn has repeatedly apologized to the staff and pledged to make improvements. Still, there has been open speculation about his future as NPR CEO.
On Tuesday, Mohn wrote to the staff: "As many of you know, last March, I suffered a nearly fatal ruptured aorta. I returned to work with the blessing of my physician with one important caveat — I cannot allow my blood pressure to rise. Regretfully, the hypertension has returned to a dangerous level, and I have been instructed to take medical leave until my health returns to normal, at a minimum of four weeks."
Mohn said NPR's board of directors has tapped Mayor to "continue to manage" day-to-day operations during his absence. "She will do so with the full support of, and with guidance from, the board," Mohn wrote.
Any decision about a change in leadership would come from NPR's board, which includes the heads of local radio stations from across the country, plus outside executives and consultants.
The board is expected to review Mohn's handling of the Oreskes matter with the help of an outside law firm.
At issue is whether Mohn and his lieutenants took concerns about Oreskes' conduct seriously enough. Allegations of harassment were first shared with NPR in 2015.
More accusers were motivated to come forward in the wake of the Harvey Weinstein scandal last month.
In interviews with CNN and other news outlets, women alleged that Oreskes used his leadership position to try to curry favor with young women. Multiple women who interacted with him at NPR described his behavior as "boorish" and "intimidating." Some said they felt that the human resources department was not responsive to their concerns.
In late October, word spread within NPR about the allegations against Oreskes. CNN reported last week that Mayor was one of the senior managers who urged Mohn to take action, but Mohn pushed back.
A Washington Post story on October 31, detailing two of the allegations in Oreskes' past, caused even more turmoil inside NPR and led to Oreskes' exit the next day.
Since then, more accusers have come forward.
David Folkenflik, NPR's media correspondent, said on CNN's "Reliable Sources" on Sunday that he has "spoken to nine women, some of them still at NPR, from a reporter in her 20s to a producer in her 50s," who alleged misconduct.
The incidents were "not as severe" as what Weinstein stands accused of, Folkenflik said, but "nonetheless add up to an insidious pattern — an abusive, sort of hierarchal authority, using his position in journalism to try to get proximity to women who might be susceptible to his appeals."
Oreskes said in a statement last week that "my behavior was wrong and inexcusable, and I accept full responsibility."
Regarding the new complaints against Oreskes, Mohn said in Tuesday's memo, "we are taking each of them seriously,"
NPR initially sidestepped calls for an independent investigation by saying that Oreskes was no longer an employee.
But that position changed on November 2. Mohn acknowledged the widespread dissatisfaction within NPR by saying "I am committed to fixing what is broken. As one step, I am hiring an outside law firm to conduct a review of how we handled the matter."
His description of this review changed after a contentious town hall meeting with staffers on November 3.
In a new memo on November 4, he said NPR's board "is engaging an outside law firm to undertake a thorough review of what happened, when, and how." He said "the results of that review will go to the board, and we will share with you a summary of that review and the recommendations that come out of it."
His latest memo, on Tuesday, reiterated that the board, not his office, is working with the unnamed law firm to "review our handling of this situation."
Mohn's message about his health also revealed new information about Orekses' conduct. "Concerns were raised linked to inappropriate expenses," he wrote. Specifically, some accusers had said that Oreskes spent corporate money on meals that he treated as dates.
"We investigated and he recently reimbursed NPR for about $1,800 in invalid expenses," Mohn wrote, calling the spending another sign of Oreskes' "bad judgment."
CNNMoney (New York) First published November 7, 2017: 5:42 PM ET