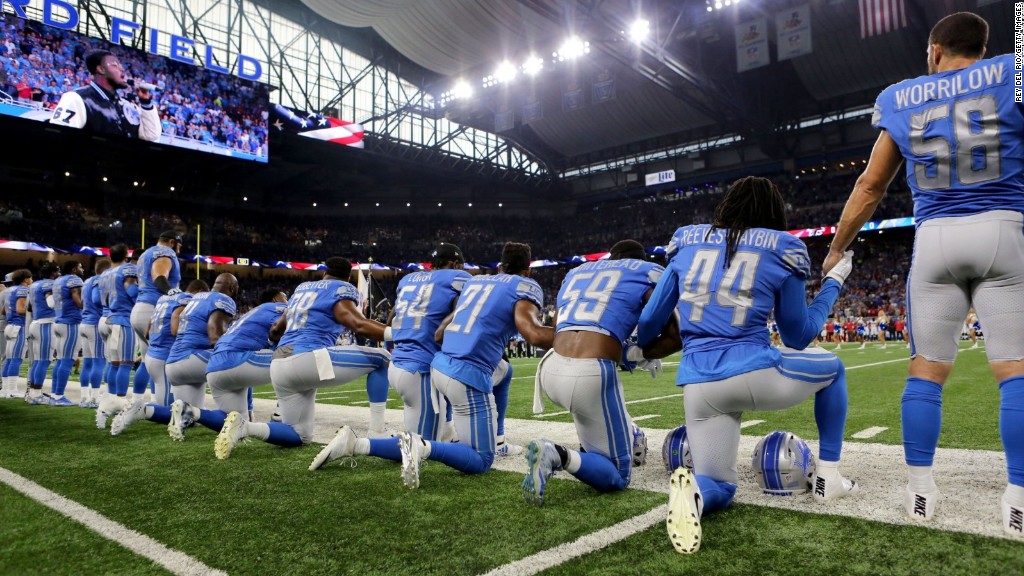 Nike stands with NFL players who took a knee during the playing of the National Anthem.
"Nike supports athletes and their right to freedom of expression on issues that are of great importance to our society," the company said in a statement.
The apparel maker weighed in amid a public showdown between President Trump and the athletes who refuse to stand during "The Star-Spangled Banner." The players are using the symbolic gesture to protest social and racial injustice.
The president has strongly criticized the players, their fans and the NFL. Trump said on Friday that team owners should fire players who kneel. Later, he called on fans to boycott games "until players stop disrespecting our country."
Nike (NKE) has the rights to make all NFL uniforms through the 2019 season.
Related: Under Armour says it backs 'athletes' and 'flag' after divisive Trump remarks
Nike also has a deal with the National Basketball Association, to become the official uniform provider for the NBA in the 2017-2018 season as part of an eight-year agreement.
NBA players are sparring with the president, as well. After the Golden State Warriors' Stephen Curry told reporters he didn't want to go to the White House for political reasons, Trump said he rescinded his invitation.
"Going to the White House is considered a great honor for a championship team," Trump tweeted. "Stephen Curry is hesitating, therefore invitation is withdrawn!" In response, LeBron James sent a tweet criticizing Trump.
Related: Ford: We respect the right of NFL players to protest
Nike is just the latest company to respond to the controversy.
Under Armour (UA), which endorses Curry, said over the weekend that it "stands for the flag and by our Athletes for free speech, expression and a unified America."
Ford (F), an NFL sponsor, said on Monday that "we respect individuals' rights to express their views, even if they are not ones we share."
Several NFL team owners have also spoken out. Notably, NFL commissioner Roger Goodell said "divisive comments," like the ones made by Trump "demonstrate an unfortunate lack of respect for the NFL."
CNNMoney (New York) First published September 25, 2017: 4:31 PM ET