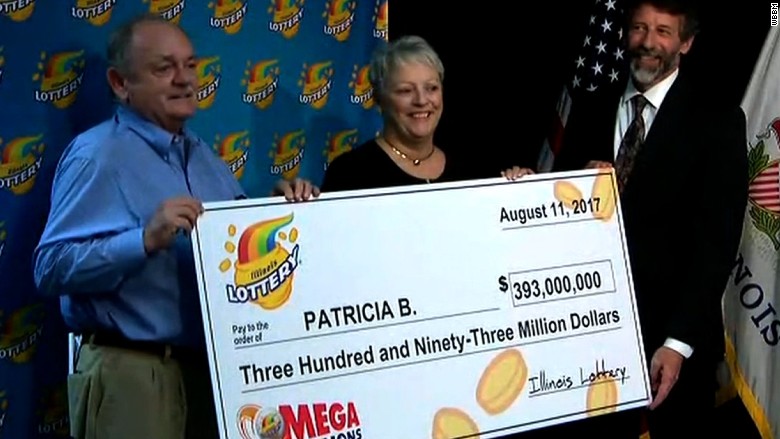 Another day, another large novelty check boasting an enormous amount of money.
Just a day after Mavis Wanczyk appeared at the Massachusetts lottery headquarters to accept the largest lottery prize ever paid to a single player, another lucky jackpot winner made her public debut in Illinois on Friday.
Patricia Busking won the $393 million Mega Millions jackpot on August 11, more than a week before Wanczyk landed the $758.7 million Powerball grand prize.
"The last two weeks have been a whirlwind. We've been overwhelmed," Busking said at a press conference where she appeared at with her husband, Joe.
She said she's not a frequent lottery player, and she only picks up a ticket when the jackpot "gets big."
"It's amazing to think how lucky we were to be at the right place at the right time," Busking said.
Her life-changing ticket was sold at Nick's BBQ in Palos Heights, Illinois. The restaurant will get a half-million dollar prize for selling the winning ticket.
Related: We spend billions on lottery tickets. Here's where all that money goes
Busking, who had the only winning ticket, said she plans to "share the winnings with family and friends" and give a portion of the money away.
"We're very excited to be able to donate to charities that are near and dear to our hearts," she said. "A few particular organizations have touched our lives, and it will be a pleasure to be able to give back so that they continue to touch the lives of others."
Busking won't get the full $393 million. Lottery winners only get a jackpot's sticker price if they choose to accept their prize in annual payments over the course of three decades.
The vast majority of winners choose to take a lump sum. In the case of Busking's jackpot, the lump sum payout would be $247.3 million. It's not clear which payout option Busking selected.
Then, there's the tax bill.
Lottery winnings are taxed like income. And the IRS charges the top income bracket 39.6%. The government will withhold 25% of Bucking's earnings before the money ever gets to her. And the rest still has to be paid at tax time.
Both Powerball and Mega Millions tickets are available in all but six states — Alabama, Alaska, Hawaii, Mississippi, Nevada and Utah.
–CNNMoney's Chris Isidore contributed to this report.
CNNMoney (New York) First published August 25, 2017: 6:25 PM ET