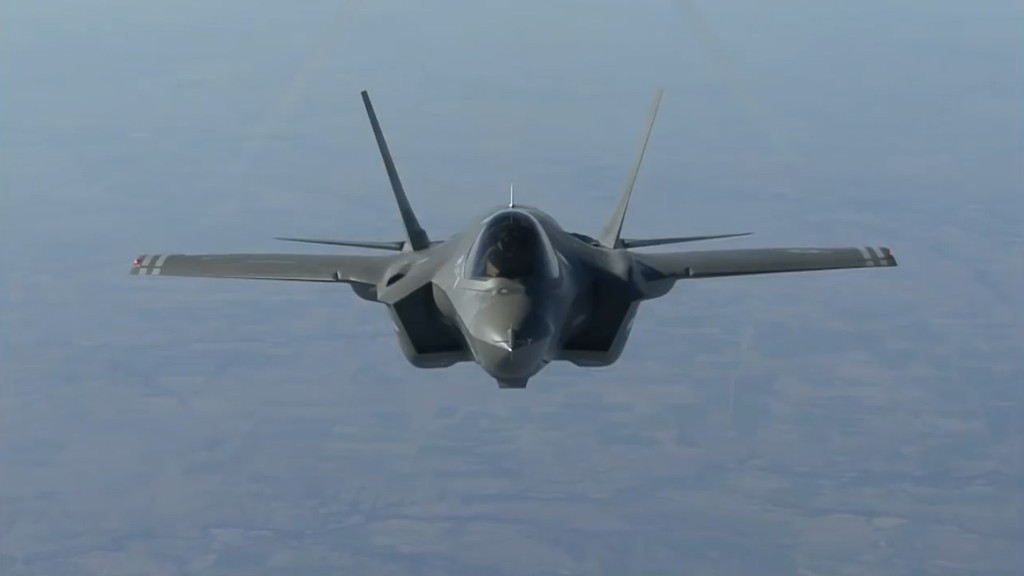 One of the world's best-known fighter jets could soon be built in India.
Lockheed Martin (LMT) said Monday that it will make its classic F-16 aircraft in the South Asian nation, if the Indian government grants it a contract to supply fighter jets to the country's air force. The U.S. firm will build the jets through a partnership with Indian industrial giant Tata, the companies announced at the Paris Air Show.
Maryland-based Lockheed is hoping to see off competition from Swedish manufacturer Saab and its Gripen fighter for the big potential order from the Indian Air Force.
India is believed to be shopping for up to 150 new warplanes, for which it could shell out as much as $12 billion.
Lockheed and Tata confirmed to CNNMoney that F-16 production in India will move forward only if Lockheed gets that lucrative order.
If that happens, India will become the manufacturing and export base for all F-16s worldwide. The pledge is a clear nod to Prime Minister Narendra Modi's "Make in India" campaign to boost local manufacturing.
Lockheed and Tata are also in talks to make F-16 components in India if the air force deal doesn't materialize, a Tata spokesman added.
Related: Boeing wants to cash in on India's military spending spree
Lockheed sought to head off any suggestions that its Indian manufacturing push will go against President Trump's "Buy American, Hire American" agenda.
"F-16 production in India supports thousands of Lockheed Martin and F-16 supplier jobs in the U.S.," it said.
Modi is due to visit Trump in the U.S. next week.
Related: Lockheed close to massive F-35 fighter jet deal with 11 countries
Lockheed and Tata have long been partners. The Indian firm helps make parts for Lockheed's C-130J transporter aircraft and Sikorsky S-92 helicopters.
Around 3,200 F-16s are currently flown by 26 countries around the world.
Lockheed and Tata are clearly hoping their latest announcement will help add India to that list.
CNNMoney (New Delhi) First published June 20, 2017: 6:59 AM ET