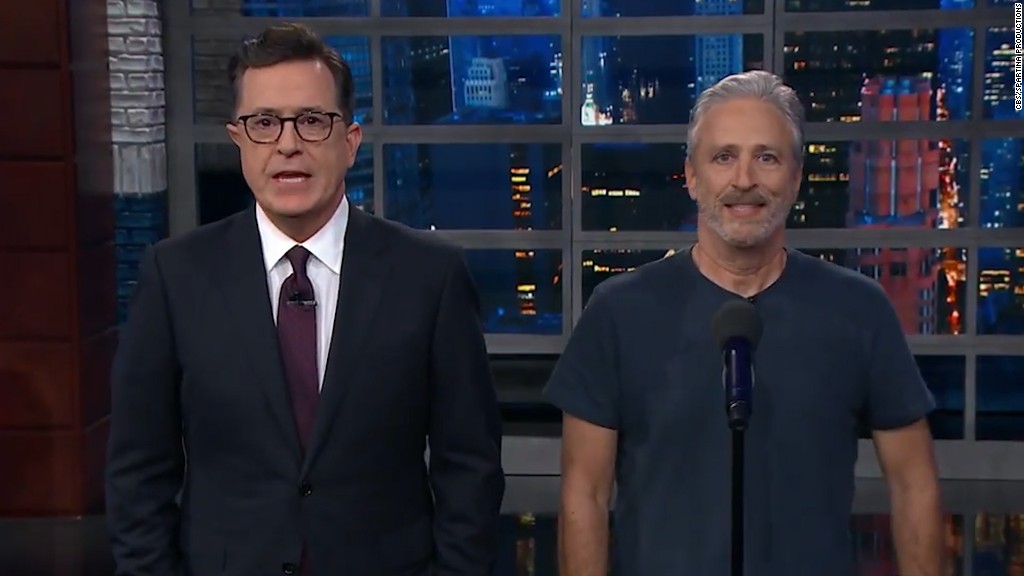 Stephen Colbert and Jon Stewart teamed up to honor President Trump's request for "equal time" on TV.
But it probably wasn't what Trump had in mind.
On "The Late Show" on Monday night, Colbert kicked things off by referencing a Trump tweet over the weekend that suggested late-night hosts are "always anti-Trump" and should give him more "Equal Time" on the air.
(That's not really how it works. While a federal rule entitles political candidates to the same amount of airtime as their opponents for non-news TV appearances, it's limited to campaign seasons.)
"You will be the balance," Colbert told Stewart, teeing up the bit. "I will do my usual unfair slamming of the president, and you will provide the counterweight."
Related: Late night TV slammed for overlooking Harvey Weinstein scandal
Colbert suggested that, when Secretary of State Rex Tillerson reportedly called the president a "moron," he "gave away Trump's Secret Service code name."
When it came time for Stewart to provide the balance, he hemmed and hawed.
"Donald Trump." A pause. "Is not a cannibal."
The former "Daily Show" host made a couple more attempts. He said the president's relationship with women was "better than Harvey Weinstein," the Hollywood producer who was just fired amid mounting sexual harassment allegations.
But it all broke down after Colbert played a clip of Trump standing alongside military leaders and their families. The president had cryptically told reporters that they were seeing "the calm before the storm."
"What the f*** is wrong with this guy?" Stewart yelled. "How is all this not the storm? This is all the storm. What kind of a sociopath would use that terminology while people are still literally cleaning up from storms?"
He added: "I can't do it."
CNNMoney (New York) First published October 10, 2017: 12:14 PM ET