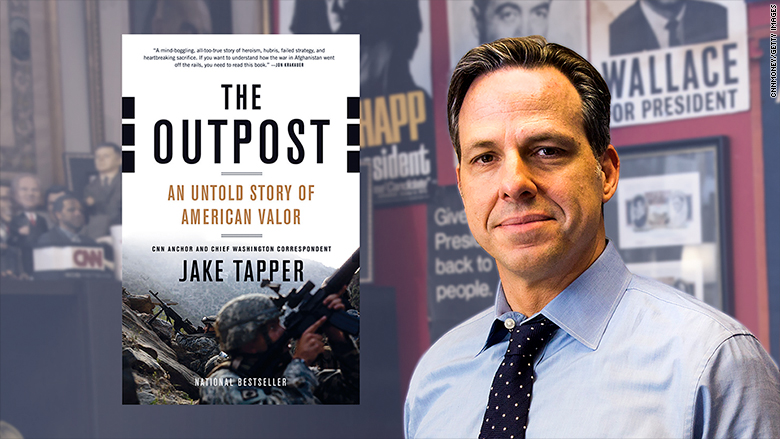 Jake Tapper's bestselling book is getting the film treatment.
Millennium Films announced Thursday that a film based on Tapper's book, "The Outpost: An Untold Story of American Valor," will be directed by Rod Lurie.
Lurie, who served in the Army and is a West Point graduate, has previously directed projects including 2000's "The Contender" and 2001's "The Last Castle." The script is being developed by producer Paul Merryman and writing team Paul Tamasy and Eric Johnson, who are best known for their Oscar nominated screenplay for 2010's "The Fighter."
Tapper's "Outpost," which was published in 2012, tells the true story of 50 soldiers who battled over 400 Taliban in Northeastern Afghanistan during Operation Enduring Freedom.
Tapper said that he is, "So excited that the story of these brave men can be brought to even more people through film and with a director who is an Army veteran."
"Writing 'The Outpost' — the stories of those who serve for the rest of us, often at great sacrifice and in relative anonymity — remains the most rewarding professional experience of my life," he added.
Tapper, who is CNN's chief Washington correspondent, hosts CNN's weekday broadcast "The Lead" as well as the network's Sunday Morning news show "State of the Union."
Lurie said in a statement that "You can bet that as a former American soldier myself, I'm fully invested in this film – which I kind of feel is more a destination for me than a job."
Tamasy and Johnson, who most recently wrote 2016's "Patriot's Day," said that it's "an incredible honor" to help bring "The Outpost" to the big screen.
"Jake's book is an amazing work of journalism that not only tells the story of an important piece of our history in Afghanistan that is both tragic and triumphant, but also shows us the true meaning of the words 'uncommon valor,'" the writers said in a statement.
Millennium Films is a long-running independent film company best known for "The Expendables" series and films like "Olympus Has Fallen" and "London Has Fallen."
CNNMoney (New York) First published July 20, 2017: 6:00 PM ET