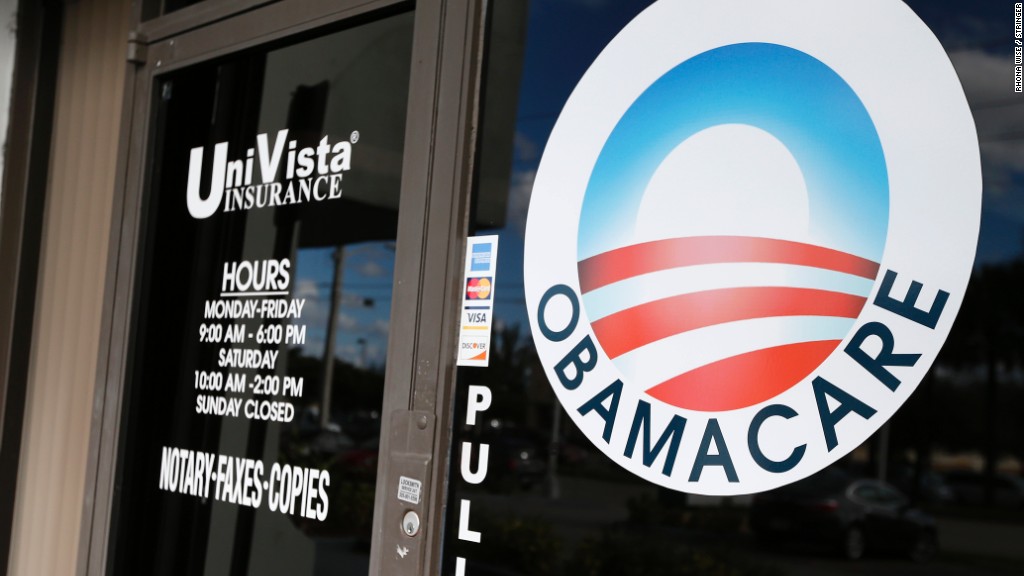 Turns out, Obamacare isn't dead in Iowa.
For a while this spring, it looked like Iowa would be the first state to lack an Obamacare insurer in nearly every county next year. Wellmark Blue Cross Blue Shield pulled out in early April, followed shortly after by Aetna (AET). A month later, the last remaining statewide insurer, Medica, cast doubt whether it would offer policies in the Hawkeye State in 2018.
'; for (i = 0; i 4) { afterParagraphFour = true; } currentParagraph = storytext.childNodes[i]; heights += currentParagraph.clientHeight; if (heights >= limit && insertAfterThisParagraphIndex === -1) { insertAfterThisParagraphIndex = SMARTASSET.setDivIndex(i); console.log("insert after paragraph number " + i); console.log("HEIGHTS = " + heights); console.log("LIMIT = " + limit); } } /* div with id="ie_column" */ else if (storytext.childNodes[i].nodeName.toLowerCase() === 'div' && storytext.childNodes[i].id !== "undefined" && storytext.childNodes[i].id ==="ie_column") { heights = 0; limit = 80; insertAfterThisParagraphIndex = -1 } /* embeds from twitter, facebook, youtube */ else if (storytext.childNodes[i].nodeName.toLowerCase() === 'div' && storytext.childNodes[i].classList.contains('embed')) { heights = 0; limit = 80; insertAfterThisParagraphIndex = -1 } /* cnn video player */ else if (storytext.childNodes[i].nodeName.toLowerCase() === 'div' && storytext.childNodes[i].classList.contains('cnnplayer')) { heights = 0; limit = 80; insertAfterThisParagraphIndex = -1 } /* images */ else if (storytext.childNodes[i].nodeName.toLowerCase() === 'img') { heights = 0; limit = 80; } /* images stored in figure tags */ else if (storytext.childNodes[i].nodeName.toLowerCase() === 'figure') { heights = 0; limit = 80; } } if (heights >= 875 && afterParagraphFour) { storytext.childNodes[insertAfterThisParagraphIndex].insertAdjacentHTML('afterend', smartAssetDiv); smartasset = document.getElementById('smartasset-article'); smartasset.style.float = 'left'; // allows module to have text float to right smartasset.style.marginRight ='20px'; smartasset.style.marginBottom ='25px'; }
} SMARTASSET.setSmartAssetScript = function() { console.log('starting setSmartAssetScript'); SA = document.SA || []; SA.push({ embedUrl: "https://smartasset.com", container: "#smartasset-article", version: 1.1, data: { key: "bdknf2rinbhwvdksm6zbmhf3twrv4oih" } /*{ key: "CNNe038d38a57032085441e7fe7010b0" }*/ }); console.log('finished in setSmartAssetScript push() call'); var smscript = document.createElement("script"); smscript.type = "text/javascript"; smscript.async = true; smscript.src = ("https:" == document.location.protocol ? "https://" : "http://") + "smartasset.com/embed.js"; var s = document.getElementsByTagName("script")[0]; s.parentNode.insertBefore(smscript, s); console.log("finished entire function of setSmartAssetFunction()");
};
SMARTASSET.setSmartAssetDiv();
SMARTASSET.setSmartAssetScript();
House Speaker Paul Ryan jumped the gun, wrongly pointing to Obamacare's demise in Iowa in celebrating the passage of the House GOP bill to repeal and replace the health reform law.
"Just this week, just this week, we learned of another state—Iowa—where the last remaining health care plan is pulling out of 94 of their 99 counties, leaving most of their citizens with no plans on the Obama market at all," Ryan said on May 4. "What kind of protection is Obamacare if there are no plans to choose from?"
Medica, however, has opted to remain in Iowa. It announced Monday that it would offer plans statewide in 2018.
"When you find yourself as the only ones between people getting access to care and people not getting access to care, your view of the situation becomes very different," said Geoff Bartsh, Medica vice president of individual and family business. "We've filed with the intent to provide access to insurance for all Iowans, whether they are farmers, small business owners or other individuals who need coverage."
Related: Obamacare in 2018: Many will pay the price of Washington's uncertainty
But that participation will come at a price. The insurer is also asking for an average rate hike of 43.5%. It noted that "a number of risks remain," but did not specify those concerns.
"Rate increases of 43% are not sustainable long term," Bartsh said. "The bottom line is that the individual market still needs reform. We will continue to work with federal and state officials to provide the certainty and stability needed for markets to succeed long-term."
Most Iowans won't feel the hike because they receive Obamacare subsides that limit their premiums to no more than 10% of their income, no matter how much rates rise. But those who don't qualify for the subsidies will likely be hit hard and could find coverage unaffordable.
"We are concerned that Iowa has hit a point within our market's collapse that a 43% rate increase will drive healthier, younger, and middle aged individuals out of the market," said Iowa Insurance Commissioner Doug Ommen. "Iowa's individual market remains unsustainable and needs a fix from Congress."
Gundersen, a small health insurer that provides coverage in five Iowa counties, did not file to participate next year.
Related: Nebraska residents will be able to buy Obamacare next year after all
Iowa is the second state that Medica has spared from an Obamacare collapse. The Minnesota-based insurer announced last week that it would stay on the Nebraska exchange for 2018. The only other insurer currently on the Nebraska exchange is Aetna, and it said previously that it would exit that market as well.
Several insurers are either withdrawing or downsizing their participation in Obamacare next year, with many citing the uncertainty over the health reform law's future. President Trump and congressional Republicans are in the midst of trying to repeal the law. In addition, the president has been non-committal about enforcing the individual mandate, which requires nearly all Americans to buy insurance or pay a penalty, and about continuing to pay cost-sharing subsidies, which insurers receive to reduce deductibles and co-pays.
These exits already mean that tens of thousands of enrollees in 46 counties will be left without a choice of insurer on their exchange next year, unless another carrier steps in.
However, some insurers have agreed to expand their Obamacare presence in 2018. Centene (CNC) announced last week it will offer plans in three more states, while Aetna signed up to be on Nevada's exchange.
Premera Blue Cross on Monday agreed to sell policies in Grays Harbor, Washington, which has been one of two counties in the state with no insurer for next year.
CNNMoney (New York) First published June 19, 2017: 7:54 PM ET