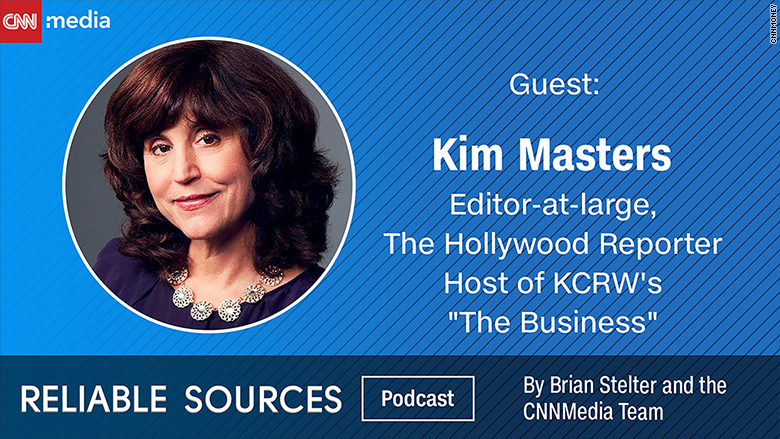 Journalist Kim Masters remembers the first time she met Harvey Weinstein in person.
To recount the episode in this week's Reliable Sources podcast, Masters, an editor at large at The Hollywood Reporter, asked host Brian Stelter for permission to use "the S word."
Masters and Weinstein met about 20 years ago, at an off-the-record lunch on the patio of the Peninsula hotel in Beverly Hills. Masters had been pursuing the story of Weinstein's sexual misconduct allegations for a long time, but was struggling to find sources who were willing to go on the record. The New York Times finally broke the story two weeks ago.
"He came barreling into this lunch" and confronted her about her reporting, Masters told Stelter.
"He said, 'Why are you writing this s*** about me? Why do you say that I'm a bully?'" Masters said.
The irony of that question as Weinstein bellowed at her was not lost on her.
When Weinstein asked her, "what have you heard about me?" Masters then confronted him in the bluntest possible terms.
"I heard you rape women," she told him.
Weinstein's response was "not exactly a denial." Masters described it as "cocky."
"It was really a wild moment," Masters said. "When you say something like that in those blunt words to someone, most people would be outraged. That didn't happen."
Standing up to "this big rough bully" felt like "my bat mitzvah," Masters said.
Listen to the whole podcast here:
That feeling of empowerment is alive and kicking in the aftermath of the Times' and The New Yorker's reporting on Weinstein's alleged misconduct, as more victims come forward with their stories, and more are willing to do so on the record.
Masters said no one was willing to speak in the 1990s, during the height of Weinstein's career when the stars he allegedly harassed, like Gwyneth Paltrow, were just getting started in Hollywood.
"It was just enormously frustrating," she told Stelter.
While reporting on high-profile sexual harassment cases helped victims open up about their own experiences, as it happened with the Weinstein exposé, getting stories from zero to one is still extremely tough.
For instance, Masters still experienced the same difficulty in getting sources to speak on the record for her recent investigation on Roy Price.
Price was a powerful Amazon Studios executive who allegedly harassed Isa Hackett, an executive producer of Amazon's popular series "The Man in the High Castle."
Masters says she had enough reporting for the story to be published, but it was not enough to convince the legal team at The Hollywood Reporter.
Masters did get permission from The Hollywood Reporter to shop the piece around and a version of the story ran on the tech site, The Information, in August.
Hackett, a mother of two teenage kids, was initially reluctant to have her name associated with the sexual harassment claims.
"She just didn't like that she had to explain to these teenagers that this man had said these words to her," Masters explained.
Things changed after the Weinstein story broke.
"She circled back and she said 'Can we talk?' And I said 'of course.' And she said 'I'm kind of ready to go,'" Masters said. With her statements on the record, publication on The Hollywood Reporter "was a clear shot."
Since Masters broke the story, the Amazon executive resigned from his position on Tuesday. Now, "we are getting calls about all kinds of people," Masters said, but she is conscious of the issue of "potentially maligning someone when allegations don't withstand scrutiny," she told Stelter.
"We're at a tricky place in journalism," Masters added. Her advice to newsrooms as they navigate this moment is: "Hire lawyers who want to help you publish, not lawyers whose only goal is to obstruct so that there's no risk of a lawsuit, no matter how frivolous."
CNNMoney (New York) First published October 20, 2017: 5:39 PM ET