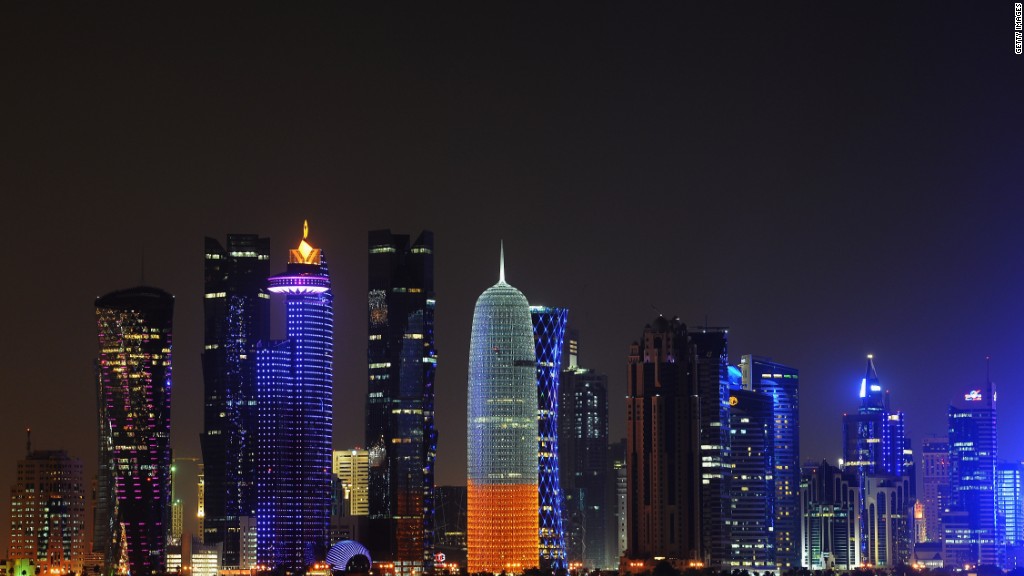 Qatar is not sounding the alarm bells just yet.
When its neighbors severed diplomatic ties and cut land, sea and air links, panic rippled through the tiny Gulf state. There was a rush to buy food, people lined up at banks, and stock prices slumped.
Now, three weeks into what Qatar calls a "blockade," it is finding ways around the sanctions imposed by the United Arab Emirates, Saudi Arabia, Bahrain and Egypt, who have accused their fellow Arab state of funding terrorism and destabilizing the Middle East.
Qatar denies those claims, and appears to be prepared for a long dispute. The UAE warned this week that the pressure on its neighbor could last "years."
So how is Qatar coping with the unprecedented isolation?
Oil and gas unaffected
Oil and gas accounts for more than half of the country's GDP.
Qatar is the world's largest supplier of liquified natural gas, much of which comes from a giant offshore field that it shares with Iran.
Its biggest crude and gas customers include Japan, South Korea, India and Singapore.
The UAE is also a big customer, sourcing 30% of its energy needs from Qatar, and a pipeline connecting the two countries is still pumping.
As long as those exports keep flowing, the pressure on Qatar's economy should be eased.
New food suppliers
Despite its wealth, the desert state relies heavily on imported food, a third of which used to come from Saudi Arabia and the UAE.
Early fears of shortages quickly subsided, in part because the government was able to find alternative suppliers.
Iran has said it plans to send 100 tons of fresh fruit and legumes every day. And Turkish dairy producers have been quick to fill the fridges at Doha's major supermarkets.
"After the initial period of chaos the government has responded, and is prepared to withstand this siege for a longer period, should there be a need," said Adel Abdel Ghafar, visiting fellow at the Brookings Doha Center.
Prices have risen but so far the government has been making up for the difference with subsidies, a policy that could become costly if the crisis escalates, he added.
The embargo has forced freight companies to find new routes. Indian food suppliers, for example, used to make a stop in the UAE and Saudi Arabia. Now they fly their products on cargo planes direct to Qatar.
Migrant workers keep coming
Only about 12% of Qatar's population of 2.2 million are Qatari citizens and the state relies on foreign nationals to keep its economy ticking over. They work in every industry from healthcare and media, to education and energy.
The numbers are expected to peak this year as tens of thousands of migrants come from countries such as India and Nepal to help build stadiums for the 2022 World Cup.
The Philippines government was quick to ban its workers from going to Qatar when the Gulf dispute began, saying it was concerned about the welfare of its 140,000 citizens living in Doha.
It has since lifted the ban "in view of the normalization of conditions within the state of Qatar and with the guarantee of the safety for Filipinos there given by the Gulf state," the Philippines' government said in a statement.
Flying high but longer
The state's national carrier was hard hit by the ban. It suddenly found 18 destinations out of bounds, forcing it to ground about 50 flights a day.
It also now has to avoid the airspace above the UAE, Bahrain, Egypt and Saudi Arabia when flying anywhere in the world. This means longer flight times and more fuel costs for the airline. A direct flight from Doha to Khartoum now take about six hours, nearly twice as long as before the embargo.
Qatar Airways, which this week won the Skytrax "Airline of the Year" award, is unbowed.
CEO Akbar Al Baker said last week his airline is scheduling more flights to other destinations to make up for the lost business and will continue with plans to add 24 new destinations in the next 12 months.
Qatar, like the UAE, has used its strategic location of straddling east and west to become a global aviation player.
Sovereign wealth
Thanks to its huge mineral wealth, Qatar is one of the richest countries in the world by size of population. It sits on a $335 billion sovereign wealth fund and has major investments around the world. Its portfolio spans everything from stakes in Volkswagen to Tiffany & Co.
That hasn't prevented some analysts from worrying. Standard & Poor's has downgraded Qatar's rating, warning that the diplomatic crisis could prompt investors to pull money out of the country. The Arab states boycotting Qatar still have major investments there.
Investor confidence has been shaken, and there are concerns about a financial shock. However, Qatar's huge funds provide some protection.
"Our foreign assets and our foreign investment is more than 250% of our GDP so we are very much comfortable," Qatar's finance minister Ali Shareef Al Emadi said last week in an interview with CNBC.
The sovereign fund provides "ample cover to Qatar's exposure [to the Gulf states], even taking into account concerns regarding the liquidity and usability of a significant portion of these assets," noted Farouk Soussa, Citibank's chief economist for the Middle East.
What about the World Cup?
The Gulf crisis has the potential to disrupt preparations for the 2022 tournament because of the aviation restrictions and the closure of the land border with Saudi Arabia.
But the Qatari committee in charge of delivering the World Cup said in a statement on Monday that "construction is advancing rapidly across all of the stadiums and infrastructure sites for the tournament."
The Khalifa International Stadium — one of eight under construction — was completed in May, it said.
CNNMoney (Dubai) First published June 21, 2017: 12:33 PM ET