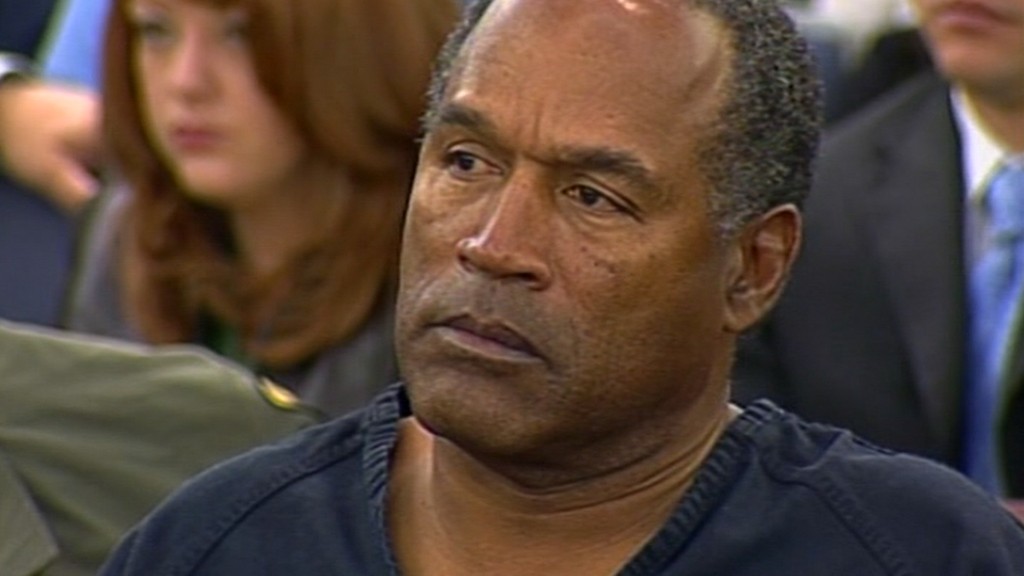 If O.J. Simpson gets out of prison, he'll have far more financial resources awaiting him than most ex-convicts.
Simpson goes before a parole hearing Thursday that could lead to his release from prison this fall. Beyond any money he can make from selling autographs or other memorabilia, Simpson, who is 70, will probably have significant retirement income.
The NFL won't say how much he'll get from his NFL pension, and it's hard to estimate without knowing some key details, such as when he decided to start collecting benefits. But according to the NFL benefits formula, he could receive as much as $100,680 a year if he waited until age 65 to start drawing his pension.
Ex-players have the option of receiving benefits as young as 45, or can start at 55, but financial advisers say it pays to wait till 65.
Related: O.J. Simpson seeking early release from prison at hearing
"That's what I'm doing," said Jeff Nixon, a former NFL player who is an expert on the league's pension plan who advises retired players. "And that's what I recommend to all former players, because from age 55 to age 65 the pension plan monthly payment increases by 260%."
So Simpson could have amassed more than $500,000 in NFL pension benefits while in prison if he waited until 65. If he started at age 55, he would have accumulated $566,000 in benefits up until now, but he'd only get about $47,000 a year going forward.
Simpson also reportedly has made $5 million in contributions to a retirement plan run by the Screen Actor's Guild, according to USA Today. The exact amount of money now in that account is known only to Simpson and his financial advisers.
Simpson lost a $33.5 million civil judgment to the families of Ron Goldman and his ex-wife Nicole Brown Simpson after he was tried and acquitted for their murders. Most of that money has never been collected.
But retirement income is protected from that judgment under federal law. CNN legal analyst Jeffrey Toobin says if Simpson moves to Florida, state law also provides him additional protections, making it easier for him to keep his house and other assets.
Simpson's prison sentence has nothing to do with that double murder. Instead he is nine years into a nine-to-33-year sentence after being convicted in a 2007 kidnapping and armed robbery at a Las Vegas hotel. Simpson insisted he was only trying to get back memorabilia which he claimed had been stolen from him.
The parole board could approve his release as soon as Oct. 1. State parole guidelines have led to widespread expectations that he will be released.
— CNN's Eric Levenson and Susannah Cullinane contributed to this report
CNNMoney (New York) First published July 20, 2017: 12:14 PM ET