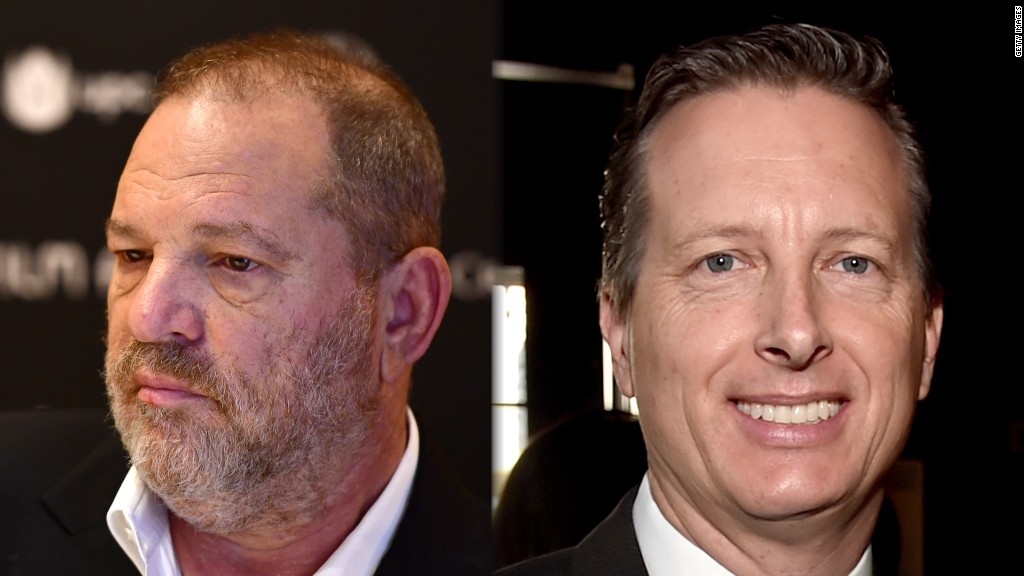 Hollywood is saying good riddance to Harvey Weinstein.
So now what?
Weinstein is laying low, not commenting on his expulsion from the Academy of Motion Picture Arts and Sciences. His former company is trying to stay afloat. And his attorneys are preparing for criminal investigations and lawsuits.
On CNN's "Reliable Sources," former The Hollywood Reporter editor Janice Min reported that attorney Charles Harder, who she called the "Darth Vader of media," is no longer working with Weinstein. She said this represented a shift in Weinstein's legal strategy — from challenging news organizations to preparing to defend himself in criminal investigations. Harder did not immediately respond to a request for comment from CNNMoney.
Weinstein has at least two criminal defense attorneys, Blair Berk and David Chesnoff, in his camp.
The Weinstein scandal has been deeply embarrassing not only for the Weinstein Company but for the entertainment industry writ large.
The Academy booted him on Saturday. The Producers Guild of America is expected to discuss Weinstein's status at a meeting on Monday. The Television Academy, which oversees the Emmy Awards, is expected to do the same on Thursday.
"Our view has been this alleged behavior is abhorrent and appalling. We expect this to be discussed at our Board Of Governors meeting this Thursday evening," the TV Academy said in a statement.
Related: In interviews, remaining Weinstein Co. execs deny they knew
In Hollywood, an outpouring of actors and others, as well as women's advocates outside the industry, are asking how the recent stunning disclosures can translate to meaningful change.
Meanwhile, the Weinstein Co.'s next film, "The Current War," was supposed to come out in November, but it has now been delayed to early 2018.
And its forthcoming TV projects with Amazon have been scrapped.
"We no longer plan on moving forward with the David O. Russell Project" that was in development at Weinstein Co., Amazon said Friday. "As for 'The Romanoffs,' we intend to move forward without the involvement of Weinstein," a spokesman said.
The company may be sold off in pieces.
"My opinion is that The Weinstein Company as it sits today, is done," the company's chief operating officer, David Glasser, said to Deadline. "The reality is, in its current form, the name, the brand has been completely torpedoed and destroyed. I do feel there are probably other incarnations we have to look at."
Harvey's brother Bob Weinstein sounded more bullish in an interview with The Hollywood Reporter — even while many staffers are pessimistic.
He said the company's bankers are "supporting us" and "there is a plan to come out on the other side. And also the other side that makes the public rightfully feel happy that what Harvey stood for exists no longer. The public deserves that. The victims deserve that. Everybody deserves that."
Bob Weinstein also confirmed that the company is working on a name change.
"And it won't be familial," he said, "I promise you that."
CNNMoney (New York) First published October 15, 2017: 12:01 PM ET