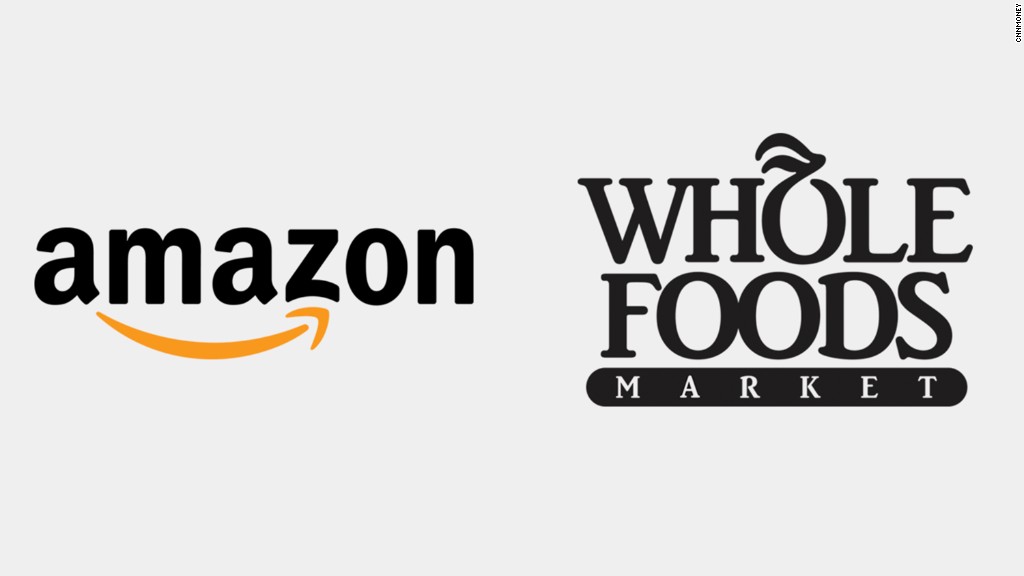 Amazon's stunning takeover of Whole Foods touched off an earthquake in the grocery world.
The stocks of Walmart, Target and more traditional grocery stores like Kroger were clobbered Friday as a wave of terror hit the industry after the deal was announced.
'; for (i = 0; i 4) { afterParagraphFour = true; } currentParagraph = storytext.childNodes[i]; heights += currentParagraph.clientHeight; if (heights >= limit && insertAfterThisParagraphIndex === -1) { insertAfterThisParagraphIndex = SMARTASSET.setDivIndex(i); console.log("insert after paragraph number " + i); console.log("HEIGHTS = " + heights); console.log("LIMIT = " + limit); } } /* div with id="ie_column" */ else if (storytext.childNodes[i].nodeName.toLowerCase() === 'div' && storytext.childNodes[i].id !== "undefined" && storytext.childNodes[i].id ==="ie_column") { heights = 0; limit = 80; insertAfterThisParagraphIndex = -1 } /* embeds from twitter, facebook, youtube */ else if (storytext.childNodes[i].nodeName.toLowerCase() === 'div' && storytext.childNodes[i].classList.contains('embed')) { heights = 0; limit = 80; insertAfterThisParagraphIndex = -1 } /* cnn video player */ else if (storytext.childNodes[i].nodeName.toLowerCase() === 'div' && storytext.childNodes[i].classList.contains('cnnplayer')) { heights = 0; limit = 80; insertAfterThisParagraphIndex = -1 } /* images */ else if (storytext.childNodes[i].nodeName.toLowerCase() === 'img') { heights = 0; limit = 80; } /* images stored in figure tags */ else if (storytext.childNodes[i].nodeName.toLowerCase() === 'figure') { heights = 0; limit = 80; } } if (heights >= 875 && afterParagraphFour) { storytext.childNodes[insertAfterThisParagraphIndex].insertAdjacentHTML('afterend', smartAssetDiv); smartasset = document.getElementById('smartasset-article'); smartasset.style.float = 'left'; // allows module to have text float to right smartasset.style.marginRight ='20px'; smartasset.style.marginBottom ='25px'; }
} SMARTASSET.setSmartAssetScript = function() { console.log('starting setSmartAssetScript'); SA = document.SA || []; SA.push({ embedUrl: "https://smartasset.com", container: "#smartasset-article", version: 1.1, data: { key: "bdknf2rinbhwvdksm6zbmhf3twrv4oih" } /*{ key: "CNNe038d38a57032085441e7fe7010b0" }*/ }); console.log('finished in setSmartAssetScript push() call'); var smscript = document.createElement("script"); smscript.type = "text/javascript"; smscript.async = true; smscript.src = ("https:" == document.location.protocol ? "https://" : "http://") + "smartasset.com/embed.js"; var s = document.getElementsByTagName("script")[0]; s.parentNode.insertBefore(smscript, s); console.log("finished entire function of setSmartAssetFunction()");
};
SMARTASSET.setSmartAssetDiv();
SMARTASSET.setSmartAssetScript();
Wall Street is betting Amazon (AMZN, Tech30) could be as disruptive to the $800 billion grocery industry as it has already proved to be for brick-and-mortar retail businesses.
Amazon already had a relatively small grocery business of its own, Amazon Fresh, but its acquisition of Whole Foods is much more ominous sign for competitors.
Traditional grocers are already struggling with fierce competition and falling prices. Amazon's war chest and online strength, coupled with Whole Foods' brand power, could force grocers to cut costs and spend heavily on e-commerce.
"For other grocers, the deal is potentially terrifying," Neil Saunders, managing director of GlobalData Retail, said in a report on Friday. "Amazon has moved squarely onto the turf of traditional supermarkets and poses a much more significant threat."
Walmart (WMT), which gets a huge chunk of its sales from groceries, tumbled 6% on Friday. The selloff instantly wiped out more than $15 billion from the retail giant's market value.
Target (TGT), another big grocery player, took an even bigger hit, diving 10%. If it closes down that much, it would be Target's second-worst day since 2008.
Both Walmart and Target have made serious inroads into the grocery business in recent years. Walmart gets 53% of its sales from food, groceries and things like household cleaning products, according to GlobalData Retail. Target gets a third of its sales from those categories.
Related: Amazon is buying Whole Foods for $13.7 billion
Kroger (KR) stock plunged 14%, just a day after the struggling company crashed 19% in its worst day since 1999. Ahold Delhaize (ADRNY), the parent company of the Food Lion and Giant supermarkets, plunged 10%.
The stock of Sprouts Farmers Markets (SFM), another rival of Whole Foods, dropped 14%. Supervalu (SVU), a smaller grocery chain, lost 17% of its value. Discount giant Costco (COST) sank 8%.
All told, just over $29 billion of market value vanished from grocery-related stocks on Friday.
Supermarket chains were already in trouble. Even before buying Whole Foods, Amazon had invested heavily in its food delivery business. Walmart has boosted its grocery business and private companies like Trader Joe's have also offered tough competition.
Contrast the grocery carnage on Wall Street with the extreme optimism around Amazon. The e-commerce leader's stock popped another 4% on Friday, lifting its market value to an incredible $477 billion. Whole Foods (WFM) shares spiked 27% to $42, Amazon's offer price.
CNNMoney (New York) First published June 16, 2017: 10:44 AM ET