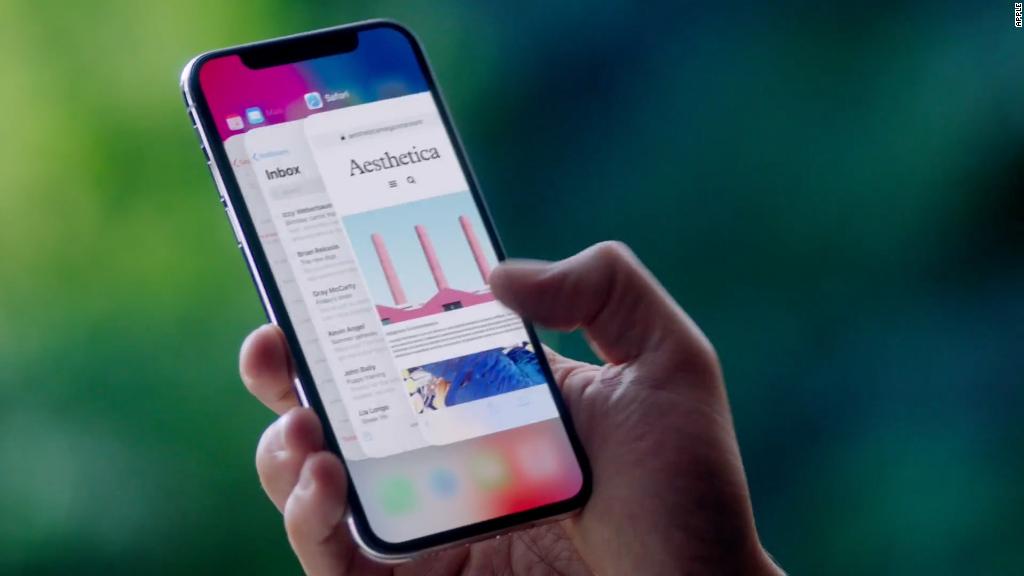 Apple clearly thinks X marks the sweet spot for consumers.
Apple (AAPL, Tech30) said Thursday it expects sales for the upcoming holiday quarter of between $84 billion and $87 billion, as the $999 iPhone X finally hits the market.
The projected revenue generally exceeded Wall Street's expectations, potentially easing concerns about rumored supply constraints for the new high-end smartphone. It would also set a new quarterly sales record for the company.
Apple stock popped 3% in after hours trading Thursday. If those gains hold when the market opens, Apple would approach a $900 billion market cap.
Apple announced two new phones in September: the iPhone X and the more affordable iPhone 8. The 8 went on sale at the very end of the most recent quarter. The X goes on sale this week.
The X is the first iPhone in several years with a redesigned look. It has a giant screen, no home button and lets you unlock it by scanning your face.
Related: iPhone X first impressions: The highs, lows and quirks
Even without the iPhone X on the market, Apple's smartphone sales are growing.
Apple sold 46.7 million iPhones in the three-month period ending September 30, up 3% from the same quarter a year earlier.
The increase in iPhone sales, combined with an 11% increase in iPads sold and continued growth in sales from services like Apple Pay and iCloud, helped push up Apple's overall sales by double-digit percentages.
Apple's sales for the quarter hit $52.6 billion, up 12% from the same quarter a year ago.
CNNMoney (New York) First published November 2, 2017: 5:20 PM ET