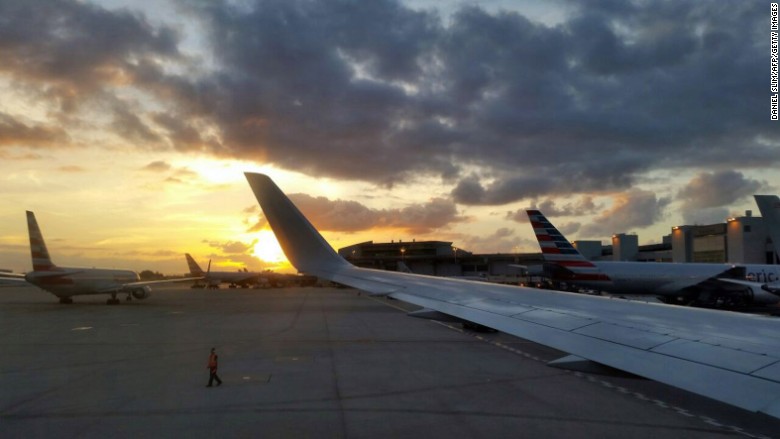 Hurricane Irma's impending landfall in Florida is forcing airlines serving some of the largest airports in America to shutter operations and get out of the way of the powerful storm.
Irma has already trashed airports, buildings and roads in the Caribbean. St. Maarten, a major international destination for U.S. and European carriers, was in ruins after the storm. Photos from the Netherlands Ministry of Defense showed its runway covered in sand and widespread damage at its terminal building and jetways.
By late Saturday, Miami, Orlando and Fort Lauderdale – home to the 12th, 13th, 21st largest airports in the U.S., respectively – will be largely dormant as the extreme weather rolls in.
But the prospect of a direct hit from Irma represents another blow to U.S. air travel in one of the busiest air corridors on the planet for business and leisure travel.
Among Miami, Fort Lauderdale and Orlando, the three airports handled more than 115 million passengers in 2016.
The scramble was so acute that the Federal Aviation Administration on Thursday evening said air traffic controllers were increasing the space between flights from Miami and nearby Fort Lauderdale to enable them to better manage the crowded skies. And American Airlines (AAL) was briefly under an FAA ground stop in Miami due to ATC rerouting outbound aircraft.
The airline had added 16 extra flights from Miami on Thursday, including 12 to Dallas, one to Philadelphia and three to New York, enough room for more than 3,600 passengers. The Fort Worth-based carrier said it has canceled more than 2,400 flights as of Thursday afternoon stretching through Sept. 11.
Related: Hurricanes Harvey and Irma may mess with the job market
The biggest single carrier in the Miami-Fort Lauderdale region is American, which accounts of 38% of the flying there, according to Morgan Stanley. Southwest Airlines (LUV) is the largest single operator in Orlando at 20%.
Delta Air Lines (DAL), too, has added 2,000 additional seats on Thursday flights out of Florida and Caribbean islands, including the Bahamas, Dominican Republic and Jamaica, including 1,500 from Fort Lauderdale and Miami.
Airlines and airports operate preparedness plans in 72, 48 and 24 hour markers, evacuating aircraft and personnel and preparing stations as part of a methodical checklist ahead of a storm's arrival, according to Ken Jenkins, principal crisis response strategist at NavAid Crisis Consulting Group.
American, which has a hub in Miami, will operate its last outbound flight from the airport on Friday, when it departs for Dallas just before 4 p.m. American is also shutting operations in Fort Lauderdale, Fort Myers and West Palm Beach.
Miami hasn't announced if it will cease commercial flying during the storm, but once sustained winds hit 55 miles per hour, aircraft cannot take off or land.
Air traffic controllers may shelter at lower levels in control towers or nearby buildings and will remain on duty, according to the FAA, "and are ready to go back to work as soon as the storm passes."
Related: Airlines scramble as they prepare for Irma
Commercial flights will cease at Key West Airport at 8 p.m. on Friday and Orlando International Airport at 5 p.m. on Saturday due to Hurricane Irma and Fort Lauderdale at 7:45 p.m. In Orlando, 50 knot winds will shut down the airport's outdoor tram which shuttles passengers between terminals.
The duration of any shutdown remains uncertain. American said any timeline for resumption of flights will be governed by not only airport conditions, but also the ability of airport and airline staff to get to work.
It's not just commercial airlines getting out of Irma's path.
Farther north in South Carolina, Boeing (BA) said it was suspending manufacturing operations starting on Saturday morning. The company's expansive North Charleston facility is flying out any 787 Dreamliner that's able to fly or bringing aircraft inside the factory, which is rated for a category five hurricane.
CNNMoney (Seattle) First published September 8, 2017: 12:00 AM ET