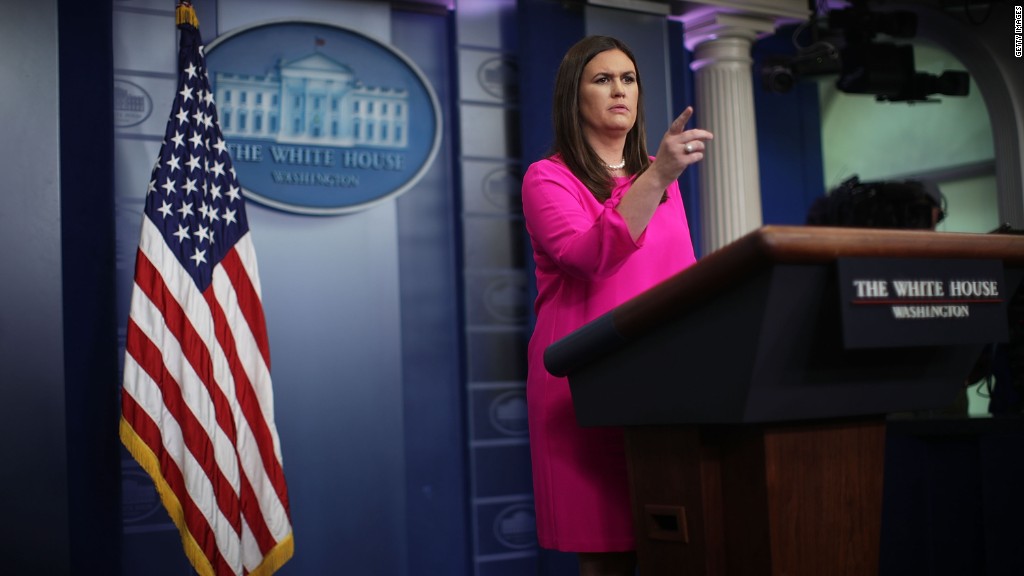 Widespread distrust of the White House, as shown in a new CNN poll, is not just a sign of President Trump's weakness. It's also a sign of the national news media's strength.
All of the front page fact-checking, all of the stories about Trump's fibs and falsehoods, all of the segments about the White House's credibility crisis haven't gone unnoticed.
On the contrary, the public is paying close attention.
According to CNN's poll, which was conducted by the research firm SSRS, only 24% of Americans say they trust all or most of what they hear from the White House.
That means about three-fourths of Americans are deeply skeptical of official White House statements.
Related: Disturbing signs for Trump in new CNN poll
I was stunned by how lopsided this result was. The president has a 38% approval rating, according to the poll, so this means that even some self-declared Trump supporters don't trust what his White House says.
I asked Angie Drobnic Holan, editor of PolitiFact, for her interpretation. She replied: "I suspect the CNN poll reflects that people are getting information about accuracy of political rhetoric regardless of their own political views."
Holan is celebrating PolitiFact's ten year anniversary this month. She said she believes people "are better informed than ever about what politicians say and if their statements are literally true or not," partly thanks to specialized fact-checkers, and partly thanks to "traditional political journalists putting corrective information into their reports much more than they used to."
Trump has given them many, many reasons to do so.
One persistent fact-checker, Daniel Dale of the Toronto Star, has counted 500 "false claims" from the president in the first 200 days.
The CNN polling data may be heartening to some reporters and editors — not because it shows Trump struggling, but because it shows fact-checking being factored in to peoples' judgments.
Other likely factors in the low trust levels include continuous attacks against Trump by Democrats and even critiques by some Republicans.
"For decades, Donald Trump got away with blatant falsehoods because no one was keeping track," Washington Post fact-checker Glenn Kessler told CNNMoney in an email. "If you mislead people about an apartment sale, or mislead your bankers, no one puts out a news release or calls attention to the falsehoods."
"But now that he's president," Kessler said, "Trump is discovering there are consequences. Every word is quoted and analyzed, and is compared to what was said before or how it conforms with reality."
Related: Trump says the media isn't covering North Korea sanctions. It is.
Trump is clearly aware of the journalistic fact-checking he faces. He recently made a quip about trying to say something accurately so that he wouldn't be assigned Pinocchios, the rubric used by Kessler's team at the Post.
The president's allies in the media assail journalists, including ones like Holan, Kessler and Dale, by calling them the self-appointed "opposition" to Trump. But that's not how most writers and editors approach their jobs. In fact, I noticed several prominent journalists expressing sadness, not jubilation, about the poll numbers. They worry that the low trust levels speak to a broader breakdown in the country's institutions, and about what would happen in a real crisis, when people's lives are at stake, and the country must be able to rely upon the things the White House says.
"People don't believe what's coming out of the White House. That's a national tragedy, and he's responsible for it," The Daily Beast editor in chief John Avlon remarked on CNN's "New Day" Tuesday morning.
When I was on the program a few minutes later, I wondered aloud how the president can possibly make his White House more trusted.
The same question is frequently asked about the press, of course. The news media scores pitifully low in surveys about trust.
But individual news outlets fare better than the news media as a whole. And viewership and readership data indicates that most Americans are just as tuned in as ever — in some cases, more than ever.
Even if readers approach fact-checks with intense scrutiny, the information seems to be getting through — which is not something anyone should take for granted.
Trump smears real news outlets as "fake" on an almost daily basis. He rarely passes up a chance to discredit and demean outlets that scrutinize his administration, while propping up outlets that are consistently friendly.
On Tuesday afternoon he urged his followers not to believe the "Fake News Suppression Polls," likely meaning CNN's, among others.
Calling real, statistically-based polls "fake" is another example of a presidential falsehood.
Holan, who marked PolitiFact's ten year anniversary earlier this month, said she believes people "are better informed than ever about what politicians say and if their statements are literally true or not."
She said that's "partly thanks to fact-checkers, but it's also thanks to traditional political journalists putting corrective information into their reports much more than they used to, so that incorrect statements don't go unchallenged."
She cautioned, however, that "literal accuracy isn't always the No. 1 priority for voters."
"I get the sense that values can be more important, or the attitude of leadership is more important," Holan said. "I sometimes get emails from readers saying they know that what President Trump said wasn't literally true, but they still think he had a larger point they agreed with."
CNNMoney (New York) First published August 8, 2017: 4:07 PM ET