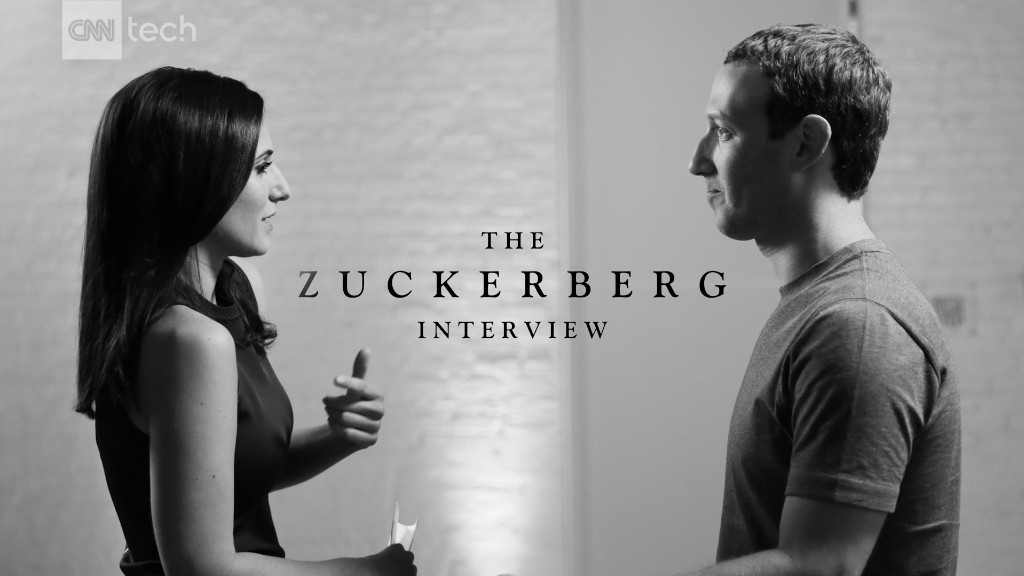 Facebook on Wednesday announced several new tools related to safety, support and donations at its second annual Social Good Forum.
One new feature connects mentors and mentees together through a program created by nonprofit organizations. The pilot project will include iMentor, a high school mentoring program, and the International Rescue Committee, which focuses on crisis recovery.
Facebook (FB, Tech30) said it wants to eventually expand the feature and include other areas such as addiction recovery and career advancement.
"Until now, Facebook has been focused on helping you connect with people you already know. But it might be just as important to help you connect with someone outside your social circle who can provide a new source of support and inspiration," CEO Mark Zuckerberg said on stage at the event.
Related: Facebook continues Craigslist takeover with housing rentals
Facebook's forum, held in New York City, comes amid criticism over Russian propaganda and fake news stories spreading on its platform during the U.S. presidential election last year.
Earlier this month, the social network's general counsel testified before Congress about Russian meddling on the platform. It recently announced a portal that lets users see whether they liked or followed accounts associated with Russian propaganda.
At Wednesday's forum, Facebook made other announcements, including the elimination of fees for nonprofits and that 100% of donations made through the platform will go directly to groups. It also unveiled a $50 million Facebook Donations Fund to help communities with disaster recovery via direct donations and matching contributions.
"When I started Facebook, I wasn't thinking about it as a way to raise money [to fight diseases]," Zuckerberg said.
But the company noticed people were raising money for a variety of causes on the platform, he added.
The site's giving tools, such as personal fundraisers and nonprofit donate buttons, will now also be expanded to Europe, Australia, Canada and New Zealand.
Related: Facebook is rolling out AI-based suicide prevention effort
Earlier this week, the company announced it would expand its automated effort to help prevent suicide.
These tools come after Facebook changed its mission this summer from connecting people to "[giving] the people the power to build community and bring the world closer together."
Being seen as an altruistic company has its advantages, especially with younger people who are more likely to associate with companies who share their values, according to Chris McLean, vice president at research firm Forrester.
"Companies that are showing they're strong on values and authentic … are gaining trust and loyalty of consumers. This eventually, of course, translates to revenue, but they have to be authentic with those values first," he said.
However, Facebook's biggest potential risk is that it comes off disingenuous with these efforts.
"People very quickly identify companies that make a big PR or marketing splash, but don't follow it up with investment," McLean said.
CNNMoney (New York) First published November 29, 2017: 1:17 PM ET