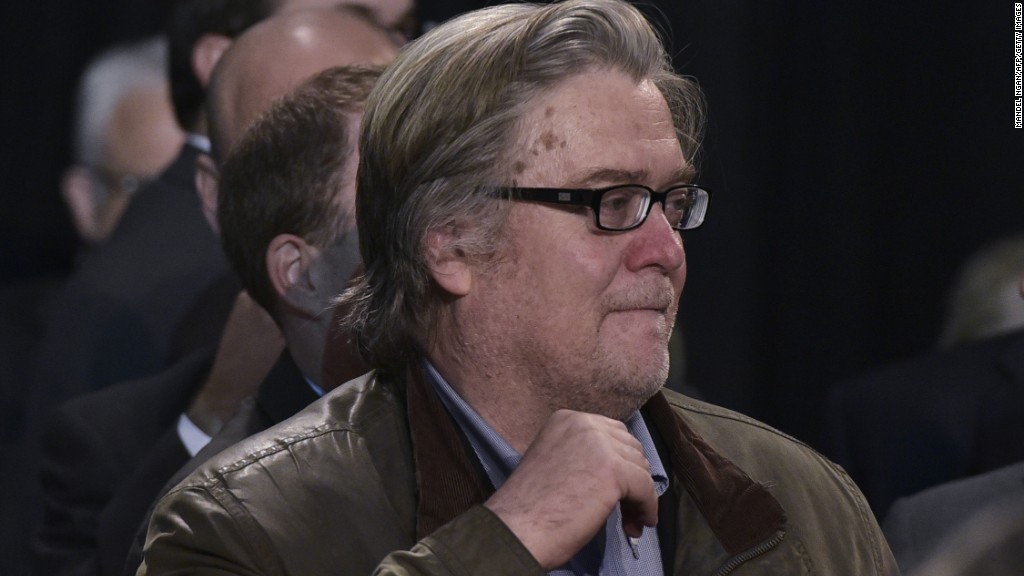 A top government ethics official is taking issue with a White House waiver that allows chief strategist Steve Bannon to talk to the news organization he used to run.
Walter Shaub, the director of the Office of Government Ethics, told lawmakers in a letter Tuesday that the waiver was "problematic" because it isn't signed or dated and "purports to have 'retroactive' effect."
That language "is inconsistent with the very concept of a waiver, which is to take decisions regarding the appropriateness of an employee's participation in covered matters out of the employee's hands," Shaub wrote.
Shaub didn't mention any concerns about the fact that the waiver was granted, and it isn't clear that Bannon violated any rules.
The letter was a response to Senate Democrats who had asked Shaub about the ethics requirements that apply to Bannon.
Related: What Trump's ethics rules allow and don't allow
A Trump administration ethics pledge says the president's staff can't meet with their former employers or clients in most circumstances. A waiver, made public at the end of May, allows meetings with news organizations about "broad policy matters."
Bannon was executive chairman of the far-right website Breitbart News until he joined Trump's campaign last fall.
Ethics experts have told CNNMoney that, under the waiver, Bannon still wouldn't be allowed to talk to Breitbart about specific issues. For example, he couldn't advise Breitbart reporters about a request they make for documents.
The waiver is retroactive to January 20, the day Trump was inaugurated. Shaub told CNNMoney earlier this month that there was "no such thing as a retroactive waiver."
"If you engage in prohibited conduct without a waiver, you've violated a rule," he said. "Issuing a waiver after the fact won't change that. It's unclear whether a violation of any sort has occurred, but it's also unclear why a waiver would purport to be retroactive."
Neither Bannon nor the White House immediately responded to a request for comment from CNNMoney on Thursday.
Shaub said in his letter that his office will prepare a report about the waiver. It will ask the White House and other agencies about whether they are aware of any violations of their ethics pledge as part of that report.
–CNNMoney's Cristina Alesci and Dylan Byers contributed to this story.
CNNMoney (New York) First published June 15, 2017: 2:04 PM ET