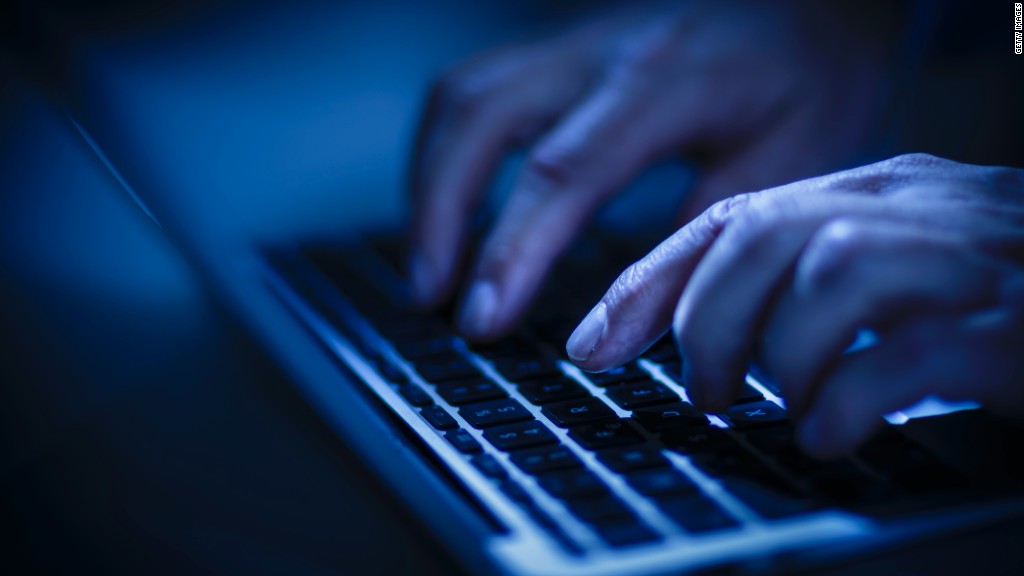 Equifax may have accidentally made its PR crisis even worse.
On Friday morning, as millions of Americans were still reeling from the news of Equifax's massive data breach, the company's official customer service account posted an unfortunate message on Twitter (TWTR, Tech30).
"Happy Friday!," the @AskEquifax account posted. "You've got Stevie ready and willing to help with your customer service needs today!"
Stevie's tone didn't sit well with Twitter users.
"Glad you are chipper and ready to help but probably should have helped to prevent the data breach from happening," one person posted in a reply to the tweet.
Another user replied: "Stevie, can you help repair my life your company just ruined?"
Related: Why the Equifax breach makes you feel so helpless
The Ask Equifax tweet was quickly deleted. It's possible that the tweet, published at 8:00 a.m. on the dot, was automatically scheduled to post.
It's one of several verified Twitter accounts from Equifax (EFX).
Reps for Equifax did not immediately respond to a request for comment.
Equifax revealed Thursday that the personal information of as many as 143 million Americans — or nearly half the country — has been compromised.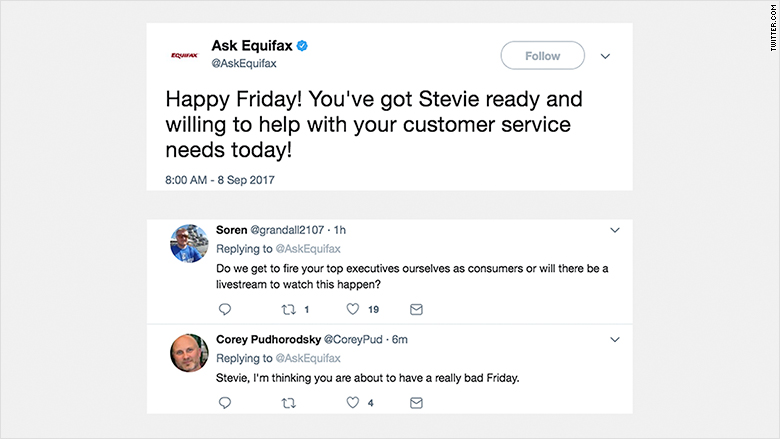 The breach, which Equifax first discovered months ago, exposes some of our most sensitive personal information: names, social security numbers, addresses, birth dates and the some driver's license numbers.
The remedy offered by Equifax only added to customer frustrations.
Equifax is offering free identity theft protection and credit file monitoring services, but it's a service that's also owned and operated by Equifax. To get it, you must first provide the last six digits of your Social Security number to Equifax, which just revealed having social security numbers stolen. And you had to sign away your right to sue Equifax.
Related: How to find out if you're affected by the Equifax hack
"So why does your victim list require us to put in our SSN?" one person wrote in response to the Equifax tweet. "Why would we trust you with that ever again?"
CNNMoney (New York) First published September 8, 2017: 3:28 PM ET